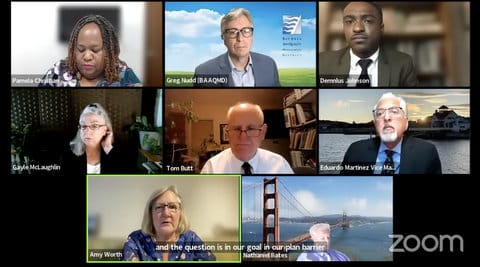 27 Oct

Some People Blame Bikes for Traffic Congestion and Vehicle Emissions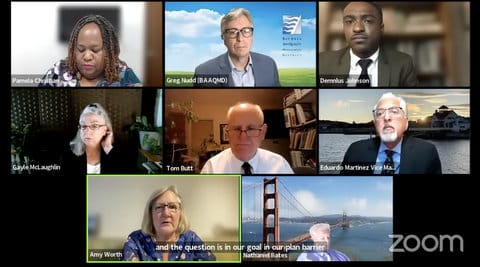 Some raised concerns at Tuesday's City Council meeting about bike lanes worsening congestion on the Richmond-San Rafael Bridge, but research has shown that having more lanes for driving doesn't lessen traffic. (Screenshot captured by Julia Métraux / Richmond Pulse)
By Julia Métraux and Danielle Parenteau-Decker
Community members came to the Richmond City Council meeting Tuesday to complain about traffic on the Richmond-San Rafael Bridge, which they also claim is increasing air pollution on city streets, and they're blaming an unlikely source: bike lanes.
Council members Demnlus Johnson and Melvin Willis co-sponsored a measure to look at the issue of environmental justice as it relates to traffic congestion on the Richmond-San Rafael Bridge.
"This is a group of community folks on both sides of the bridge asking to see if the bike lane is an issue," Johnson said. "If it is, let's do something about it, and if it isn't, step back and figure out what the other issues are for us to for us to solve in regard to this matter."
During open comment for this item, NAACP Richmond branch President Willie Robinson said it's important to pay attention to the concerns of the people who "don't always get the appropriate attention."
"Anything that brings attention to the amount of pollution that's happening relative to vehicle traffic, most of them need to be looked at, I will support," he said.
More bike lanes have opened across the Bay Area as part of the San Francisco Bay Trail under a four-year pilot study from the Bay Area Toll Authority. A new group called the Richmond and Marin Coalition for Transportation Justice led an effort Tuesday to ask the City Council to address traffic-related environmental health issues and to explore removing or modifying the bike lane on the Richmond-San Rafael Bridge.
The thinking goes that if a roadway has less space — because lanes once for motor vehicles has been converted to use for bicyclists or pedestrians — drivers will be forced to spend more time in traffic, their cars spewing more emissions as they idle in place.
Paradoxically, however, more lanes do not mean less traffic. In fact, research has shown the opposite to be true. According to a March 2020 report by Smart Growth America, traffic delays across the country's 100 largest urban areas increased 144% between 1993 and 2017 — despite significant freeway expansion. Widened roadways tend to create an "if you build it, they will come" situation. That is, people expect less traffic, making them more likely to drive at times they otherwise might not have.
"Contrary to popular perceptions, the extent of weekday congestion is not worse than before opening of the Bay Trail on the Richmond-San Rafael Bridge," Mayor Tom Butt wrote in an Oct. 23 edition of his e-forum. "There is no evidence that the Bay Trail on the RSR bridge is causing degraded air quality in Richmond."
After discussions among council members, the measure was changed significantly, with several statements being removed before it came to a vote.
In the end, the City Council voted on whether to ask the Bay Area Toll Authority to analyze air quality emissions and associated health effects as a result of increased traffic congestion and to encourage it to research other solutions that could be more effective than removing bike lanes.
Air pollution has long been an issue affecting communities of color, including in Richmond. An April 2021 study published in the Science Advances journal found that people of color are disproportionately exposed to high levels of ambient fine particulate air pollution. Prior research has also highlighted that motor vehicle emissions can contribute to ambient fine particulate matter. Richmond residents have previously talked to Richmond Pulse about how poor air quality has affected them.
Butt invited Bay Area Toll Authority Oversight Committee chair Amy R. Worth and Bay Area Air Quality Management District's deputy air pollution control officer Greg Nudd to speak about potential issues related to the bridge. The Bay Area Toll Authority Oversight Committee is under the Metropolitan Transportation Commission.
When asked by Butt about the impact of the proposed motion, Worth said it is always helpful for members of her committee to understand Richmond's priorities.
"If the city of Richmond has some priority areas that it wants the Toll Authority to address, then it would be helpful for the city of Richmond to convey that," said Worth, who also invited members of the council and the community to attend the committee's meetings, which can be watched virtually.
Regardless of whether Richmond passed a motion on this issue, Worth said the committee did plan to discuss issues related to the Richmond-San Rafael Bridge.
Aspects of Johnson and Willis' measure highlighted the effects of pollution related to traffic congestion on Black communities who live near the Richmond-San Rafael Bridge, citing research from Groundwork Richmond. Butt asked Nudd if those points were accurate.
Nudd said this was not something the Bay Area Air Quality Management District has specifically looked at in regards to the Richmond-San Rafael Bridge but it could potentially cause environmental health issues in the area. Nudd said the district is looking into related issues in Oakland.
"This is something that we could take on if that recommendation came through the community steering committee. We certainly take that into consideration if the request came from the Bay Area Toll Authority as well," he said.
The City Council also discussed other possibilities to reduce pollution on bridges in the Bay Area, such as encouraging carpooling over driving alone. Worth said that encouraging people to take public transportation could also be helpful, adding that decreasing the time it takes for people to travel on buses, for example, could be an incentive.
"From a regional standpoint, express buses are a high priority of the Metropolitan Transportation Commission," she said.
Before the City Council voted on the measure, Johnson said this was not an "anti-bike" action, but one concerning community health. The bike lane on the bridge was added as part of a four-year pilot study on bikes in the Bay Area.
"Once again, it's not an attack on any aspects of the pilot program; it's actually to actually enhance it with more information," Johnson said.
The Richmond City Council voted unanimously to pass this motion 6-0, with council member Claudia Jimenez absent. The next Richmond City Council meeting is Nov. 1. The next virtual Bay Area Toll Authority Oversight Committee meeting is Nov. 9 at 9:35 a.m.