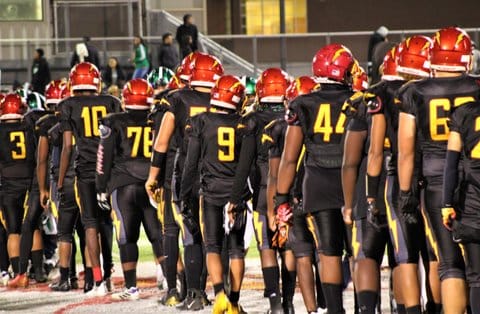 01 Nov

De Anza High Football Shut Out in 61-Point Clobbering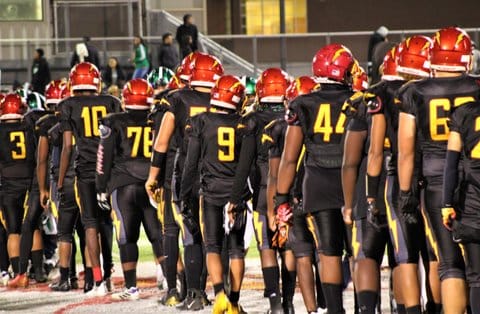 Players lined up to shake hands after El Cerrito defeated De Anza 61-0 on Oct. 28.
Story and photos by Joseph Porrello
The De Anza High Dons varsity football team had won four straight games before being shallacked 61-0 by the undefeated El Cerrito High Gauchos on Oct. 28 in El Sobrante. 
"These dudes are resilient," said Dons head coach Tyree Reed. "They'll move on from this."
Averaging just below 300 offensive yards per game on the season before the matchup with the Gauchos, De Anza mustered only 79 yards against El Cerrito's defense, which came in allowing opponents a meager 4.8 points per contest.
Gauchos quarterback Michael Vanhook, right, was letting passes fly all night Oct. 28 in El Sobrante.
The Dons began the game with consecutive three-and-outs on offense, while surrendering rushing touchdowns on their first two defensive drives to Gauchos' junior quarterback Michael Vanhook and senior running back Tony McAdoo, putting themselves into an immediate hole and setting the tone of the contest.
El Cerrito High came into El Sobrante ranked No. 1 in both the Tri-County-Rock League and the North Coast Section Division 3 with a record of 8-0, and it showed. 
By the end of the first quarter, the Gauchos held a lofty 20-0 lead thanks to an interception by Gauchos' junior defensive back Kamani Jackson and a 35-yard touchdown pass from Vanhook to senior wide receiver Aaron Woodard.
Gauchos Kamani Jackson, left, and Aaron Woodard celebrate their contributions to El Cerrito's win over De Anza on Oc. 28 in El Sobrante.
De Anza High junior defensive back Armani Chisom was able to intercept a pass from Vanhook late in the first quarter. But Chisom's interception would be the only full offensive drive for El Cerrito High of the night that did not result in a touchdown, and the Gauchos were able to intercept the ball right back on their ensuing defensive possession to begin the second quarter. 
Dons quarterback Gino Casias had two interceptions on the night and amassed only 71 yards on 18 attempts. The El Cerrito running attack did not fare any better, with a total of seven carries for eight yards as a team. 
De Anza played the game shorthanded.
"We went into this game with a lot of injuries," said Reed.
The Dons were without starting senior running back Zayden Crockett, whose average of 107 rush yards per game was evidently missed. Aside from his rushing yardage, Crockett also leads De Anza in touchdowns this season with 12, double that of the next most frequent Dons' scorer. 
Before injuring his knee against Pinole Valley High School on Oct. 21, Crockett was named the West Coast Preps Player of the Week.
>>>Read: De Anza Begins HS Football Season With Statement Win
Turning the ball over on downs and punting on their only two offensive possessions of the second quarter without a run game to lean on, De Anza High faced a 33-point deficit heading into the locker room at the break. 
Field security shut the gates at halftime and stopped letting fans in because all four of the school's parking lots were full, as drivers parked on grass or anywhere else they could fit to watch the rivalry matchup. Late arriving fans were packed against the gates, watching through the metal bars.
Reed said five of his players transferred to El Cerrito this past offseason, adding to the contentious nature between the two teams.
 "I mean, they got me good," Reed said. "But, ultimately, I want kids that want to be here."
Gauchos' junior wide receiver Ziare Eastman on his way to the end zone. Eastman is one of five Gauchos who suited up for De Anza High last season.
The Gauchos started the second half where they left off in the first, as El Cerrito junior running back Tome Veukiso bursted into the end zone from five yards out for his team's sixth touchdown. 
De Anza couldn't seem to get out of its own way or build any sort of momentum, fumbling the ball on all three of its second-half offensive drives. Two of the Dons' fumbles came on the first play from scrimmage, and one was returned 55 yards for a touchdown by the Gauchos.
"We can't win when we turn the ball over the way we did," said Reed.
Until the second half, the Dons had not lost a single fumble through their first eight games of the season. 
Following De Anza's first fumble about four minutes into the third quarter, game clock operators continuously ran the time during conventional stoppages to avoid the score being any more out of hand. 
The 61-point shutout was the worst loss of the season for the Dons, topping the 52-point shutout handed to them by McClymonds High on Sept. 9. 
Despite their insurmountable lead, the Gauchos still threw deep passes to score more points instead of simply running the ball out of respect for the opponent, perhaps illustrating the rivalry and lack of love lost between the two teams.
Gauchos coaches ushered players to briskly run to their bus to avoid conflict after defeating the Dons 61-0 Oct. 28 in El Sobrante.
El Cerrito High will host Salesian College Preparatory High of Richmond (4-5) this Friday at 7 p.m. as it tries to wrap up its undefeated regular season. 
Also at 7 p.m. Friday, the Bethel High Jaguars of Vallejo (2-6) visit De Anza High for what will be the Dons' homecoming and senior night. After an up-and-down season with a three-game winning streak and a four-game losing streak, De Anza looks to end the season on a high note.
"We just want to get through our last regular season game without any injuries and start preparing for the playoffs," said Reed. 
De Anza High's record now sits at 5-4 overall and 3-1 in the Tri-County-Rock League.