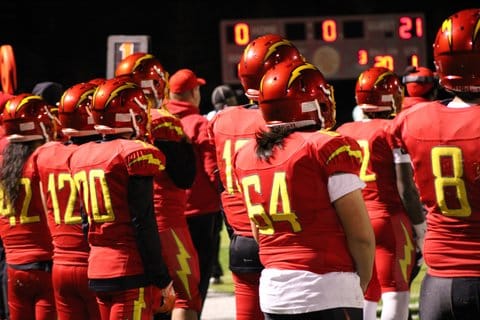 15 Nov

Season Ends in Defeat for De Anza High Football Dons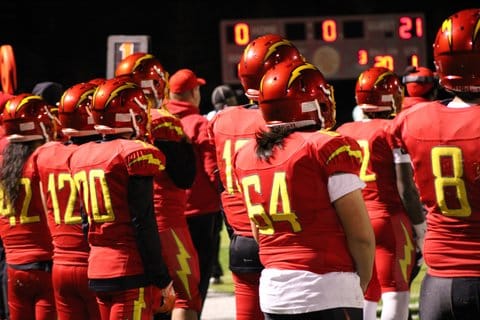 De Anza High lost 51-25 to St. Bernard's High on Saturday in Richmond, ending its football season.
Story and photos by Joseph Porrello
The St. Bernard's High Crusaders of Eureka knocked the De Anza High Dons out of the North Coast Section Football Championships- Division 5 Tournament with a 51-25 win Saturday night in Richmond.
For a second consecutive year, the De Anza High Varsity football team's season was put to rest by the Crusaders, who beat them in a close 14-7 bout in Eureka last November.
"It's a tough loss," said Dons junior wide receiver Davion Dunkley. "I was trying to go hard for the seniors."
Saturday's game was less closely contested and featured significantly more offensive firepower. 
"Knowing that team, this is not how it should have gone," said Dons senior running back Zayden Crockett.
Coming in, St. Bernard's had an overall record of 5-5 compared to the 6-4 record overall of De Anza. "It was really disappointing because we know that team's not better than us," said Dons head coach Tyree Reed.
Averaging only 9.5 points over their last two contests, the Crusaders broke out of their offensive slump in a big way. 
St. Bernard's High needed only two drives to score their first touchdown and kept its foot on the gas pedal by recovering the following onside kick. Despite a growing lead, the Crusaders would continue to attempt onside kicks on every kickoff for the remainder of the game, with no further success. 
After forcing a Crusaders punt, De Anza gave the ball back when Dons senior quarterback Gino Casias threw his first of three interceptions on the night.  
>>>Read: De Anza Begins HS Football Season With Statement Win
Reed said Casias was thrust into the starting role after the teams' first- and second-string quarterbacks transferred last off-season. 
"It was [Casias's] first year ever playing football, so just to get six wins and earn a home playoff game was huge," said Reed. "Nobody predicted us to do anything."
The Crusaders' offense capitalized on the Dons' turnover for their second touchdown and forced the Dons to punt for a third straight time on the ensuing possession, setting the tone for the rest of the evening. 
St. Bernard's senior quarterback and strong safety Drew Sizemore led the way for the Crusaders. He completed 12 of his 21 passes for 225 yards and two touchdowns, while notching 72 yards on a team-high 15 carries and an interception on defense.
The Dons got one of their few big defensive plays from senior free safety Fernando Pineda, who picked off Sizemore on the goal line in the second quarter. De Anza was unable to take advantage; its fourth down snap sailed over the head of junior punter Heriberto Ulloa, who could not minimize damage before Crusaders senior outside linebacker Grant Omey recovered the fumble in the end zone for a touchdown.
Omey made an impact on both sides of the ball, tallying five catches for 91 yards and a touchdown as a wide receiver along with six tackles on defense. 
Getting a quick strike, Dons senior wide receiver Julius Harrison broke free for a long score, De Anza High's only touchdown of the night through the air. But Crusaders kicker Esteban Cervantes Perez-Estrada knocked in a field goal before halftime to make the score 24-7 going into the break. Perez-Estrada was perfect on the night, making all six of his extra point attempts to go along with his only field goal try. 
The Dons were able to take their opening drive of the second half the distance and gather some confidence. But barely one minute later, Crusaders senior cornerback Tyler Dimmick took the resulting kickoff 85 yards for a touchdown.
Crusaders cornerback Tyler Dimmick looks for running room after intercepting a pass thrown by Dons quarterback Gino Casias on Saturday in Richmond.
Dimmick would additionally chip in with an interception that he returned 43 yards, a fumble recovery, and three tackles.
With a 19-point deficit to close the third quarter, hopes of a De Anza win seemed to fall in unison with the temperatures on what was a chilly night in Richmond.
>>>Read: De Anza High Football Shut Out in 61-Point Clobbering
A steady offensive force all game, Crusaders junior running back Wyatt Simoni accumulated 126 yards from scrimmage on 14 carries and two receptions. 
The backfield of the Dons did not find as much success.
"I'll take part of the blame," said Crockett. "I'm not 100 percent healthy."
Normally dominant on the ground for De Anza, Crockett is nursing a knee injury that kept him out of the previous two contests and had only 15 yards on five rushes Saturday. Though, he did sneak in for six points — finishing his season with a team-high 12 touchdowns despite missing time.
Senior running back Zayden Crockett played with a knee injury and scored six points Saturday in his last game for the De Anza Dons.
Pacing the Dons' rushing attack, senior running back Dekari Sparks also punched the ball in for a touchdown and amassed 78 yards on ten carries.
On the defensive side, senior middle linebacker Julien Ouxpaxay led De Anza High with 13 tackles, more than double that of the next most productive Dons' tackler and almost twice his team-leading average of seven per game. 
Tops in tackles with nine for St. Bernard's High was junior defensive lineman Lane Ford. 
Rounding out the Crusaders effort on defense, junior linebacker Lawrence Renner collected six tackles and senior free safety Owen Shanahan seized an interception. Also contributing to the commanding offensive showing, Renner took his only rushing attempt 50 yards for a touchdown, while Shanahan hauled in a receiving touchdown. 
Dons wide receiver Julius Harrison, left, had a tall task covering Crusaders free safety Owen Shanahan on Saturday in Richmond.
The Dons' loss to St. Bernard's High on their home field was their fifth loss in Richmond this season, but De Anza High unconventionally finished 2022 undefeated in road games.
"Honestly, we just have to get over this and really bond together as a team," said Dunkley. 
Finishing the year with an overall record of 6-5, the Dons still made a slight improvement from their 5-5 run in 2021. 
In Tri-County-Rock League play, De Anza High identically matched their 4-1 record of last season. 
"Things would have been different if we put in more work during the off-season," Dons senior tight end Valentino Canelo said with tears in his eyes. 
Dunkley noted that lacking a true leader on the team factored into the way their season played out. "We just need to find that person." 
De Anza High's varsity football team has not had a losing overall record since Reed's first year as head coach in 2017, when the team finished 4-6. 
Reed said the team will look to build on returning offensive line talent and develop more young defenders, while also switching up the offensive scheme and improving the quarterback position.
"When I transferred in [from Hercules High School] this year, these coaches got me where I needed to be," said Crockett. "This team has a bright future."