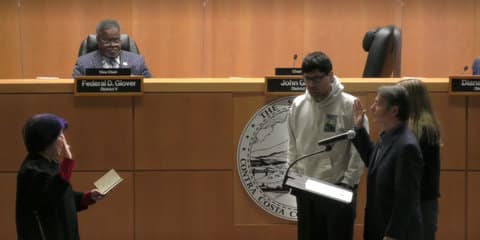 11 Jan

John Gioia Sworn in as Board of Supervisors Chair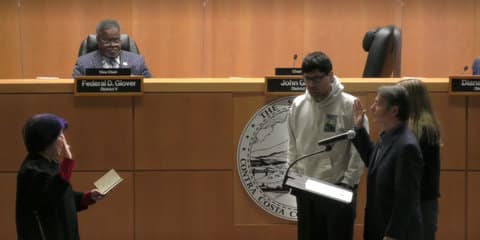 Superior Court Judge Joni T. Hiramoto, left, swore in John Gioia, who represents Richmond, as chair of the Contra Costa County Board of Supervisors. Supervisor Federal Glover continues as vice chair. (Screenshot captured by Samantha Kennedy / Richmond Pulse)
By Samantha Kennedy
Over 40 years since his father taught her at Kennedy High School, Superior Court Judge Joni T. Hiramoto swore John Gioia in as the chair of the Contra Costa County Board of Supervisors on Tuesday.
"He instilled in me the values of public service," Gioia said of his dad. "I think that's what drives me."
Gioia represents District 1, which includes Richmond, as one of the longest-serving supervisors in California. He began his seventh term Tuesday and sixth as chair of the board. He was first elected to the board in 1998. Gioia won reelection with 85% of the vote last year.
Federal Glover will act as vice chair and newly elected Ken Carlson took office after being sworn in alongside Gioia. Glover represents District 5, which includes Pittsburg, Bay Point and parts of Antioch. He was first elected in 2000.
Carlson takes over Karen Mitchoff's District 4 seat, which includes the areas of Concord and Walnut Creek. Mitchoff was the prior board chair. Carlson previously served on the Pleasant Hill City Council and as a Concord police officer.
Gioia and Glover reflected on the diversity of the board and its opinions over their two decades worth of experience apiece.
Glover, the county's first and so far only Black supervisor, welcomed Carlson as the first openly LGBTQ+ supervisor.
"I now am not the only diverse figure on the board," Glover said. "I'm really looking forward to what we're going to be able to do together."
Since first taking office, Glover has been hopeful about an increasingly diverse board. Gioia too applauded the history made by Carlson.
"About time, right, Ken?" Gioia said.
But even in moments where they do disagree, the supervisors say differing opinions are educational rather than an obstacle to the board.
Gioia specifically spoke to the varying partisan beliefs held by board members. He called himself a "progressive Democrat" and Supervisor Candace Andersen a "moderate Republican" but said their respect for one another makes them compatible.
"Most of our issues are things like potholes," Andersen said. "And they're not Republican potholes. They're not Democrat potholes. They just need to be filled."
Additionally, Kristin Connelly, who was elected in November, took office as county clerk-recorder.
In other new business, the board confirmed its approval of an ordinance that would allow the sale and delivery of non-flavored cannabis vaping products in unincorporated areas, which it first voted for in December. Both votes were 3-2, with Glover and Andersen dissenting.
The Board of Supervisors next meeting is Jan. 17.