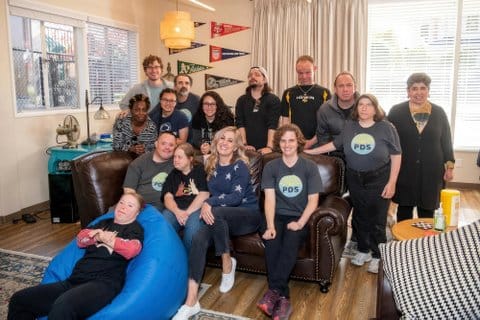 22 Jan

Over 1,000 People With Developmental Disabilities Have Died From COVID-19 in California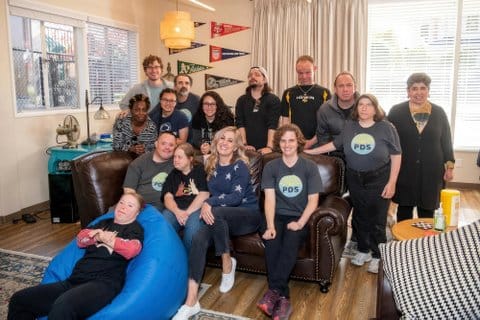 People with Disabilities Succeeding Founder and Executive Director Lisa Markey, second from right on couch, in Marin County in an undated photo. (PDS via Bay City News)
By Katy St. Clair
Bay City News Foundation
Over 1,000 adults with intellectual and developmental disabilities have died from COVID-19 in California since the beginning of the pandemic, according to the most recent January data from the state's Department of Developmental Services.
As of Jan. 15, 1,028 people with IDD have died throughout the state.
Much has been reported about COVID-19's impact on school children who had to pivot to remote learning, but people with IDD also had to adjust to no longer being able to go to their day programs or, for some more independent IDD residents, having someone drop in on them to help them pay their bills, check their medications, or simply provide company.
>>>Read: My Kids and I Are All Distance Learning. Something Needs to Change
For those who need more support from direct contact with a provider — say, people with cerebral palsy who need assistance with personal care, or people who have conditions that require full-time staffing — the pandemic posed a greater challenge, not only for the people with disabilities but also for their staff.
Though people with IDD cannot be compelled to get vaccinated, their staff was required to. The Department of Developmental Services eventually mandated that all staff interacting with IDD clients get the vaccine in September 2021.
Still, by December of last year, COVID-19 infection rates for Californians with IDD were almost half that of the general population, with 30% of the state's residents contracting the virus versus 14% of people with IDD.
Brian Winfield, chief deputy director of programs and services for DDS, said that as soon as the pandemic hit, his agency had to coordinate with service providers all over the state to get a handle on the problem and determine the next steps.
"There was a lot of innovation and focus on prevention,'" said Chris Gephart, deputy director of the Office of Statewide Clinical Service at the DDS, adding that the department was very methodic and careful at the beginning of the pandemic as far as mitigating risks and keeping people safe.
"One of the things that was challenging for us in the beginning was to get our arms wrapped around the incidents, exactly where were outbreaks happening and how can we mitigate that and prevent it in other places," Gephart said.
Among the tasks handed to the DDS seemingly overnight as the pandemic worsened were getting personal protective equipment, or PPE, out to everyone, from caregivers to people with IDD, which was no mean feat when shortages occurred nationally. Then they had to figure out how to provide remote services through the 21 regional centers that facilitate support and care to thousands of programs and agencies.
People were still being diagnosed with IDDs too, which meant that the work of intake at each region center became more challenging. Ideally, everyone diagnosed with an IDD receives a social worker through their regional center to assist them and their family if they are a child and also when they are adults throughout their lifespan. Being identified as IDD by the regional centers also means getting access to vital benefits.
"We heard that because people were concerned about COVID, they, of course, wouldn't want to come into the regional center office for intake," said Winfield. "We began what was called presumptive eligibility, meaning if the regional center couldn't do an assessment of the person but they believed that the person had a developmental disability, that they could go ahead and make them eligible until the directive was no longer in effect."
Though less people with IDD contracted the virus compared to the general population, they had a higher mortality rate once they contracted COVID.
According to a study published in the Disability and Health Journal in December 2020, though Californians with IDD had lower transmission rates than the general population, their case fatality rates were 2.8 times higher than the general population during the pandemic's first year.
Nearly 8,000 people with IDD in the greater Bay Area have been diagnosed with COVID-19 since it emerged in 2020.
The IDD population is especially vulnerable to the virus for myriad reasons, but most notably because some of them live in congregate settings such as group homes or supported living facilities. As with people who contracted the virus in skilled nursing centers, some people with IDD were exposed to COVID-19 in these settings.
Those Californians who live in facilities fared much worse than the general population once they caught the virus.
Pete Cervinka, chief of data analytics and strategy at the DDS, said that the higher mortality rate in facilities was "no surprise" and consistent with the overall state experience.
"When people live in a residential facility, they tend to have a higher level of need or more medical complications. And so they are more vulnerable to begin with," he said.
Cervinka said that 19% of people with IDD in the state live or lived in facilities. Recent DDS data show that for those living at home, 0.83% succumbed to the virus versus 3.27% who lived in supported congregate settings such as community care facilities, skilled nursing centers and other facilities.
There have also been some upsides to the pandemic. Day programs were forced to get creative with their services and Zoom became a vital tool. Classes for cooking and dance were held remotely, people could still see their friends and staff virtually, and doing so introduced some people with IDD to computers for the first time. Now, they are hooked.
>>>Read: Art Helps Disabled Richmond Residents Through the Pandemic
For Lisa Markey, executive director of PDS Marin — People with Disabilities Succeeding — the computer interactions have translated into her clients embracing social media more, connecting them with not only family and friends but also the greater Marin community.
Though her progressive day program has always been about getting people out into the community, COVID-19 provided an opportunity to create a "Friend Zone" clubhouse, designed like the set of the TV show "Friends." There's even a "Central Perk" coffee bar. The Friend Zone allowed her clients to socialize with one another, exercise, and just hang out and watch movies during the pandemic. Clients can also come and go there as they please and invite friends to join them.
PDS clients are back to their jobs now — every client has a job and, if needed, gets job coaching from the program — and are running their dog walking businesses, tending the PDS garden, or doing group meditation. And Zoom is now a permanent fixture, as well.
"Our clients are absolutely thriving," said Markey. "Zoom, which was something we discovered and mastered during the pandemic, brings us all together from wherever we happen to be."
Copyright © 2023 Bay City News, Inc. All rights reserved. Republication, rebroadcast or redistribution without the express written consent of Bay City News, Inc. is prohibited. Bay City News is a 24/7 news service covering the greater Bay Area.