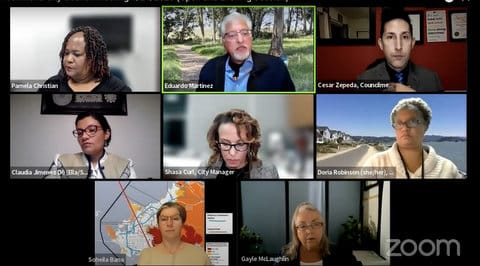 25 Jan

Crime Is Down in Richmond. New Reporting Could Push Numbers Back Up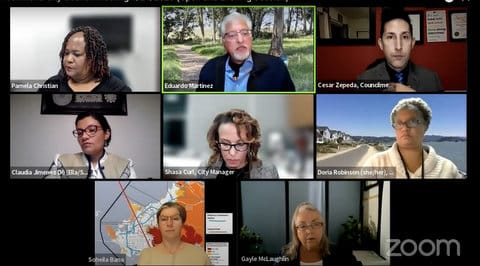 Richmond City Council heard a report Tuesday on crime in the city. (Screenshot captured by Julia Métraux / Richmond Pulse)
By Julia Métraux
The city of Richmond has had an overall decrease in reported property and violent crime in the past five years.
Richmond Police Chief Bisa French and Capt. Ale Walle gave an overview of crime from 2018 to 2022 to City Council on Tuesday. In 2018, there were 849 violent crimes and 4,225 property crimes reported to police. In contrast, in 2022, there were 565 violent crimes and 2,930 property crimes reported.
"There's been a steady decrease in burglaries over the past five years with 23 less burglaries in 2022 compared to 2021," French said.
However, French has concerns about incidents of drinking while driving. French said, Richmond had 148 driving under the influence arrests last year, which is "a major problem in our city."
"We have more DUIs in our city than any other city within the county, and many of our collisions are DUI-related," she said.
Due to staffing shortages, the RPD is asking people calling to report some crimes, like minor traffic incidents and telephone harassment, to report these online.
"Those calls are now referred for online reporting, and we know that when those calls refer for online reporting through our dispatchers that not everyone actually completes the report online," French said.
RPD, also due to staffing shortages, is having trouble seeing cases through as well. The closure rate for reported violent crimes is 31%. For property crimes, it is only 7%.
"We found that there's a direct correlation between our ability to effectively investigate cases and the significant reduction of investigators available for those investigations," she said.
The RPD is also changing how it will report crimes to the Department of Justice in 2023, from Uniform Crime Reporting to the National Incident-Based Reporting System. Walle gave examples of how incidents look in UCR versus NIBRS. For example, a domestic violence incident in which a phone is vandalized and a purse is stolen, in UCR, would be reported as one incident, as domestic violence, but with NIBRS, it would be reported as domestic violence, vandalism and theft.
This will lead to an increase of reported incidents to the Department of Justice, even if a handful of crimes are tied to a singular event.
"The FBI started requiring that the only method that would be reported would be NIBRS," Walle said.
Council member Doria Robinson said she was concerned that the changes in reporting would lead to more fearmongering about crime in Richmond.
"This new crime reporting is going to get people even more afraid, really ramp up the fear factor without actually having the increase of incidence of crime," Robinson said.
Echoing Robinson, council member Claudia Jimenez said the RPD needs to make sure the Richmond community is aware of reporting changes.
"The RPD needs to take that role seriously, to really educate the people, and to really make sure that data is showing in a way that shows them the reality of the situation," she said.
Robinson asked if it was possible to still collect UCR data for people in Richmond to be able to accurately compare crime from one year to the next.
"It might just be too much to try to handle two different recording systems, but it's something that we can look into," French said.
The next regular Richmond City Council meeting will take place Feb. 7.