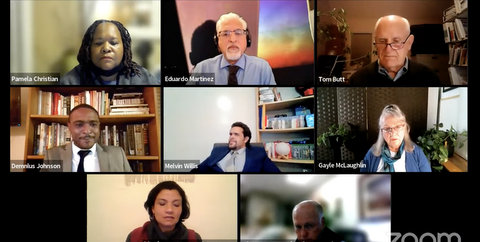 12 Jan

Council Hears From Acting Police Chief on Staffing and Dog Bites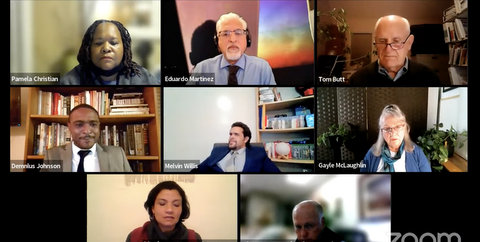 Policing and the Capitol insurrection were topics of discussion Tuesday at the first Richmond City Council meeting of 2022. (Screenshot captured by Julia Métraux / Richmond Pulse)
By Julia Métraux
In its first meeting of 2022, the Richmond City Council received a presentation Tuesday from acting Richmond Police Chief Louie Tirona on staffing shortages.
Tirona said that the Richmond Police Department is having trouble recruiting people for vacant sworn positions. In 2019, RPD received 245 police officer candidates. In 2021, this number dropped to 81. This issue is not unique to Richmond, as experts have said there is a nationwide police shortage.
>>>Read: Police Forces Are Losing Officers in Richmond and Beyond
Tirona said some candidates who dropped out of the process cited a lack of benefits in comparison with other areas and a lack of support of the RPD by the city council.
"I just want to make sure that we as a department and as a community work together to make Richmond Police Department an attractive and welcoming Police Department for future candidates for a police officer and beyond," Tirona said. "The city of Richmond deserves it."
Council member Melvin Willis asked Tirona if there would be any flexibility in the hiring process for "folks who may be coming from reentry or may have a record, but they're trying to turn their lives around."
Tirona responded that changes to allowing people with a criminal record to join the RPD for sworn staff positions would require more legislative changes at a national level. However, changes have already been made since Tirona joined this department in 1994.
"I can tell you modifications have also been made for our professional or nonsworn staff in terms of things like drug usage, and time periods in which drug usage was last viewed as modification," Tirona said.
In June 2021, the City Council voted to allocate $3 million from the RPD to help fund the YouthWorks program, the Office of Neighborhood Safety, services for unhoused people, and to create a non-police crisis community response team.
"While we recognize that there are always improvements to be made, and we encourage those, … the rest of the city council is pretty much anti-police," Mayor Tom Butt said. "The city council majority has defunded the police."
The RPD's 2021-22 budget is still over $71 million, according to the city's adopted operating budget.
>>>Read: Police Adapting to Changing Expectations, Says Acting Richmond Chief
In December, the Mercury News reported that "Richmond's canine squad violently apprehended more than 70 people — an average of one every month — from dangerous felons to petty thieves to people acting 'suspicious,' " over a six-year period.
Council member Claudia Jimenez asked Tirona what RPD plans to do to address this issue.
"I also know that our number of actual dog bites is actually slightly less than national averages," Tirona said. "I've attended training, and I welcome any council members to attend the training, and go on ride alongs and see how the officers actually deploy these dogs that we do have."
In his presentation, Tirona also said the allocation of RPD officers will slightly change. In 2021, 32 sworn personnel were working on investigations and 65 were on patrol. This year, this will change to 23 sworn personnel working on investigations and 72 police officers on patrol.
Council Condemns Insurrection
The council also adopted a motion to condemn the Jan. 6, 2021, coup. Former council member Jeff Ritterman wrote the motion, and he spoke about the threat of having a Confederate flag carried in the Capitol.
"It really symbolizes taking the vote away from our Black citizens. It really is a symbol of return to slavery," Ritterman said. "I just like us all to stand up for democracy, to say no to this kind of threat to democracy."
The next Richmond City Council meeting will take place Jan. 18, and Butt will be attending an out-of-town conference. Demnlus Johnson III, the vice mayor at-large, will lead the meeting in his place.