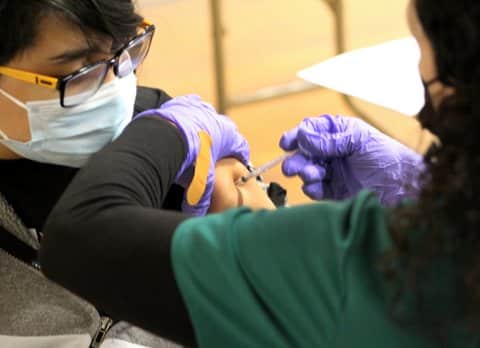 10 Feb

CDC Formally Adds COVID-19 Vaccine to Recommended Vaccine Regimen for Children, Adolescents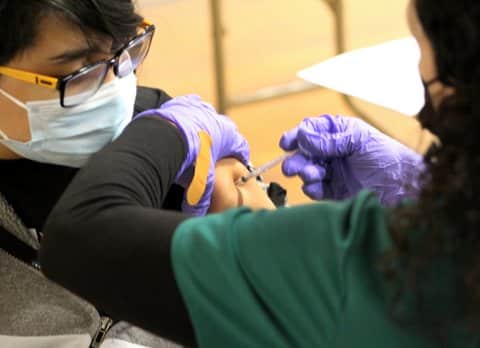 Costa Health Services nurse Jessica Lipscomb administers a Pfizer COVID-19 vaccine to Miguel Castro, 13, at a vaccination clinic in the gymnasium of Antioch Middle School on May 19, 2021. (Eli Walsh / Bay City News)
By Eli Walsh
Bay City News Foundation
Federal health officials have formally updated the recommended vaccine regimen for children and adolescents to include the COVID-19 vaccine alongside those for illnesses like hepatitis and polio.
While the U.S. Centers for Disease Control and Prevention has recommended the COVID vaccine for children who are at least 6 months old since it became available for that age group, the agency officially added the vaccine to its recommended schedule that guides schools and health care providers.
>>>Read: Kids Need COVID-19 Vaccine Too, Says Health Official
The CDC's Advisory Committee on Immunization Practices previously approved the 2023 vaccination schedule in October 2022.
The CDC recommends that everyone aged 6 months and up get at least two doses of one of the mRNA COVID vaccines and an additional booster dose.
The vaccine is also part of the CDC's recommended vaccine schedule for all adults along with an annual flu shot and vaccines for tetanus, measles and human papillomavirus, among other illnesses.
>>>Read: Waiting to Get Kids Vaccinated Comes With Its Own Risks
The full recommended vaccine schedules for children and adults can be found at https://www.cdc.gov/vaccines/schedules.
Copyright © 2023 Bay City News, Inc. All rights reserved. Republication, rebroadcast or redistribution without the express written consent of Bay City News, Inc. is prohibited. Bay City News is a 24/7 news service covering the greater Bay Area.