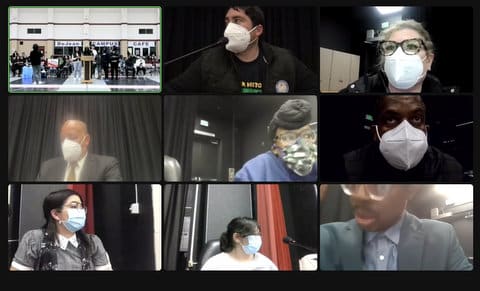 16 Feb

School District Addresses Dual-Language Immersion Changes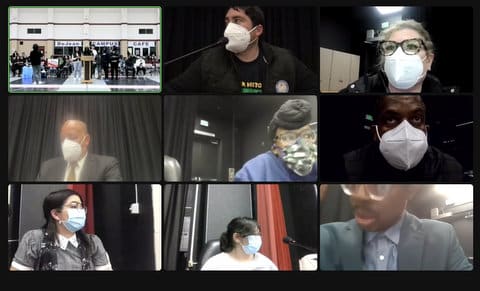 (Screenshot captured by Julia Métraux / Richmond Pulse)
By Julia Métraux
West Contra Costa schools Superintendent Kenneth "Chris" Hurst responded Wednesday to concerns about changes to the dual-language immersion program.
During public comment at multiple school board meetings, parents and students involved in the program had called on the board to address the anticipated ending of its current structure. Students in the program attend Washington Elementary School in Richmond, then Fred Korematsu Middle School in El Cerrito. From there, they have been on track to continue their education at El Cerrito High School. Beginning in the 2024-25 school year, however, that is no longer expected to be the case.
The current reality is that there are no DLI teachers currently at El Cerrito High School. In addition, due to policy changes, a direct transfer from Korematsu Middle to this high school for students in the DLI program would not be guaranteed. Parents can still apply for an intra-transfer process for their kids to attend El Cerrito High School. Many parents and students, including some in elementary school, said at Wednesday's school board meeting that the West Contra Costa Unified School District has failed to address an issue caused by staffing shortages.
For more information, the presentation slides shown at the meeting about the status of the Washington Elementary to El Cerrito High School DLI pipeline and the priority when considering transfer requests can be found here.
Esaúl Orozco, the district's interim director of English learner achievement, said that one way WCCUSD is trying to get more direct feedback from parents in the DLI program is by establishing a parent action committee, like the one for the African American Parent Advisory Committee.
"Our major goal this year is to develop a dual language immersion PAC, a parent advisory committee, for a continued parent involvement," he said.
Hurst said he apologizes for "any trust that has been broken in this process." Hurst also said he gave a directive to expand the DLI program but did not provide specifics on how this could be achieved.
"I have directed them to ensure that we have a K through 12 option for DLI in Spanish and Mandarin," he said.
Richmond City Council member Claudia Jiménez, whose daughter is in the DLI program, said that by ending the automatic pathway to El Cerrito High School, the board is not prioritizing equity for Latine families in the district.
"The message that the board is sending to parents is that there is no plan to expand anything," she said.
El Cerrito High School Black Student Union Shares Accomplishments
Black student unions across WCCUSD offer support and community for Black students in the district. The Black Student Union at El Cerrito High School shared activities that its BSU spearheaded during this school year so far in front of the board.
This includes community service projects, learning about eligibility for the National Collegiate Athletic Association, a symposium with all BSUs in the district, and having a former Black Panther Party member share his experience with students.
 "BSU is thriving and [we want to] show that BSU is strong," El Cerrito BSU co-president Justice Gilmore said. "BSU is something that is a collective, and all Black students, all students are welcome to help."
Strike by United Teachers of Richmond Likely Averted
United Teachers of Richmond and WCCUSD reached a tentative agreement Feb. 10 that would increase salaries, require community involvement in community school and more. The contract has yet to be officially ratified by members of UTR. A vote is expected this week.
Jeffrey Bean, a teacher at Shannon Elementary in Pinole, thanked "all the people in our community who stood up for their students, for their children and for teachers."
"I was very happy to see that finally come to a resolution," he said. " I hope that the district looks for a way to make budget negotiations more conciliatory in future years."
The next regular school board meeting is scheduled for March 1.