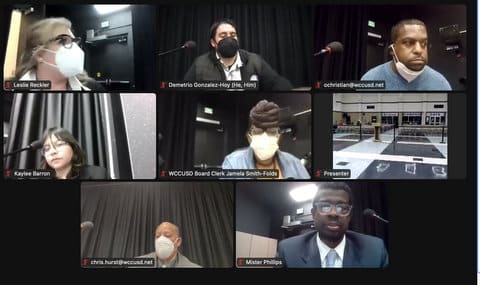 26 Jan

Teachers Continue to Push for Contract, Threaten Strike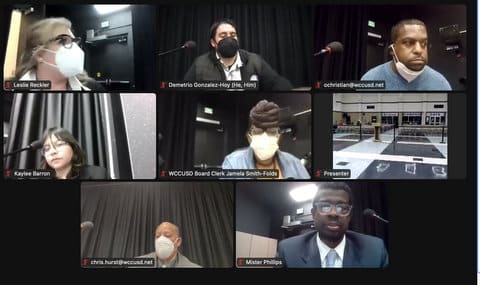 (Screenshot captured by Julia Métraux / Richmond Pulse)
By Julia Métraux
Before Wednesday's West Contra Costa School Board meeting, around 700 teachers, students, parents and community members rallied outside meeting location Lovonya DeJean Middle School to push the district to settle contract negotiations with United Teachers of Richmond.
Over two and a half hours of public comment — extended from an hour and a half — teachers said if there is not a contract with UTR that addresses salaries that keep up with inflation and community involvement in community schools, they will strike. The union and district have just completed a mediation process and have moved to a fact-finding process, which UTR President John Zabala told Richmond Pulse about. If the two parties do not come to an agreement during the fact-finding process, UTR is able to authorize its members to strike.
Update: Hundreds of @UTRichmond teachers are filing into DeJean Middle School to flood @WCCUSD public comment about 10% increase in pay + importance of students having credentialed, long term teachers who can afford to live in the communities they serve. pic.twitter.com/G2IM3b0NfM

— Lorenzo Morotti (@Enzomorotti) January 26, 2023
Evelyn Smith, a teacher who works with disabled students at Coronado Elementary School in Richmond, said she has not received a salary increase in the past five years, despite working with the district for over 20 years.
"Show your appreciation to your teachers by offering us a fair wage increase that is competitive with districts in our surrounding areas," she said.
Richmond Mayor Eduardo Martinez, a former elementary school teacher in WCCUSD, also called on the district to give teachers more money, as "commitment doesn't pay the bills," despite the dedication from teachers.
View this post on Instagram
"Instead of trying to figure out how you're going to parse the crumbs, we need to work for the entire cake," Martinez said.
United Teachers of Richmond Vice President and Ford Elementary School teacher Francisco Ortiz said members of the WCCUSD community "must be equal partners and centered in shared leadership and governance for our community schools."
"We must follow any listening that we do with direct action," Ortiz said. "Otherwise, we're simply perpetuating generational harm on our most marginalized communities."
Superintendent Responds to Student-Substitute Incident
Superintendent Kenneth "Chris" Hurst issued a statement at Wednesday's board meeting regarding an act of violence by a substitute teacher, who has since been fired, and subsequent protest by the Black Student Union at Richmond High School.
Video showed the teacher on Tuesday assaulting a student who had reportedly used a racial slur.
"Acts of violence are deeply harmful to all present in a learning environment," Hurst said in his statement. "We also know that racial slurs are deeply harmful to students and staff, and we are committed to restoring a learning environment that affirms the inherent dignity and worth of all members of our community."
The day after the incident, hundreds of students led by the BSU engaged in a peaceful protest against the use of the n-word on campus.
"The n-word goes around campus, and the Black students don't appreciate it," said BSU member Markeith Anderson, 16.
He added that they don't want the word "tossed around like there's no meaning behind it, like that word means, you my homie. No, that word don't mean that. It has a bigger history behind it."
Changes to the Dual Language Immersion Program 
Staffing shortages have hurt WCCUSD's dual-language immersion program, where students receive instruction in both English and Spanish. Traditionally, students in the program who started at Washington Elementary School in Richmond would then attend Fred Korematsu Middle School in El Cerrito, and then El Cerrito High School. A list of elementary schools with DLI programs in WCCUSD is available on the district's website.
In an email, WCCUSD said DLI coursework was available at El Cerrito High School until the 2019-20 school year, which changed due to staffing shortages. Unless El Cerrito High School is already a student's high school based on where they live in the district, DLI students will not automatically go to El Cerrito High School starting in the 2024-25 school year.
Parents, students and teachers involved in the DLI program spoke out about this change, as well as a perceived lack of support for the program.
"Find a teacher for the high school and stick to the plan," said Felix, a sixth grader at Washington who did not share his last name. "Don't give up. The dual immersion should continue to high school and have it grow."
Camille Cellucci, a parent of a 13-year-old in the dual-language immersion program, said the close-knit DLI program has been beneficial for her daughter.
"We specifically built this community, and it is a very close community, for her to be able to thrive," she said. "If this pathway is cut off, it will be criminal for her, because she will go way down."
The next regular West Contra Costa Board of Education meeting is scheduled to take place Feb. 1.
UPDATE: This story has been updated with comment from a member of Richmond High's Black Student Union.
Additional reporting contributed by Malcolm Marshall and Danielle Parenteau-Decker.