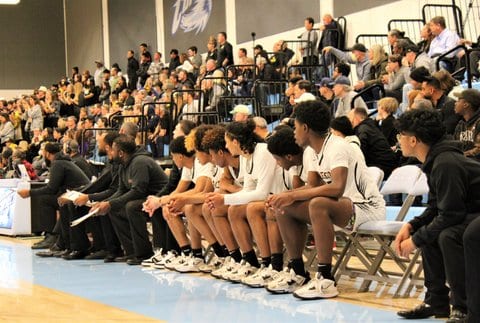 10 Mar

Attempt at Capturing CIF Regional Title Unsuccessful For Salesian College Preparatory High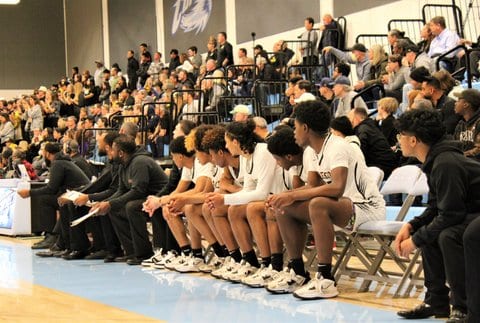 All in attendance were on the edge of their seat in anticipation of a regional champion being crowned as the Salesian Pride, pictured, took on the Granada Matadors on Tuesday.
Story and photos by Joseph Porrello
In Tuesday night's battle for the CIF Division 1 varsity boys basketball regional title in San Pablo, the Granada High School Matadors bested Salesian High 60-47, ending the Pride's long postseason run. 
An opportunity to play in the state championship on the Sacramento Kings home court was at stake, but Salesian High could not muster the success exhibited throughout the previous two weeks in which they went undefeated with four straight wins.
"That was a tough one for sure, but a season isn't defined by one game," said longtime Pride head coach Bill Mellis.
It was the Pride's seventh time playing in the regional finals over the course of Mellis' 25-year tenure, having won in the round three previous times en route to two state titles.
Pride junior forward Zion Yeargin, left-center, and junior guard Amani Johnson, right-center, take part in pregame lineup announcements with some energy.
Salesian High entered the matchup unbeaten in Tri-County-Rock League play (10-0) and in home games (9-0), as well as having won 12 of their last 13 bouts. 
"I think we had genuine belief in ourselves and we've been rolling as of late, so I have to give [Granada High] credit," said Mellis. 
The Matadors held a worse overall record than the Pride despite playing twice as many home games on their schedule, but Granada High gained momentum for its season at the right time. Winning three consecutive games after losing three of the previous four, the Matadors maintained their velocity and continued their prowess on the road this season (8-2). 
>>>Read: Salesian High Pride Win Tri-County-Rock League Boys' Basketball Championship
The Pride dug themselves into an early hole, not making their first field goal until halfway through the first quarter while surrendering a trio of three-point shots. Salesian only mustered five points in the opening quarter and faced a quick double-digit deficit. 
"The ball just wasn't falling for us tonight," said Mellis. "We didn't shoot it nearly as well as we usually do."
Midway through the second frame, Pride junior forward Deuandre Perteete sparked his team by converting a basket while being fouled. Salesian High would make its ensuing two field goal attempts and cut the Matadors lead to one possession. 
Perteete joined junior guard Aaron Claytor as the only two Pride players to score in double figures, gathering 10 points each. Sophomore guard Alvin Loving and freshman guard Elias Obenyah chipped in with eight apiece. 
To manage the Pride's scoring surge, Granada High would reimplement the feisty defense that initially grew their advantage and take a seven-point lead into the break.
Pride junior guard Aaron Claytor, left-center, breaks away in transition for an easy layup to narrow the scoreboard difference.
The Matadors came out hot in the second half and built themselves an edge of 12 on the scoreboard, but the Pride would not wither. Salesian High answered with a 9-0 run by utilizing fast break offense to inhibit Granada High from setting up defensively in the halfcourt and by applying a full court press on inbound passes. 
Pride fans were at their loudest at the end of the third quarter when Salesian High seemed to have all the momentum, but the Matadors' continuous trips to the foul line thereafter halted any energy and reestablished the scoring discrepancy. The 20 points in the fourth quarter by Granada High were the most by either team in any frame. 
"It was hard to get back into it when they were making all their free throws down the stretch," said Mellis. 
The Pride committed 13 fouls in the second half alone and made just five shots from the charity stripe for the game's entirety. Granada High capitalized on 15 free throw attempts.
Granada High senior forward Nate Keaney grows his team's already insurmountable lead by knocking down late game free throws.
With Salesian High having made only two fewer field goals than the Matadors at game's end, the free throw disparity provided Granada High with the boost they needed.
Senior guard Tyler Harris led the Matadors by converting six of seven chances at the line. Aside from free throws attempted and made, Harris paced the game with 18 in total points, including 10 in the final quarter, the highest individual scoring frame of the matchup. 
Granada High senior forward Kevin Grant added 16 points off the bench, making all four of his foul shots and hitting one three pointer in each quarter. The disparity in bench contribution played a key role for the Matadors. 
Starters for Granada High only outscored those of the Pride by three, but Salesian High's nine combined points from reserves was almost doubled by Grant alone. 
Harris and Grant together accounted for more than half of the Matador's points, but Mellis thought Granada High's 7-foot, 240-pound senior forward Andrew McKeever had the biggest impact. 
"He's the difference because he's so tough to guard," said Mellis. "We did do a good job battling on the boards against him, but he had a great game."
Guarding Matadors senior forward Andrew McKeever, middle, was a tall order — literally, at 7 feet — for the Pride to fill Tuesday in San Pablo.
McKeever consistently scored buckets when his team needed them, making shots in every quarter and finishing with 14 points to go along with numerous blocked shots and rebounds. 
The Matadors were the only team this season and the first in over 13 months to beat the Pride at home. Tuesday's game took place at Contra Costa College, where Salesian High has played their last four home games in the CIF tournament to accommodate for seating. 
"It's our home away from home," said Mellis.
Three-fourths of the bleachers were packed with local Pride fans, but the 35-mile trip from Livermore did not deter those rooting for Granada High from attending. 
A vocal student section with coordinated cheers took up a large part of the section of stands packed with Matador fans, some of whom rushed the court at the final buzzer in spite of pleas directly before from the PA announcer to refrain from doing so. 
Granada High was also the first team this season to beat the Pride the second time they faced off. 
After both teams lost in the NCS semifinals, the Pride squeaked out a two-point victory over the Matadors in a bout for third place just 10 days prior. 
One noticeable difference Tuesday for Salesian High was its lack of typical defensive tenacity. The Pride had not allowed more than 60 points in the team's previous 13 games and won their last two games by an average margin of 27.5. 
It seems like Salesian High ran into a team of destiny in the No. 8 seed Matadors, who recently took down No. 1 seed Clovis West High and have defeated four straight higher-ranked competitors at their home gyms.
Granada High junior guard Lennon Lomba and his teammates all got to cut a piece of the net, as is basketball tradition when winning a championship.
Despite the defeat, Mellis thinks his team's season was an overall success. 
"We superseded a lot of people's expectations, but what I'm most pleased with is how these guys conduct themselves," he said. "They're infectious and fun to watch."
The 34 total games played by the Pride this season were the most in over a decade thanks to deep runs in all three postseason tournaments they took part in. 
"I'm so proud of this group and what they accomplished, they took us on an amazing ride," said Mellis. 
In contrast to Granada High's roster having no underclassmen and six seniors — three of whom led the team in scoring Tuesday — none of the Pride's top four scorers or starters were seniors. 
"Next year, we'll have a lot of experience after what we just went through, and I'm sure it will be really fun," said Mellis. 
With such a young and seasoned core, the future is bright for Salesian High varsity boys' basketball.