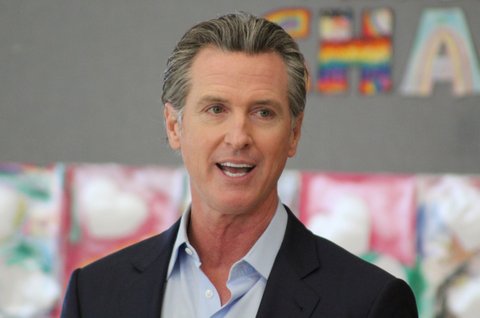 24 Mar

Newsom Wants to Change Criminal Justice and Healthcare in California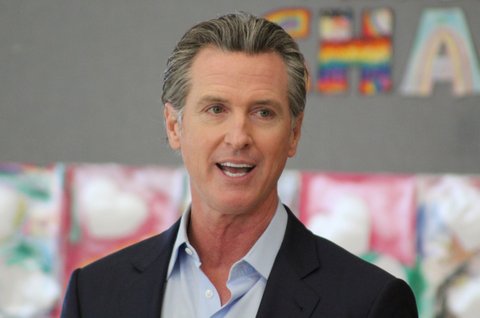 Gov. Gavin Newsom speaks during a media briefing at Ruby Bridges Elementary School in Alameda on March 16, 2021. (Eli Walsh / Bay City News)
By Danielle Parenteau-Decker
Change is coming to California's oldest and most notorious prison and entire criminal justice system, Gov. Gavin Newsom said Wednesday.
Newsom addressed ethnic media reporters on a call that also featured state Secretary of Health and Human Services Dr. Mark Ghaly and Secretary of the Business, Consumer Services and Housing Agency Lourdes Castro Ramírez.
The call also covered homelessness, mental and physical health, prescription drug costs and illicit drugs — issues that are "all connected," Newsom said.
He announced plans March 17 to make changes at San Quentin State Prison. He said on the call that the changes are part of broader "restorative justice and rehabilitative efforts."
"I was honestly feeling like we weren't doing justice," he said.
In 2025, "San Quentin State Prison" will be no more. Instead, its official name will be San Quentin Rehabilitation Center.
"The goal is to create a framework where … San Quentin is seen as the place where prisoners want to go … to prepare them for a life outside, giving people a chance to feel some normality so they can reintegrate back into society," Newsom said.
Among other changes, death row will be closed. Newsom signed an executive order in 2019 placing a moratorium on the death penalty. The last time California executed someone was 2006.
Newsom did not hold back when expressing his views on the death penalty and the for-profit incarceration system.
"I think it's absolutely perverse" to imprison people for profit, the governor said. He added that it was also perverse to "systemically kill — murder — our own citizens to show" that killing is wrong.
Four prisons have closed in recent years or will soon. Deuel Vocational Institution in Tracy closed in June 2021. This June, the California Correctional Facility in Susanville is scheduled to close. Prisons in Blythe and California City are set to close by 2025.
Newsom hopes to eventually close all private prisons in the state.
"I'm going to be around — unless they recall me — to make sure that happens," he said, referring specifically to the planned closure of the California City Correctional Facility.
>>>Opinion: I Hope Gov. Newsom Woke Up Thanking Black Women for Recall Results
Newsom said these closures and reforms do not mean people will be released from prison. The state will not be reducing, eliminating or commuting sentences. Rather, it will take a new collaborative approach to criminal justice that puts "victims front and center … victims and survivors," he said, and includes prisoners and "advocates of all stripes."
He said the state would follow "the Norwegian model of rehabilitation."
"In Norway, the punishment is just to take away someone's liberty. The other rights stay," Are Hoidal, then the governor of the maximum-security Norwegian Halden Prison, told the BBC in 2019. "Prisoners can vote, they can have access to school, to health care; they have the same rights as any Norwegian citizen. Because inmates are human beings. They have done wrong, they must be punished, but they are still human beings."
Norway's recidivism rate — which reflects how many people commit another crime after being released from prison — "has dropped 50% since the 1990s, from 70% to 20% today, one of the lowest in the world," the Berkeley Political Review reported in October. The nation's prison reforms began in the 1990s.
"Recidivism rates in California have remained stubbornly high, averaging around 50 percent over the past decade," a January 2019 report by the California State Auditor said.
Newsom said that real change also requires "recognizing the disparities that exist throughout the justice system."
He also has big changes in mind for the healthcare system. They include "unprecedented supports for universal healthcare" and mental health care. It also includes updating the Mental Health Services Act.
Newsom said California could be the first state to offer universal healthcare regardless of residents' preexisting conditions or immigration status. He also wants to "completely reform our Medi-Cal system."
Ghaly said change is needed to "support those with the most severe [mental health] conditions" so that they can truly be part of their communities "because they're finally getting" the treatment and support they need.
The state is also working to reduce the costs of medications.
Ghaly said that prescription drugs, "especially those that should be generic … cost too many their livelihoods, [forcing] tough decisions."
California's plans include manufacturing its own insulin, though Ghaly said it is a "long, torturous process to get approval" from the U.S. Food and Drug Administration.
Newsom said the goal is not subsidizing cost of insulin but "disrupting the market."
The state is also working to address the fentanyl crisis. As part of those efforts, it intends to use federal funding to increase the distribution of naloxone — an emergency treatment that can reverse the effects of opioid overdose — in middle and high schools.
Castro Ramírez said combatting homelessness is a top priority for the Newsom administration too, in part because having a home affects how well and how long people live.
"This is an all hands on deck effort," she said.
Newsom said the state needs to work on not only housing people but providing chronic disease management for everyone but especially unhoused people.
He also responded to the prejudice that has made headlines around the country.
"California is going to stand tall against that bigotry, that xenophobia, that nativism," Newsom said. "We're never going to take a step back on protecting immigrants, newcomers" and minorities, "especially the African American community."