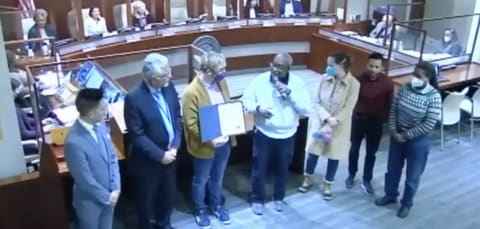 29 Mar

Richmond Recognizes Transgender Day of Visibility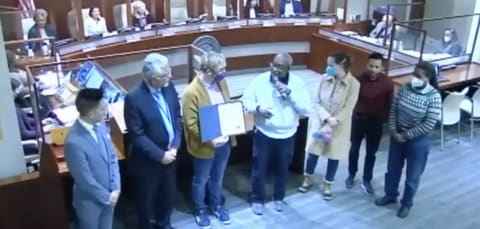 Richmond City Council presented Richmond Rainbow Pride with a proclamation Tuesday recognizing Transgender Day of Visibility, which will be observed Friday. (Screenshot captured by Julia Métraux / Richmond Pulse)
By Julia Métraux
The Richmond City Council issued a proclamation Tuesday recognizing Transgender Day of Visibility, which is held annually on March 31.
"I, the mayor of the city of Richmond, California, do hereby proclaim March 31, 2023, as Transgender Day of Visibility in the city of Richmond, California, and encourage all residents to join in celebrating the diversity and contributions of transgender and gender non-conforming individuals in our community," Richmond Mayor Eduardo Martinez said.
Transgender Day of Visibility was first founded in 2009 by Rachel Crandall to celebrate the lives of living trans people; previously, the only day centering trans people was Transgender Day of Remembrance, which commemorates murdered trans people. U.S. President Joe Biden proclaimed that March 31 was Transgender Day of Visibility at a national level in 2021, his first year in office.
Richmond Rainbow Pride, which council member Cesar Zepeda co-founded, accepted the proclamation from the city.
"We would like to thank the city of Richmond and our former President Zepeda, for making sure that this is recognized," co-chair Jamin Pursell said.
Across the United States, there have been increasing amounts of anti-trans legislation that affects not only trans children's ability to get gender-affirming healthcare but adults as well. Transgender advocates and their allies have long spoken on the importance of receiving gender-affirming care. Research has also shown that receiving gender-affirming care is beneficial for transgender and nonbinary people's mental health.
>>>Read: Richmond's LGBTQ Community Wants More Safe Spaces
The state of California has itself taken steps to ensure that transgender people would be able to get gender-affirming care in the state. Gov. Gavin Newsom signed a Senate bill in September 2022 that would protect transgender people traveling to California for gender-affirming care, as well as healthcare professionals who provide that care.
"The hate demonstrated by these laws is unfathomable and has contributed to soaring suicide rates," Newsom wrote in a letter after signing the bill. "With the signing of this bill, California will ensure these kids and their families can seek and obtain the medical and mental health care they need."
Laws like Florida's "Don't Say Gay" law also limit students from being taught about LGBTQ+ people, including transgender people, in schools. Florida Gov. Ron DeSantis recently expanded the "Don't Say Gay" laws through 12th grade.
"While I'm relieved that California is not a state pursuing this unjust legislation, I do expect the city of Richmond to take inventory of our systems and programs and make sure we have done the work," Richmond Rainbow Pride board member Ashley Scarborough-Gonzalez said. 
Some areas of improvement for LGBTQ+ acceptance in Richmond have been outlined by the Human Rights Campaign in its Municipal Equality Index. According to its website, the HRC's Municipal Equality Index "examines how inclusive municipal laws, policies, and services are of LGBTQ+ people who live and work there."
In the 2022 MEI scorecard for Richmond, the city received its worst score in the law enforcement section, due to the Richmond Police Department not having a LGBTQ+ Liaison/Task Force. In total, the city scored 79 out of 100.
>>>Read: A Mixed-Race Queer Couple Finds Acceptance in Richmond — 'People Don't Stare at Us'
Scarborough-Gonzalez said it is important that members of the Richmond community "have done all we can to welcome all gender identities and expression."
"I want to remind our community and allies that visibility is the reward for efforts to build safety and inclusion for all genders," she said.
The next regular City Council meeting is scheduled for April 4.