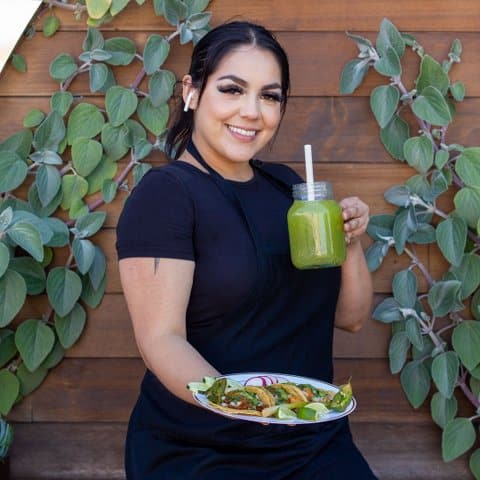 04 Apr

Oakland Woman Brings Vegan Mexican Food to Richmond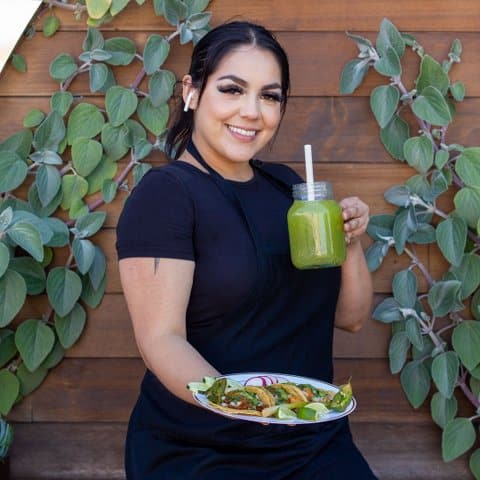 Marbella Zepeda says she opened Vegan Vibes/Vibras Veganas to "feed bellies and feed minds." (Photo by Ian Elwood)
By Natasha Kaye
Marbella Zepeda didn't expect her career as a financial advisor to kick-start her vegan lifestyle journey, but her experience guiding others as they struggled with health and income troubles allowed her to see how vital eating habits are for a long, healthy life.
Born in Mexico City and raised in Oakland, Zepeda is no stranger to the hustle and grind of the immigrant experience, but at only 26 years old, she has, in her own words, "made it happen."
Zepeda is a single mother of two young daughters, a full-time employee at People Helping People, a nonprofit that offers financial, education and housing advice to low-income Americans, and the owner of her very own food business: Vegan Vibes/Veganas Vibras, a pop-up specializing in tasty vegan re-creations of Mexican cuisine classics. Since early January, Zepeda has partnered with 7 Stars Holistic Healing Center, a cannabis dispensary in Richmond, to host her pop-up in its parking lot Fridays from noon to 5 p.m.
>>>Read: My Journey to Becoming Vegan
Zepeda was introduced to the vegan lifestyle herself four years ago and after noticing a significant improvement in her energy and ability to manage her weight, she educated herself on the benefits of the diet. After seeing an opportunity to improve the health of those around her, she dove headfirst into spreading her knowledge to others in her community.
"Obviously, one job is behind the grill, the other one is behind the computer, but I always tell myself, I'm OK with feeding bellies and feeding brains," Zepeda said.
Approaching her third year as a financial advisor, Zepeda is already an expert at educating others on how to handle their finances such as making retirement plans and arranging for life insurance. Her years in the trade navigating the American healthcare system have shown repeatedly how devastating hospital bills can be to a family's finances, and with her clients being primarily low-income people of color, she also saw how pervasive unhealthy eating habits were in her own community.
"Honestly, that was the biggest thing — I wanted to start with where I was raised. I wanted to start it in my community," Zepeda said. "I asked why can we go to every corner and have the same kind of taco truck and not have one vegan option?"
>>>Read: On Being the Vegan at the BBQ
In many ethnic households, where food is integral to culture, veganism has a tendency to be overlooked and disregarded as little more than a pricey trend, but Zepeda is determined to change that misconception.
"When I started, my parents weren't fully on board because you know, they're Latinos, Hispanics, you know, normal Hispanics asking, 'How are you going to give me a taco with no meat?' "
But four years into Vegan Vibes, Zepeda has yet to run out of mouths to feed. Her business has grown large enough that she can now hire her first full-time employee — her father —  who has come to embrace the vegan diet with open arms.
Zepeda spends her first half of the week and weekends at her financial advising job and Thursdays and Fridays prepping, cooking, selling and cleaning for Veganas Vibras.
The menu features three varieties of street tacos: beef, potato chorizo and her bestseller, chicken — all vegan and cruelty-free. The faux meats are marinated with in-house seasoning and grilled before being topped with smooth avocado- and spicy habanero-based salsas as well as finely chopped cilantro and onions and a medley of grilled vegetables.
Vegan Vibes offers three tacos — beef, chicken and potato chorizo, all free from animal products — and aguas frescas like this one made with cucumber, pineapple and chia. (Natasha Kaye / Richmond Pulse)
To drink, Zepeda offers several agua fresca options, into which she puts a lot of time and effort. Her vegan horchata requires her to grind an assortment of nuts and oats, then hand strain it all to make her own milk substitute. Her best-selling beverage doesn't even have a name yet. Called "the green one" (for now), it is a mixture of cucumber and pineapple juices and chia seeds that give it a thick, hearty texture reminiscent of boba tea.
With her business gaining more traction every day, Zepeda says her next steps are to finally purchase a food truck as an established, yet mobile, home base for Vegan Vibes/Veganas Vibras, which will allow her to expand her menu. She also envisions a screen on the truck displaying information educating the public about the meat industry and the toll it takes on the environment and people's health.
"Like I said, I want to feed bellies and feed brains."