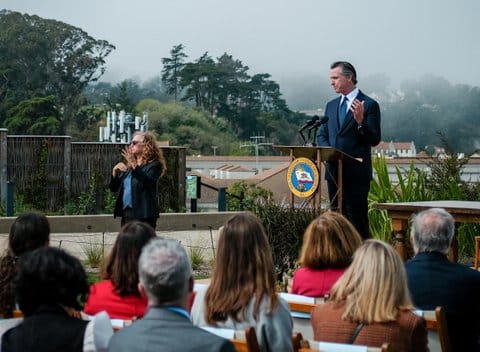 06 Apr

State Makes Progress in Protecting Californians From Climate Change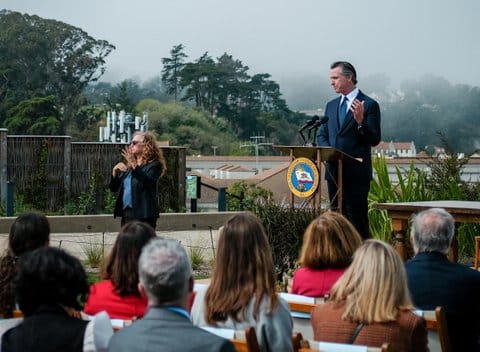 Gov. Gavin Newsom reaffirmed his commitment to work with West Coast neighbors on fostering a low-carbon economy by signing a new climate agreement Oct. 6, 2022 in San Francisco. (Olivia Wynkoop / Bay City News)
By Olivia Wynkoop
Bay City News
California has made strides in its efforts to build climate resilience and protect people from the devastating effects of climate change, according to a progress report released Wednesday.
The report shows that nearly 150 actions in the state's climate adaptation plan are in progress or completed. All of the plan's 350-plus metrics are at least in the early stages of scoping, and three-quarters are underway or finished.
California's Climate Adaptation Strategy combines new and existing efforts from state agencies to brace for the detrimental impacts of climate-driven natural disasters happening now and in the future.
Actions range from launching a pilot program to help San Joaquin Valley farmworkers with climate-related health issues, to investing millions into urban forestry projects to mitigate extreme heat.
>>>Read: As Climate Change Worsens, 'We Have No Future'
The six-pronged plan aims to protect vulnerable communities, natural systems and the economy, while making decisions based on science, available resources and the overall health of the public.
Gov. Gavin Newsom said the state is acting with an "all-of-the-above approach" to help communities adjust to a changing climate.
"While we have made great progress over the last year, the climate crisis demands we move further and faster to reduce risks to our people," he said.
California's latest Climate Change Assessment notes that the state is already facing the impacts of climate change, like severe weather events, more frequent heat waves and prolonged drought. The assessment projects that more water shortages, extreme wildfires, coastal flooding and higher temperatures will continue to hit the state over the next few decades.
>>>Read: We're in a Drought, and Everyone Needs to Save Water
The progress report notes 10 areas of focus for the year ahead, including funding research, making state dollars more available for local governments and using data to identify the state's most vulnerable communities.
"California is actively reducing climate threats to communities and natural places with the support of historic investments from the Governor and Legislature," California Secretary for Natural Resources Wade Crowfoot said. "The choices we make today matter. California is on the right path, but the climate crisis demands that we pick up the pace. This Administration is committed to moving further, faster."
California is required to send out a statewide climate adaptation strategy every three years. In 2021, the Newsom administration reorganized the adaptation strategy into priorities that encapsulate all efforts by individual state agencies.
"Until recently, these efforts were separate and siloed by sector. Now, they are coordinated and guided by overarching, holistic priorities," Office of Planning and Research director Samuel Assefa said. "This alignment helps protect communities threatened by multiple climate impacts and makes it clear to the public that we have a comprehensive plan to protect people and nature."
The next strategy update is set to be submitted in July, and released for public comment in January.
Copyright © 2023 Bay City News, Inc. All rights reserved. Republication, rebroadcast or redistribution without the express written consent of Bay City News, Inc. is prohibited. Bay City News is a 24/7 news service covering the greater Bay Area.