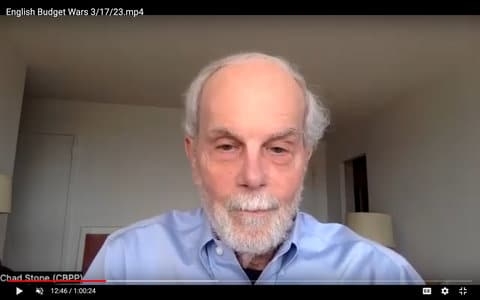 15 Apr

Biden Budget Proposes 'Life-Changing' Investments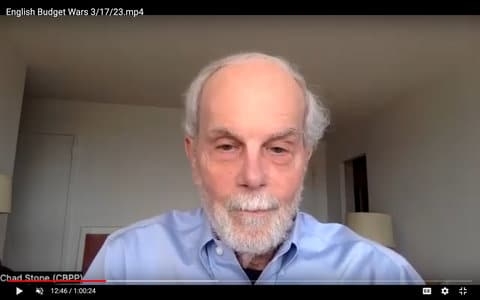 President Biden's proposed budget "invests in children, supports for workers, housing affordability, education and core government functions," said economist Chad Stone. (Screenshot captured by Danielle Parenteau-Decker / Richmond Pulse)
By Danielle Parenteau-Decker
President Biden released a broad and ambitious U.S. budget proposal March 9.
Among other things, the Biden budget would eliminate the Trump tax cuts, increase the corporate tax rates to reinforce Medicaid and Medicare, bring back the expanded Child Tax Credit and make it permanent, and prioritize the environment and education, according to a March 17 Ethnic Media Services national news briefing.
Chad Stone, chief economist at the Center on Budget Policy and Priorities, provided a "broad view of the budget … from 20,000 feet."
"The budget invests in children, supports for workers, housing affordability, education and core government functions, among others," he said.
Stone said this proposal would represent a major economic shift.
The budget has "big ideas for changing the way things have been going," he said, "and it finances these investments by raising taxes on high-income people and profitable corporations that have benefited the most from the nation's economy to date."
>>>Read: Corporations Are Using Inflation to Pad Profits, Economist Says
"It also broadens opportunity," Stone continued, "including among people in communities who have long been underinvested in such as people with low incomes, people of color, Indigenous communities and people in rural communities."
But whether any of this comes to pass is not up to the president.
"The separation of powers in the Constitution gives Congress the power of the purse with respect to taxes and spending," Stone said. "The president's budget is a guide to the president's vision and desires and power of persuasion, but Congress has no obligation to accept the president's proposals."
Basically, there's no telling what Congress will do.
"How all this will play out in the House is anybody's guess at this point since we hear a lot of uninformed or arithmetically impossible rhetoric," Stone said. "I really don't know how things are going to play out. We live in interesting times."
Biden's proposal comes at a time when measures to protect people from the COVID economy have largely run out and people are feeling the effects of inflation.
>>>Read: Economic Downturn Threatens to Bring Down Marginalized People
"A lot of the pandemic-era programs are winding down," said Elizabeth Lower-Basch, deputy executive director for policy at the Center for Law and Social Policy. "We know that costs for food, childcare, healthcare are continuing to rise, so families are feeling the pinch."
Lower-Basch focused on what this budget would mean for the country's social safety net.
"The budget does propose to make some really important investments in children, families, seniors, workers, particularly those with low and moderate incomes," she said.
She continued, "A lot of them would be quite life-changing, and the combination's really what I think would be most exciting."
Those investments include increased funding for affordable childcare and food assistance programs.
Biden's plan also "calls for a national paid family and medical leave program, which we have never had in the United States," Lower-Basch said. "It would allow 12 weeks of paid family and medical leave for all workers so that they can step away and still be paid while they're caring for a newborn, a sick family member or for their own healthcare."
The briefing also looked at the future of Social Security.
"Will this continue to be a Sword of Damocles … hanging over the heads of older people?" asked EMS director Sandy Close.
"Social Security does face a long-term financing shortfall, but the program is going to be around for future generations," said Andrew Eschtruth, associate director for external relations at the Center for Retirement Research at Boston College.
In recent years, the program has also had to deal with decreased staffing levels, "increasing caseloads because the population is aging," and widespread office closures during the pandemic, he said.
"These together combined and forced quite a backlog," Eschtruth said.
The Biden budget would increase Social Security's administrative budget by 10%.
"That would be used to deal with these backlogs to generally improve service throughout the agency, to be able to hire more people, to improve technology," he said.
The president's proposal is the first step in a lengthy budget process that is sure to be contentious.
"These proposals do need to go through Congress in order to become real, and there certainly would be a lot of fighting and back and forth," Lower-Basch said.
From here, the House and Senate must devise and pass spending bills, which the president must sign by Oct. 1. If lawmakers can't come to a consensus, a government shutdown is not out of the question.