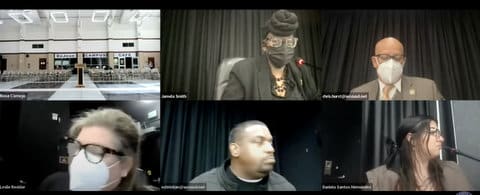 28 Apr

Student Trustees Want to Ease Middle School to High School Transition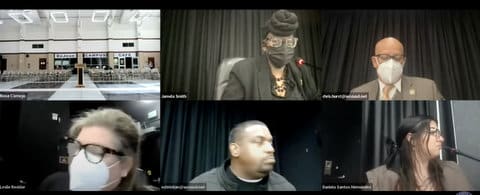 WCCUSD offers more than 15 career pathways to high school students. (Screenshot captured by Julia Métraux / Richmond Pulse)
By Julia Métraux
Before their terms end, student trustees Kaylee Barron and Daniela Santos Hernandez want to start tackling a new issue: raising awareness and strengthening pathways between middle and high schools.
"The transition into Richmond High, for me personally, was kind of jarring because I was put into a place, [where the school] assigned students into random academies," Barron said. Barron said she did not learn that Richmond had an academy-based system until she was in eighth grade
The West Contra Costa Unified School District offers over 15 pathways that can help students with career readiness and other interests. However, Barron and Santos said at Wednesday's school board meeting that this process is sometimes unclear for students, and they would want to engage their peers in how to make the process better.
"If students were aware that these options were there for them, the community as a whole could really just flourish a lot more," Santos said.
Over a two-year period, starting in the 2013-14 school year, the state of California gave $1.5 billion in grants to 79 districts across the state to get career pathway programs started in high schools. The purpose of these pathways, according to the California Department of Education, is "to better prepare students for the 21st century workplace." As a grantee, WCCUSD was given nearly $15 million for the 2014-15 academic year.
>>>Read: I'm Worried High School Isn't Preparing Me for My Future
For this project's first step, Santos said they want to send out surveys to middle schoolers to figure out how they could be better supported in the process of choosing their initial pathways. Many high schools across the district give students the option to change their pathways once.
"We want to know their thoughts on if it's a problem for their specific site, if they think that their site is doing something bad, something good," Santos said.
The next step, phase two, would involve running additional more specific surveys based on the initial responses.
"So we can get an idea of what…we could start implementing specifically through this whole project," Barron said.
The final phase of this project would be to present their findings to the board, including other students' ideas and their suggestions as student trustees.
"We can give you guys breakdowns of as we get the initial surveys, and then the second surveys, or however you guys might want to see that," Santos said.
Trustee Otheree Christian asked the student trustees about the transition between middle school and high school and how the pathways relate to that.
Santos said pathways and their corresponding academies, if a high school has one, are an area of focus as it is already in place.
"We're trying to figure out how we can strengthen those preexisting things before we start trying to create completely new things," Santos said.
Trustee Leslie Reckler said she is glad that student trustees want to make sure that students are getting enough information about the pathways before they have to choose them going into high school, rather than having it chosen for them.
"There are so many interesting creative pathways and all of our schools, and so I'm really glad that that's going to get some light," she said.
The next regular West Contra Costa School Board meeting is scheduled for May 3.