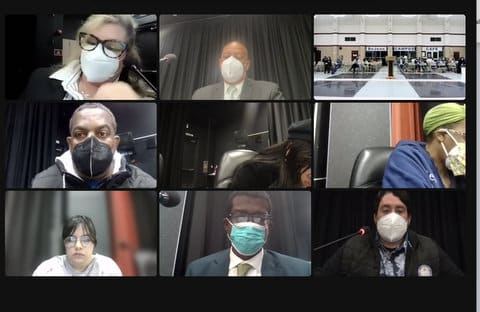 02 Mar

Student Trustees Work to Support Their Peers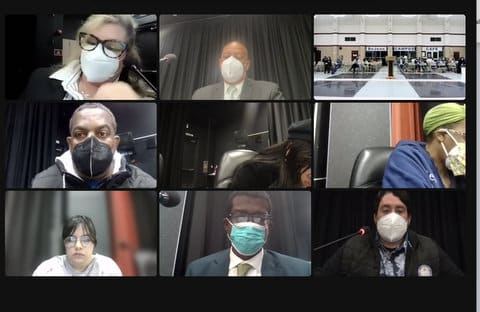 By Julia Métraux
Since starting as student trustees at the beginning of the second semester of this school year, Daniela Santos Hernandez and Kaylee Barron are making sure that the All Student Congress is up and running.
Santos, a student at Middle College High School, and Barron, a student at Richmond High School, told the West Contra Costa School Board on Wednesday about the ASC's first meetings. ASC, which is composed of both middle school and high school representatives, has met twice so far this school year, on Jan. 26 and Feb. 16.
The WCCUSD student trustees have surveyed peers on resources and their support for teachers then considering a strike.(Screenshot captured by Julia Métraux / Richmond Pulse)
In addition to working on finalizing a mission statement, Santos and Barron also surveyed representatives across school sites to see how students could be better supported. Many students also shared that they had at least one adult at their school that they feel like they could go to if there was a problem.
"Most students commonly said that college and mental health resources were things that they would want to see more of at their schools," Barron said.
>>>Read: As Pandemic Worsens Students' Mental Health, WCCUSD Tries to Keep Up
As they are just two people representing students, they also surveyed student's support for the United Teachers of Richmond and their then-potential strike.
"We talked to them about the tentative agreement, we talked to them about the voting," Santos said. Some students also reported that their education has been interrupted, as teachers are leaving the district to get better-paying jobs.
Both trustees spoke about the importance of the work that Black Student Unions across the district are doing to confront anti-Black racism and promote community for Black students, including Richmond High School's "We Stop, You Stop" campaign on ending the use of the n-word in the district.
>>>Read: RHS Student Wants to Take the N-Word 'Out of People's Vocabulary'
"Trustee Santos and I are also hoping to start reaching out to BSUs across the district soon and talk with them to get to know them better and know what we can do for them," Barron said.
No More Required Student COVID-19 Vaccine
Following many lawsuits and contentious school board meetings across the state, California dropped its looming requirement for students 12 and older to receive the COVID-19 vaccine to attend school in person.
Superintendent Kenneth "Chris" Hurst said, despite West Contra Costa Unified School District having its own COVID-19 vaccine mandate at one point, that they would follow the state's lead.
"In the past, we followed state guidance and CDPH [California Department of Public Health] guidelines," Hurst said. "What that means…is that West Contra Costa Unified School District no longer has a [COVID-19] student vaccine mandate."
COVID-19 vaccines are "safe and effective," and they "met the Food and Drug Administration's rigorous scientific standards for safety, effectiveness, and manufacturing quality needed to support emergency use authorization," according to the Centers for Disease Control and Prevention.
People can visit vaccines.gov to find where they can get the COVID-19 vaccines and boosters near them.
Honoring Women's History Month
The West Contra Costa Board of Education unanimously voted to pass a resolution to recognize March 2023 as Women's History Month. March is recognized as Women's History Month in the United States, Canada and the United Kingdom. March 8 is also International Women's Day.
As part of the resolution, the district recognizes that "women of every race and ethnic background…served as leaders in the forefront of every major progressive social change movement."
Clerk Jamela Smith-Folds asked that the district also focus on issues that affect female students, such as period poverty. She also noted that teaching is a profession dominated by women.
"We all know that teaching is a very female-heavy institution," Smith-Folds said. "I think that some of the reason why it's treated so poorly is because it does have so many women inside of it."
The next regular School Board meeting is scheduled for March 15.