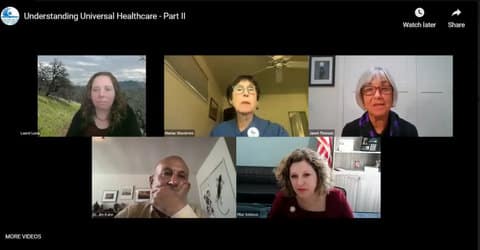 16 May

Universal Healthcare Could 'Save Money and Save Lives'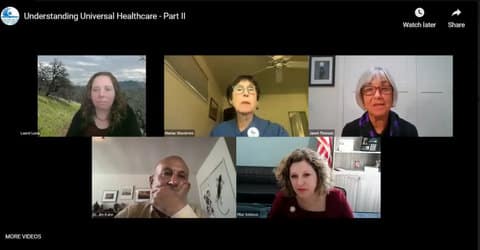 Laurel Lucia of the UC Berkeley Labor Center, left; Marion Shostrom; Janet Thomas; Jim Kahn of UCSF; and Assembly member Pilar Schiavo discuss universal healthcare. (Screenshot captured by Kathleen Quinn / Richmond Pulse)
By Kathleen Quinn
A physician, a policy maker and a labor relations and healthcare expert on April 20 presented a path forward providing state-run universal healthcare to Contra Costa residents.
Contra Costa County Library, the League of Women Voters of Diablo Valley and the League of Women Voters of West Contra Costa County hosted their second virtual panel on universal healthcare. The first session focused on what universal and single-payer healthcare is. The second in the series dealt with the specifics of implementation and its potential impact.
"I think sessions like this are an important step towards educating voters about the impacts of a single-payer system," said Laurel Lucia, director of the health care program at the UC Berkeley Labor Center and a member of the Healthy California For All Commission. "With a change as big as single-payer, there's a lot of education needed."
"Our current system is very inequitable," she said. "There are people left out of it. Whether they are uninsured or underinsured, they can't afford access to care."
Undocumented people are ineligible for Covered California and many are unable to access Medi-Cal, leaving over 500,000 people uninsured, according to a study Lucia co-authored with Berkeley's Labor Center.
>>>Read: 'Am I Really That Sick?' Healthcare Costs Weigh on Undocumented People
Jim Kahn, a professor at the Philip R. Lee Institute for Health Policy Studies, Global Health Sciences and the Department of Epidemiology and Biostatistics at UC San Francisco, said that single-payer means a public entity would provide coverage for all Californians. Currently, employers provide 47% of insurance in California, according to the Kaiser Family Foundation.
"Labor economists tell us that when businesses have to pay insurance premiums that that's money, generally, they take out of salary and wages in the medium and long-term," Kahn said. "So we can count half of what the employer contributes as being a cost to the employee."
>>>Read: Watch Out for Yellow Envelope to Avoid Losing Medi-Cal Coverage
Despite worries about an increase in costs, Lucia predicted total health expenditures would be $16 billion less than in the current system.
"I think an important thing that these sessions address is the misconception that people would pay more under a single-payer system," Lucia said. "Our research shows that as a whole we'd spend less on healthcare under a single-payer or a unified financing system."
That could have a huge impact for people who need long-term services and support.
"People with chronic conditions today often struggle to afford the ongoing care they need because of high out-of-pocket costs," Lucia said. "Under a lot of proposals for a single-payer system, out-of-pocket costs would either be greatly reduced or entirely eliminated."
>>>Read: Increasing Access to Healthcare Reduces Poverty, Policy Group Finds
To get a better handle on what individuals might pay, Kahn encouraged people to try Healthy California Now's Medicare for All Savings Calculator.
But Lucia also said more work is needed to figure out the best combination to fund the new system.
State Assembly member Pilar Schiavo, D-District 40, said when the concept of state-level universal healthcare was first presented to her very early in her political career — when she was working at the San Francisco Labor Council as a political director — she didn't take it seriously.
"My boss and I looked at each other after the meeting, and we were like, 'That's probably not going to happen,' and unfortunately, since then it hasn't happened," said Schiavo. "So I think having the kind of education that folks are getting today is really critical for us to change hearts and minds."   
There are two bills in the state Legislature intended to make universal healthcare a reality in the state. The first is AB 1690, which would extend healthcare to everyone in the state under a single-payer system.
"Unfortunately, last year, we were not even able to get a vote on the floor of the Assembly because there just wasn't enough support for it," Schiavo said.
The other bill, SB 770, recently moved out of the Senate Health Committee and is intended to address universal healthcare financing.
"We know that the opposition can spend hundreds of millions of dollars against us, and so we need to be able to build that kind of coalition and get people on board to be a part of the movement," Schiavo said.
Kahn said he expects the bills to be a heavy political lift because there are organizations, such as insurance providers, who will fight hard against changes to the current system because they stand to lose a lot of money.
"At the end of the day, I believe 150% that this is where we need to go if we're going to save money and save lives," Schiavo said. "But also, it's a massive overhaul and a big, big, change — and it's scary. I understand why some folks, especially if they don't have as much experience with the issue, why that's a really big, scary leap."