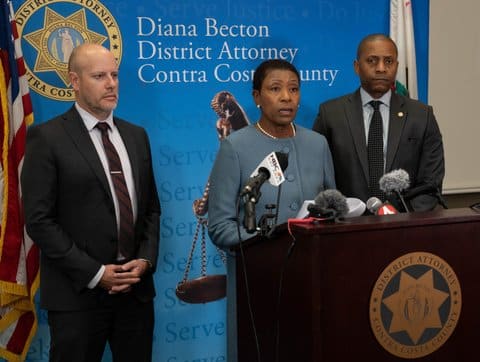 07 Jun

Committee Fights Hate Crimes From Multiple Angles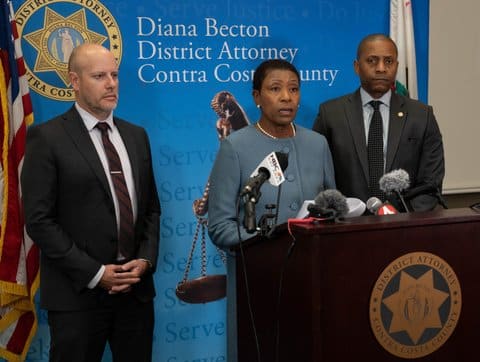 Chief Assistant District Attorney Simon O'Connell, from left, District Attorney Diana Becton and Chief of Inspectors Arnold Threets at a Oct. 28, 2022, press conference. (Ray St. German / Bay City News)
By Danielle Parenteau-Decker
Ross Farca threatened online to kill the members of a Concord synagogue in 2019. A new committee worked with the FBI to find and stop Farca, who was convicted of a hate crime.
Contra Costa County District Attorney Diana Becton formed the Hate Crimes Committee that same year. Committee Chair and Chief Assistant District Attorney Simon O'Connell spoke with Richmond Pulse on June 1 about the group's work.
He said the committee came in response to "what we were seeing as a rise in crimes" that included hate conduct or hate speech.
The committee has three primary objectives, according to O'Connell: community outreach, law enforcement training and determining whether an incident legally qualifies as a hate crime.
Section 422.25 of the California Penal Code defines a hate crime as "a criminal act committed, in whole or in part, because of one or more of the following actual or perceived characteristics: (1) Disability, (2) Gender, (3) Nationality, (4) Race or ethnicity, (5) Religion, (6) Sexual orientation, (7) Association with a person or group with one or more of these actual or perceived characteristics."
O'Connell said that during the Farca investigation, "we found some loopholes" in the penal code regarding hate crimes. He did not specify what the loopholes were but said the committee worked with state Assembly member Rebecca Bauer-Kahan, D-Orinda, "to close some of those loopholes."
Nationally, hate-based incidents have been on the rise over the past few years. Among the most glaring examples has been the level of violence and vitriol against Asian and Pacific Islander people driven by racist claims about COVID-19.
Closer to home, hate crimes may be less common, but that doesn't mean they aren't an issue.
O'Connell said more needs to be done to raise awareness of hate crimes in the Bay Area.
"The default position people take in the Bay Area is to say, 'I'm shocked this happened here,' " he said.
He said because the region is seen as being so diverse and open-minded, it can make people think it's immune to hate crimes, but that assumption is a mistake.
"We do an injustice and disservice to victims and survivors of hate crimes if we don't recognize this can happen in our backyard," O'Connell said.
Contra Costa County's hate crimes rate is relatively low. According to the 2021 "Hate Crime in California" report by the California Department of Justice, 14 hate crime cases were reported to county prosecutors, out of 610 in the state. Out of those, four cases were filed as hate crimes in the county and 285 in the state.
O'Connell said that's in line with Contra Costa's homicide and violent crime rates, which also tend to be lower than in other counties of comparable size. He said he could not say exactly why the rates were lower but that there were likely multiple reasons.
To help ensure the statistics are accurate, suspected hate crimes need to be reported to law enforcement, but that's often not easy.
"The most important thing is if you see something or experience something," O'Connell said, "say something."
But he acknowledged that the people most likely to be the targets of a hate crime are also less likely to feel like they can go to the police for help, for a number of reasons.
They might worry about being misunderstood because of a language barrier or cultural differences — if they're listened to at all.
"We see people think, 'I'm not going to be heard, or I'm not going to be listened to,' " O'Connell said. They also fear being dismissed or not being taken seriously.
The committee does community outreach to encourage people to report incidents and works with law enforcement agencies to try to increase cultural competency and to make officers more aware of people's concerns.
O'Connell said these efforts are making a difference. "With increasing frequency, hate crimes are being reported."
While the committee does not directly help survivors of hate crimes, he said the DA's office does "have a robust witness advocacy program that offers support."
The Victim Witness Assistance Program is meant "to reduce the trauma and insensitivity that victims and witnesses sometimes suffer following a crime," according to its webpage.
People can reach a DA Victim Advocate by calling (510) 374-3272 (Richmond) or (925) 957-8650 (Martinez).
In addition to reporting to local law enforcement, a victim or witness may also report hate crimes to the FBI by calling 1-(800) 225-5324 or visiting tips.fbi.gov.
This story was funded by a grant provided by California Black Media through work from the State of California Library Stop The Hate grant campaign.