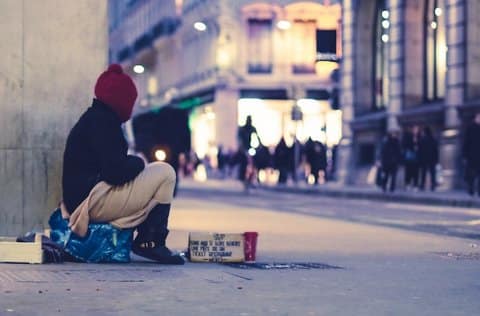 12 Jun

Report Finds Bay Area Unhoused Youth Faced Increased Challenges Since Pandemic

By Charles Ayitey
Bay City News

A survey of unhoused youth in the Bay Area found that about a third of them reported becoming unhoused since the start of the pandemic, according to a new University of California at Berkeley study.

The report published last month by UC Berkeley's School of Public Health's Youth and Allies Against Homelessness looked at how living standards and health outcomes of youth facing homelessness in San Francisco and Alameda counties worsened since the onset of COVID-19.

Out of 182 unhoused youth surveyed, 50% reported eating fewer meals per day and sleeping on an empty stomach than before the pandemic.

"The pandemic has exacerbated the already-existing challenges that unhoused youth face," said Coco Auerswald, lead author of the report and director of YAAH, in the report. "We need to do more to support these young people and help them transition to adulthood."

>>>Read: Q&A: Homeless During a Coronavirus Christmas

San Francisco housing officials counted 7,754 homeless individuals one night in February 2022. Among that total, 1,073 were homeless youth, San Francisco's 2022 homeless point-in-time count shows.

Auerswald said the unhoused youth community is often systematically left out of policies regarding homelessness in San Francisco and Alameda counties despite making up one in seven of the homeless population.

Increased discrimination and stigmas make unhoused youth more likely to be exposed to violence, substance abuse and exploitation. Half of youth experiencing homelessness in the report rated their health as worse after the pandemic. Also, over one-third of participants who had used alcohol, cannabis and other drugs reported an increase in substance abuse since the onset of COVID-19.

>>>Read: 'It's Scary': Unhoused Richmond Women on Life in the Pandemic

"It kept them in a position of poverty and housing instability, impacting their access to education and their access to income, which ultimately kept them in the negative positions that they were in and impacted their ability to successfully transition to adulthood," said YAAH project team lead Jessica Wright in the report.

YAAH's report also shows significant disparities in vaccine distribution. While 73% of the Bay Area's general population received at least one COVID-19 vaccine dose, unhoused youth participants in the survey lagged at only 21%. According to the report, this discrepancy directly impacts Black and Brown, LGBTQ+ and first-generation youth who are more likely to be unhoused.

"It's critical that we all step up and say that we are outraged, and we demand that change," Auerswald said. "Our report provides the necessary evidence to implement policies to be sure that no future pandemic, wildfire, or other disasters disproportionately harms youth experiencing homelessness again."

>>>Read: Unhoused Richmond Residents Struggle to Get Newest Economic Impact Payment

The UC Berkeley report recommends some reforms in the Bay Area's housing policy. Some of the suggested reforms include:

-Rapid re-housing in dorms: This involves providing homeless youth with immediate access to dormitory-style housing — typically found on university campuses. This option allows them to have a stable living environment while working toward a secure permanent housing solution.

-Shared housing with peers: The report suggests creating avenues for youth experiencing homelessness to live together in shared housing arrangements — providing support and a shared community, which can be beneficial to their mental health.

-Co-operatives: By pooling their resources and responsibilities together, the report suggests that this concept of housing creates a supportive and affordable living arrangement.

-Family-based solutions: The study also highlights the possibility of connecting homeless youth with their families where they can live with relatives or foster families.

Also, the authors propose that future emergency housing projects in the Bay Area should consider the needs of homeless youth by allocating a proportional number of available spaces to them. This ensures that youth experiencing homelessness are not overlooked or marginalized in emergency housing initiatives.

Youth and Allies Against Homelessness is a research team at the UC Berkeley School of Public Health. Researchers were comprised of youth with lived experiences of homelessness or who have demonstrated a commitment to ending the homelessness crisis, they said.

The web-based survey used for the report was conducted from March to July 2021 and involved 182 participants from San Francisco County (70.9%) and Alameda County (29.1%). Non-Hispanic whites made up 43%, Non-Hispanic Blacks made up 29.7%, and Latinx youth made up 13.2% of respondents.

Copyright © 2023 Bay City News, Inc. All rights reserved. Republication, rebroadcast or redistribution without the express written consent of Bay City News, Inc. is prohibited. Bay City News is a 24/7 news service covering the greater Bay Area.