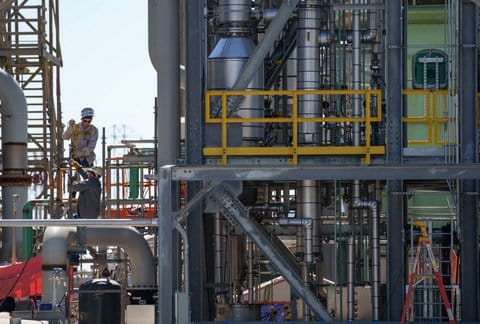 16 Jul

Pilot Project Launched to Capture 95 Percent of Power Company's CO2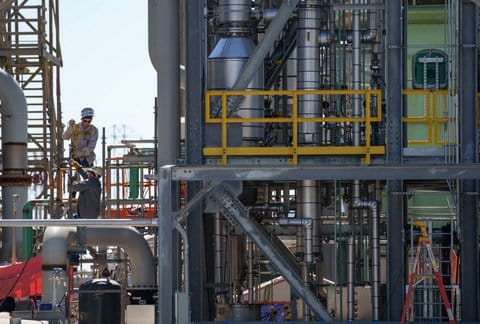 Workers on the absorption tower at the Los Medanos Energy Center during Calpine's Carbon Capture & Storage presentation in Pittsburg on Friday. (Ray Saint Germain / Bay City News)
By Tony Hicks
Bay City News
Less than two weeks after Earth saw the highest average daily temperatures in recorded history, Friday was a perfect day to kickstart a major weapon in the fight against climate change.
Electricity producer Calpine cut the ribbon on its new pilot project at the Los Medanos Energy Center in Pittsburg that aims to capture 95% of the carbon produced by its electrical generation.
Carbon, when it comes to climate change, is a heat-collecting problem in our atmosphere, especially when human energy producers send so much carbon dioxide into the air making electricity from natural gas and geothermal sources.
Calpine — which says it's the nation's largest generator of electricity from natural gas and geothermal resources — has worked with solvent technology developed by ION Clean Energy and the U.S. Department of Energy to develop a 13-15 month pilot project to further the technology.
While carbon capture has been around for decades, and ION has done other pilot projects, this is the first that was specifically designed for ION's new technology.
"It's a very selective process to specifically remove the CO2," said Barbara McBride, Calpine's director of environmental policy.
Almost all of the carbon produced by converting natural gas and geothermal into electricity is captured by ION solvent and gets stored underground, then repurposed for other uses.
The project is considered small scale, compared to what it could eventually do, said Jennifer Atcheson, ION's vice president of operations.
"But it's big enough scale for us to demonstrate the technology to go to the next step for commercial demonstration," Atcheson said.
The tall, modulated towers — built in Texas and moved to Pittsburg in May — were already humming Friday. After media got a quick look at the facility, about a hundred guests gathered to hear energy officials talk about the project.
"I personally have been working on this problem for 20 years, boy am I excited to see this happening in the field," said Roger Aines, a senior advisor on carbon dioxide removal for the U.S. Department of Energy. "We asked ourselves two questions: Can we reduce carbon dioxide pollution to the betterment of the nation? And secondly, can we reduce local pollution to clean the air in the communities that help host these power plants?
"We'll emphatically answer yes to both those questions but it has to be tested and demonstrated and above all, measured."
Thad Hill, CEO of Calpine, said the coming "energy transition" requires electricity to be reliable, affordable and clean. He said this project will help drive that change.
"Carbon capture plants like the one sitting here — a plant that is reliable, that is safe, that is efficient — can literally change the world," Hill said. "Solar, wind, geothermal, batteries, these are all important parts of the journey, but you need dispatchable power that is carbon free."
Wade Crowfoot, secretary of the California Natural Resource Agency, said Friday was a big milestone, especially considering the state's roller coaster weather changes of the past few years.
"We know that Californians are on the front lines of climate change," Crowfoot said. "We have lost 7% of our lands to catastrophic wildfire in the last three years alone. The water year that ended this past October ended the driest three-year period in the state's over 170-year history … and we went into the winter with 6 million Californians under water rationing as a result of the drought. Just several weeks later, we experienced what was likely the wettest three weeks on the state record."
Crowfoot said we don't live on the planet we did 10 years ago.
"That will impact our lives and probably more importantly, will fundamentally change the lives of our children and grandchildren," Crowfoot said. "So for all of those reasons, we have to move further and faster to protect Californians, protect Americans from these impacts of climate change, but also combat climate change, build a brighter future. And we do that by reducing pollution, moving as much as we can beyond fossil fuels, and capturing pollution and carbon that we're generating right now."
Copyright © 2023 Bay City News, Inc. All rights reserved. Republication, rebroadcast or redistribution without the express written consent of Bay City News, Inc. is prohibited. Bay City News is a 24/7 news service covering the greater Bay Area.