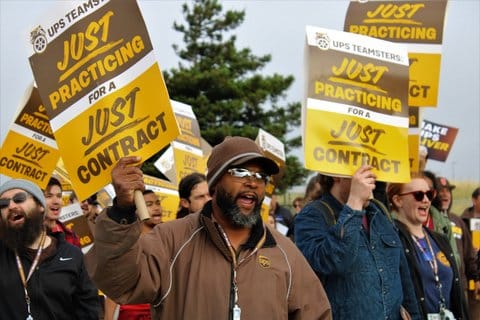 21 Jul

On the Brink of a Possible Strike, Richmond UPS Workers Are Staying Prepared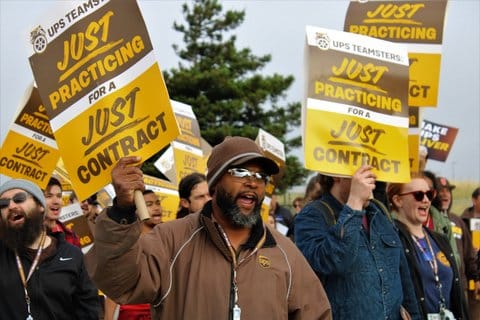 Many UPS Teamsters were up early Thursday in Richmond to take part in a dry run of their strike that could begin Aug. 1.
Photo Essay, Joe Porrello
Those taking part in the Richmond rally were not feeling particularly sweet, but they had some snacks handy to give them a boost and brighten their spirits.
About 30 UPS Teamsters met early Thursday morning at the entrance of the North Bay Hub in Richmond to rehearse for a picket line rally they say they hope does not end up happening. Other U.S. locations are doing the same, according to Richmond Hub collective bargaining agreement representative Alberto Ruiz. If an agreement is not met before their contract expires Aug. 1, UPS workers around the country will hit the streets — but not to deliver packages. 
UPS Teamsters working out of the North Bay Hub in Richmond made their presence known to passing vehicles on Atlas Road.
Kevin Hamner, a UPS driver of three years, noted the importance of Thursday's practice rally. 
"It's a big day. I mean, we have 12 days left, so time's getting a little tight," he said. 
>>>Read: 'Everybody's Mad': UPS Workers Prepared to Strike
Hamner added that workers do not want to stop the supply chain but have to do what is necessary in order to get benefits and rights they currently lack. 
"I'm a single dad — I get my daughter every other weekend. I get forced to work Saturdays, which is my time with her,  or I get disciplined," he said. "We just want what's fair. We're not asking to be millionaires."
Hamner also pointed out the discrepancies between profit and wages at UPS. 
"We made this company billions upon billions of dollars, especially these last three years," he said. "They have a CEO who made $19 million last year, but she doesn't have enough for us." 
>>>Read: Corporations Are Using Inflation to Pad Profits, Economist Says
Charles Piquit, a UPS driver of eight years, echoed Hamner: "The company made billions in profit. It's time to pay up."
A representative from Richmond Mayor Eduardo Martinez's office, B.K. White, said he hopes UPS realizes "labor creates all wealth."
Employees present for the start of the rally at 7:30 a.m. showed up an hour before their shifts began to take part. Workers getting out at 8:30 a.m. took the place of those picketing at the contract unity rally before them, including Piquit, who had just ended a 12-hour shift. 
"I don't want to strike, but I will if I have to," he said.
Kevin Hamner, a UPS driver of three years, tries to get motorists' attention while leading a practice picket line in Richmond on Thursday.
Teamsters chanted in unison roadside to raise awareness as morning commuters passed. Most driving by repeatedly beeped their horns in support.
According to Hamner, full-time workers are not the center of focus in the contract impasse. "We're not just fighting for ourselves as drivers, but we're really fighting for the people you don't see," he said. "Those part-time workers — they're 60% of our workforce — they're making poverty wages."
When they were not chanting,Teamsters blew their whistles as cars passed by to draw attention to their cause.
As Teamsters rallied together alongside Atlas Road, a parody of the song "Men in Black" called "Men in Brown" played on repeat loudly from a portable speaker. Both songs came out in 1997 — the original made for the soundtrack of the film by the same name and the parody in response to the last national UPS strike, which took place the same year.
California state Senate candidate Jovanka Beckles was in attendance to give her support. She said that while many Americans were in the safety of their homes during the pandemic, UPS drivers risked their own safety by working and providing the public an essential service.
Thursday's rally gave a preview of what's to come if UPS and its unionized workers can't come to an agreement.
"They deserve the contract that they are asking for. They deserve better pay. They deserve better schedules," said Beckles. "I support every single demand that they're making because I know it's not unreasonable, but I know what is unreasonable is UPS's stance on not giving them what they want."
Members of the Party for Socialism and Liberation were at the contract unity rally to advocate for and grow the Teamsters' cause, as they often do with other similar initiatives. 
"I think it's in these moments that people really build their workers' consciousness — and the more of that, the better," said Sabir Mohammed, one of the party's members. 
Beckles said she believes in power in numbers. 
"I'm out here standing in solidarity with my brothers and sisters because together we win," she said. "This is not a threat to UPS, it's a warning."
Whether with signs, sound amplifiers or T-shirts, the Teamsters are trying to amplify their labor dispute as much as possible.
Teamsters representatives found out Wednesday they will meet with UPS leadership in Washington, D.C., beginning Monday to discuss contract negotiations one last time. 
"We've heard there might be a deal, but we're not going to work under those pretenses. We're going to work as if we don't have a deal that's going to be made," said Hamner. "(UPS) told us they were going to have something done by July 5, it's now the 20th. Taking corporations for their word is just not a very good idea." 
According to Piquit, the only aspect of the negotiations delaying the renewed contract that the Teamsters seek is the desired part-time wages not being met.