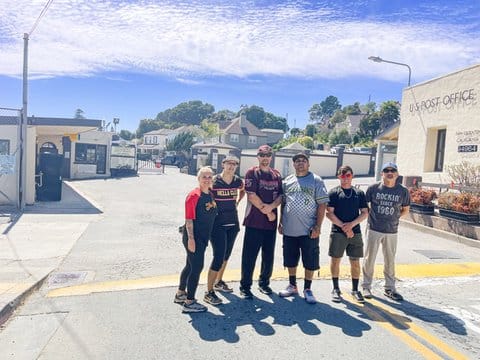 03 Aug

A Softball Game Inside San Quentin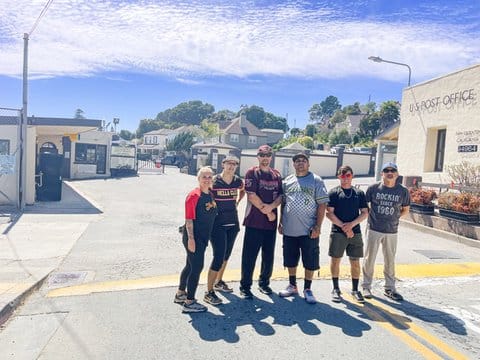 Mei Lia Storelee, left, of Legal Services for Children with Prisoners with people identified as Hannah R., Kelly C, Jorge Z., Garrett L. and Matt E. (Photo courtesy of All of Us or None)
By TaSin Sabir, Editor in Chief, All of Us or None, and Communications Manager, Legal Services for Children With Prisoners
In a heartwarming and inspiring initiative, a formerly incarcerated clean and sober softball team made history July 23 by playing against the Hardtimers — the San Quentin softball team — inside the walls of San Quentin Prison. The game marked a rare occasion where an outside team of formerly incarcerated players competed within the walls of San Quentin.
The idea for the game came from John Sommer, who served 12 years in prison with friend Nathan Venegas, a current player for the Hardtimers. With the help of Venegas' coach Sommer and his fiancée, Mei Lia Storelee, they submitted the proper forms to make it possible to play monthly softball games at San Quentin.
"We played for two and a half hours, and we got our butts kicked, but it was the most fun losing I've had in my life. I will say that I played well, along with the other woman on our team. We played great actually, but the guys couldn't get it together — just kidding," said Mei Lia Storelee, laughing as she recalled the game.
Storelee is the senior financial/administrative operator at Legal Services for Children with Prisoners and has a history of struggling with drugs. On her road to recovery, Storelee found solace and healing through softball, which played a crucial role in her journey towards maintaining sobriety.
Reflecting on her transformation, Storelee said, "Softball came into my life during my recovery journey. It was a turning point for me, a positive outlet that allowed me to reclaim my life from drugs and jail. When the opportunity arose to play inside San Quentin Prison, I knew it was my chance to inspire and bring hope to those still on their paths to redemption."
Despite the red tape and lengthy processing time, Storelee and five team members entered the prison for their first game, calling themselves "Dreams Awaken," a name inspired by this passage from Narcotics Anonymous: "Lost Dreams awaken and new possibilities arise. Our willingness to grow spiritually keeps us buoyant. When we take the actions indicated in the steps, the results are a change in our personality. It is our action that is important."
Dreams Awaken, composed of individuals who had triumphed over intense obstacles in their pasts, faced the formidable San Quentin Hardtimers — a team that remains undefeated. Despite the odds stacked against them, the game went on to become an unforgettable experience for both the players and spectators.
>>>Read: Former Prisoner Finds Solitude, Joy Working at Community Garden
The day of the game dawned with excitement and anticipation as Dreams Awaken was escorted by a volunteer onto the field. Amidst the towering walls, there was a sense of camaraderie as players from both teams came together on the field. The Hardtimers, reigning champions, lent a few players to Dreams Awaken to ensure a fair competition. As the game began, cheers echoed through the prison yard, with spectators showing their support for both teams. Despite the disparity in skill and experience, Dreams Awaken displayed remarkable determination and sportsmanship, holding their own against the formidable Hardtimers.
Memorable moments punctuated the game, with one of Dreams Awaken's players, Solo, striking out his own coach from the Hardtimers — a feat that elicited roars of laughter and admiration from both teams. Another heartwarming instance was when a female player, Star, scored a run, and Storelee and her teammates rallied behind her with words of encouragement, emphasizing the importance of women supporting each other.
>>>Read: Newsom Wants to Change Criminal Justice and Healthcare in California
Despite their efforts, Dreams Awaken ultimately faced defeat against the Hardtimers, yet the loss did little to dampen their spirits. After the game, both teams came together for a postgame circle, where emotions flowed freely as they talked about their experiences. Storelee tearfully expressed her gratitude, saying, "I wouldn't have had this incredible opportunity without Venegas and Sommer coordinating this and making it possible for this game to happen. This moment has changed my life and given me purpose and hope."
Following the game, Timothy Hicks, the San Quentin newspaper's sports editor, interviewed the players to learn more about their experiences. This interaction further strengthened the bond between Dreams Awaken and San Quentin's community.
The sense of shared humanity was palpable as Storelee interacted with everyone who eagerly surrounded her after discovering her connection to Legal Services for Children with Prisoners. One man waited for hours until the game concluded to speak with her about his desire to connect with LSPC staff member Oscar Flores about resentencing.
Storelee's mission does not end with a single game; her vision involves getting a fellow inside the prison to facilitate ongoing communication with Legal Services for Children with Prisoners.
"I may not be an organizer, but I am committed to doing whatever needs to be done to maintain this connection," Storelee said. "Having a fellow inside will ensure continued collaboration and advocacy for those in need."
This story was originally published by the All of Us or None Newspaper, which is an initiative of Legal Services for Prisoners with Children. It has been reproduced with permission.