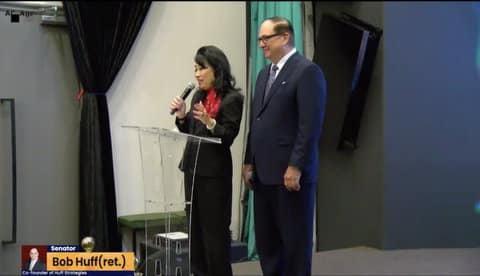 21 Aug

ACT Against Hate Alliance Gives Leadership Awards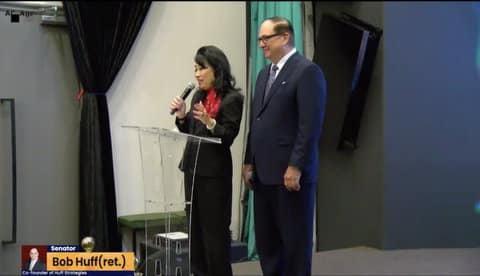 Mei Mei Huff, alongside husband Bob Huff, speaks at the Act Against Hate Alliance awards and year-in-review event on Aug. 17. (Screenshot captured by Julia Métraux / Richmond Pulse)
By Julia Métraux
As hate crimes increase, political and community leaders across California are stepping up to try and reduce hate-based discrimination and violence.
And in celebration of its first anniversary, ACT Against Hate Alliance gave leadership awards Aug. 17 to people trying to make their communities safe. AAHA was founded by Mei Mei Huff and her husband former California state Sen. Bob Huff, of Huff Strategies.
Data from the FBI on hate crimes reported to it by the police in 2021 shows that a majority of victims were targeted due to race or ethnicity, followed by sexual orientation and then religion and that a majority of people who commit hate crimes are white. In California, hate crimes rose by 20% in 2022, according to the Associated Press. Hate crimes against Black people in California grew the more than against any other group last year. Many experts also agree that hate crimes are underreported, partly due to police not accurately reporting them.
For people in communities targeted by hate-based violence and their allies, doing nothing is not an option.
"We wanted to move beyond just the talk, the complaints about how bad the situation has become," Mei Mei Huff said. "Instead, tap into the collective wisdom and experience of experts and leaders across the state to find solutions."
Her husband also said that "there are so many people whose contributions fit this description" in looking to fight hate-based crimes. The ACT Against Hate Alliance wanted to take the time to individually honor some of them. Nine people were recognized, with four of them being student award recipients.
Among the honorees was Fiona Ma, who has served as the California state treasurer since January 2019. In a previous webinar, Ma spoke about how anti-Asian hate helps underscore more support needed for Asian American and Pacific Islander communities, including mental health resources.
"​​We must all do more to ensure that AAPI communities and all communities are safe from violence and hate," Ma said in a pre-recorded message after being given the award.
A growing body of academic research also highlights just how devastating dealing with discrimination can be, even if it is not a hate-based crime. According to a December 2021 research article published by the American Academy of Pediatrics, young adults who deal with discrimination at least twice a month are 25% more likely to be diagnosed with a mental health condition.
Former state Sen. Huff then introduced a leadership award to state Sen. Josh Newman, D-Fullerton, who is Jewish. Coincidentally, Newman succeeded Huff, a Republican, in his office when the latter reached his term limit. In January, Newman introduced a measure in the state Senate that would make Jan. 28 "Stand Against Hate Action Day" in perpetuity. The measure passed the state Senate and Assembly, and is just waiting to be signed into law by Gov. Gavin Newsom. Like Ma, he also accepted the leadership award in a pre-recorded message.
"Misinformation around the COVID-19 pandemic, the disconcerting rise of white nationalism, and our nation's long and fraught history of discrimination have given rise to hateful violence and vitriol within many of our communities and houses of worship," he said.
Vaccine Disinformation Preys on Black Community's Well-Earned Distrust
While anti-Asian hate crimes, in particular, have increased since the beginning of COVID-19, white supremacy has long been a growing issue, even in liberal states. In 2019, for example, a shooter killed a 60-year-old woman and injured others at the Chabad of Poway synagogue near San Diego during Passover.
Some students were also honored for the work they have done in their communities, including Aidan Chao of the Flintridge Preparatory School, David Chan of UC Berkeley and Nicolas Hernandez of Cal State Fullerton.
People can learn more about ACT Against Hate Alliance by visiting its website.
This resource is supported in whole or in part by funding provided by the State of California, administered by the California State Library in partnership with the California Department of Social Services and the California Commission on Asian and Pacific Islander American Affairs as part of the Stop the Hate program. To report a hate incident or hate crime and get support, go to CA vs Hate.