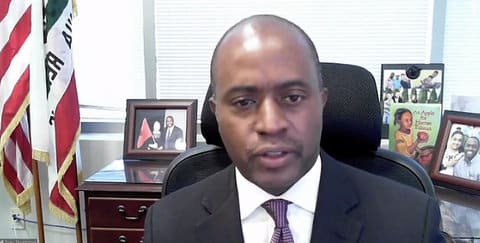 28 Aug

State Department of Education Hosts Panel on Antisemitism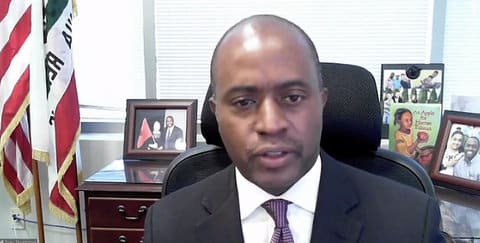 California Superintendent of Public Instruction Tony Thurmond said during an Aug. 23 talk that people should contact his office if they see antisemitism not being appropriately addressed in schools. (Screenshot captured by Julia Métraux / Richmond Pulse)
By Julia Métraux
The California Department of Education on Aug. 23 hosted the conversation "Education to End Hate: Countering Antisemitism," which included the Superintendent of Public Instruction Tony Thurmond; chairs of the California Legislative Jewish Caucus; and a panel with Sarah Levin, executive director of JIMENA, or Jews Indigenous to the Middle East and North Africa; Rabbi Meyer May and Anita Friedman, executive director of Jewish Family and Children's Services.
Thurmond said this talk will be the first of many hosted by the California Department of Education on forms of hate, including antisemitism.
"We think that it's so important to help to counter how antisemitic views sometimes form," he said.
Antisemitism has existed for thousands of years, with Jewish people being killed hundreds of years ago, for example, due to being blamed for the Bubonic Plague. These types of accusations are not a thing of the past either — Democratic presidential candidate Robert F. Kennedy Jr suggested in July that COVID-19 was pioneered to spare Jewish and Chinese people.
Persisting conspiracy theories of Jewish people's control of money, media and the world highlight the importance of education about antisemitism. Nearly 80% of religious-based hate crimes target Jews.
>>>Read: Nick Cannon, DeSean Jackson and Reckoning with Black Anti-Semitism
"(Nelson) Mandela said education is the most powerful weapon we can use to change the world, and we have the opportunity to combat antisemitism and restore compassion and parts of our education system," said California state Sen. Josh Becker, D-San Mateo.
There is debate among American Jewish people themselves about whether criticism of Israel and anti-Zionism is antisemitic. Jews who are religious are also more likely to say Israel is part of their Jewish identity than secular Jews are, according to the Pew Research Center. Being pro-Israel does not preclude people from being antisemitic. In one notable example, former President Donald Trump has claimed to be pro-Israel, while also saying there are "very fine people" among Neo-Nazis. Former U.S. Rep. Mo Brooks, a self-proclaimed "strong supporter of Israel," has also read Adolf Hitler's manifesto on the House floor.
This debate also extends to California's Ethnic Studies curriculum, as reported by the Jewish publication New Voices. Thurmond said during the discussion that "ethnic studies is not antisemitic."
Levin said as part of the ethnic studies curriculum, it is important that the diverse experiences, histories and cultures of Jews are taught.
"It also recommended that students learn about the histories and experiences of Sephardic and Mizrahi Jews, particularly of the refugee experiences that Middle Eastern Jews have had in the last 60 years," Levin said.
Around 12 to 15% of American Jews are also people of color. Organizations like the Jews of Color Initiative have also led work highlighting that fighting racism in Jewish communities is essential to supporting Jews of color.
Rabbi May, the executive director of the Simon Wiesenthal Center, noted too that "usually antisemitism is mixed into all hate."
In October 2021, California Gov. Gavin Newsom also established a Council on Holocaust and Genocide Education to better research and advise Holocaust and genocide education in the state.
"That kind of unified effort is a demonstration of how we're working together in common cause," Friedman said.
California's education code has also included a provision saying social studies should include "the study of the inhumanity of genocide, slavery, and the Holocaust, and contemporary issues" since 1985, as reported by Axios.
Thurmond also encouraged people to contact his office if they find that antisemitism in their school districts is not being appropriately addressed.
"We'd like to get that phone call so that we can reach out to the superintendent and work with the district on addressing those concerns," Thurmond said.