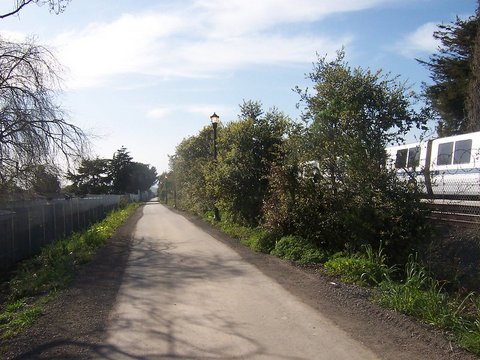 11 Sep

Filmmaker's Career Began on the Richmond 'Greenway'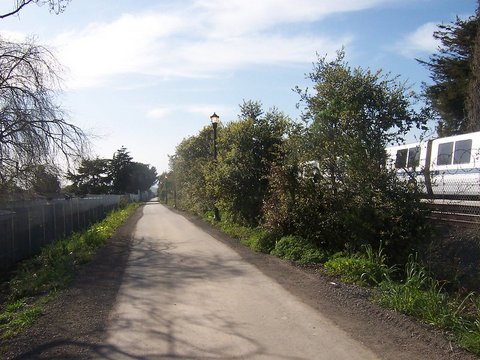 Filmmaker Jed Lee's debut work takes a look at the Richmond "Greenway" and the community efforts that led to its creation. ("Richmond Greenway, CA" by Rails-to-Trails Conservancy via Flickr / CC BY-NC-ND 2.0 license)
By Jonathan Hale
Jed Lee's career as a filmmaker began when they were an undergraduate at UC Berkeley, documenting the Richmond Greenway for a class called Engineering, The Environment, and Society.
The Richmond Greenway is a 2.5-mile stretch of verdant parkland that was once home to an abandoned railway. Bike and pedestrian passageways run alongside gardens of native plant life as the Greenway passes west to east through Central Richmond.
That class project led to Lee's debut film, "Greenway." Lee was inspired by the collective action that led to the Richmond Greenway's creation and felt driven to tell the story of the park and community stakeholders involved.
"There's a story here that's so enriching that I wanted to keep working on it," Lee said, describing their impetus for undertaking the project.
Lee partners with local organizations and communities to uplift untold stories hidden in plain sight. During the making of "Greenway," the filmmaker was inspired by Richmond residents' civic pride and hospitality as they shared their memories.
"All the folks I talked to in making that first film were just so open and willing to share their stories," Lee said. "I was let into people's homes, I was shown photos, and people talked about what the Greenway meant to them."
>>>Read: MLK Service Day at Richmond Greenway Champions Environmental Justice, Community
The film, a story of 17 different nonprofits collaborating with city leaders to make the project a reality captures the spirit of reclamation and resilience of the Richmond Greenway. Once a neglected and rusty industrial site, it is now a vibrant community space.
The feature film, with a runtime just shy of 1½ hours, documents the creation of the Richmond Greenway and the success of a city on the rise. "Greenway" is a celebration of citizens coming together to make meaningful changes in the community in which they live.
"Greenway" has garnered critical acclaim, last year winning Best Documentary Film at the Our Heritage, Our Planet Film Festival and Best Film for Environmental Activism at the International Social Change Film Festival.
>>>Read: Unhoused Narratives: Hoping for Better Days
Since then, Lee has hosted film screenings for supporters and Richmond residents, including one July 28 at the Richmond Memorial Auditorium & Convention Center, with current Richmond Mayor Eduardo Martinez and former Mayor Tom Butt among those in attendance.
Now, Lee is working on a film centered on Rich City Rides, a Richmond-based nonprofit that promotes cycling as a healthy sustainable form of transportation. With its focus on bicycling in Richmond, Rich City Rides is featured in "Greenway." But again, Lee wants to take things further.
"Rich City Rides is really doing grassroots organizing and providing services to bolster community culture in Richmond and community pride in Richmond," said Lee.
The forthcoming film incorporates a series of interviews with Rich City Rides participants and collaborators, interweaving stories of bicycle culture and the city of Richmond.
A recurring theme in Lee's work is environmental positivity. Through film, Lee tries to spotlight the positive effects that grassroots organizing can have on promoting environmentalism at a local level. They hope this can show others that they too can carry out similar projects in their cities.
"What these organizations, what Rich City Rides (is) doing, is a model for building healthier societies," Lee said.
Lee's films are meant to document the legacy of activism and collaboration in Richmond, giving credit to the organizations that have worked for year, or even decades, to make the city a better place.
"It's not about me," Lee said. "It never has been."
Updates and more information on "Greenway" can be found on Facebook.