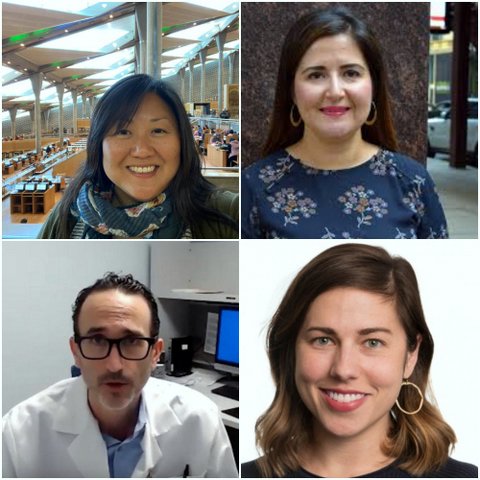 01 Jul

Fear of Public Charge Rule Keeps Immigrants From Seeking Health Care During Pandemic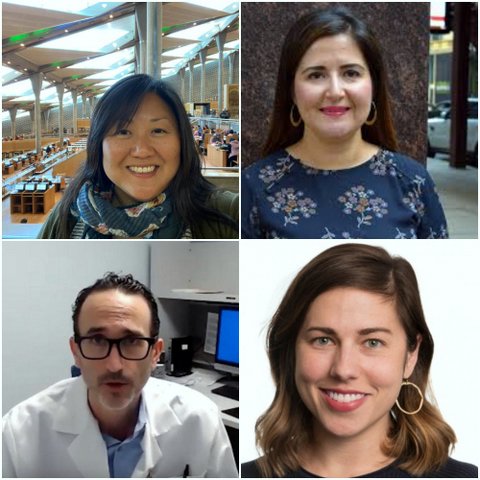 Clockwise from top left: Connie Choi, Protecting Immigrant Families Campaign field manager and strategist at the National Immigration Law Center; Luvia Quiñones, health policy director at the Illinois Coalition for Immigrant and Refugee Rights; Madison Allen, senior policy analyst and attorney at CLASP; and Dr. Daniel Turner-Lloveras, assistant professor of medicine at UCLA.
By Suntia Sohrabji, Ethnic Media Services Contributing Editor
SAN FRANCISCO — The Trump Administration's reimplementation of the public charge rule has kept immigrants from accessing health care and other needed services during the COVID pandemic.
Avoiding health care has profound ramifications for attempts to flatten the pandemic's curve, said experts at a June 26 briefing organized by Ethnic Media Services.
The public charge rule, on the books for decades, has seldom been implemented. But six months into his term, President Trump announced he would begin enforcing it, thus denying a green card to any U.S. resident who has received one or more forms of federal public benefits.
The rule also allows consulates abroad to determine whether prospective immigrants to the U.S. eventually would become public charges. Immigrants seeking to settle in this country must prove they could earn at least $41,000 a year, eliminating many elderly people and separating families.
Several states sued to block the rule from being reimplemented, but the Trump administration prevailed. It rolled out the enforcement February 24, just as the COVID pandemic began taking its toll in the United States.
Even before the rule was formally reimplemented, many immigrant families had stopped using public benefits — including programs like school lunches, which do not fall under the criteria of public charge — fearing they might be denied permanent U.S. status. Many U.S.-born children with immigrant parents failed to receive the benefits to which they were entitled.
Approximately one in three low-income immigrant families with children now are going without public benefits like health coverage and food stamps, said Dr. Daniel Turner-Lloveras, assistant professor of Medicine at the University of California Los Angeles.
In one study, 80% of adults surveyed didn't know that their children could enroll in Medicaid without affecting their parents' legal status, Turner-Lloveras said. "Avoidance of these programs is particularly worrisome in families with children because the entire family faces the financial hardships, the psychological distress, and problems in accessing health care."
Enrollment in Medicaid and the Children's Health Insurance Plan has dropped 31% in the last two years.
"If it only affects one person, it then trickles down and eventually affects the entire family," said Turner-Lloveras, noting that if certain populations are denied access to health care, COVID will continue to spread, leaving the United States unable to flatten the curve of the pandemic. "We are only as strong as our weakest link."
Madison Allen, senior policy analyst and attorney at the Center for Law and Social Policy, which advocates for policy supporting low-income people, said immigrants are entitled to access a number of programs without affecting their immigration status. Federal legislation has funded community health centers and hospitals to cover COVID testing and treatment of uninsured people, regardless of their immigration status, she said.
"Testing treatment and preventative care related to COVID-19 will not be included in a public charge determination, even if the health care services are covered by Medicaid," Allen emphasized. She added that health care workers should not ask for immigration status, and they may not share health information with immigration officials.
A new federal program, Pandemic EBT, currently available in 40 states, provides nutritional resources to low-income families during the COVID crisis. Children no longer receiving free school lunches because shelter-in-place orders closed their schools can qualify for the program. In California, families can get up to $365 per qualifying child, according to the California Department of Social Services. P-EBT benefits are not considered in a public charge test, Allen said.
Unemployment benefits, for those who qualify, also are not considered in a public charge determination, she said, noting that unemployment eligibility has been expanded to include contract workers during the pandemic. A valid social security number is required, however, so undocumented workers, including those with Individual Taxpayer Identification Numbers, cannot qualify.
Undocumented immigrants also were left out of a federal stimulus package that gives each U.S. resident a one-time, $1,200 check. Those in mixed-status families were left out of that program, too. But, in May, California Gov. Gavin Newsom announced a one-time, $500 check for each undocumented worker in the state. Allen, praising the governor, expressed her hope that other states would follow his lead.
Student loans and student federal financial aid are not considered in a public charge determination, and Allen encouraged students to apply for funds to continue their college and university education.
Many immigrants do not know about their eligibility for some programs because of a dearth of language-specific resources, said Luvia Quiñones, health policy director at the Illinois Coalition for Immigrant and Refugee Rights.
She noted that many ethnic residents in Illinois have failed to get COVID testing because of the perceived cost.
"It wasn't until much advocacy (text missing?) that we were able to get our governor, JB Pritzker, to publicly say that testing was free for everyone, regardless of insurance, and regardless of immigration status," said Quiñones.
In the time of COVID, Latinos and — to a lesser extent — Asian Americans have been showing up at hospitals only when their symptoms are extremely severe because they fear public charge repercussions and costs, she said.
Connie Choi, Protecting Immigrant Families Campaign field manager and strategist at the National Immigration Law Center, said immigrants also are afraid to access hospital services because of the possible threat of deportation by Immigration and Customs Enforcement officials. She noted that, while there is vague federal guidance, no concrete policies are in place.
"What we've been hearing specifically at border communities is that ICE enters some of these facilities, which chill immigrants from accessing their health care," said Choi.
NILC is advocating for the Sensitive Locations Act, introduced in Congress last year. The bill blocks immigration enforcement actions at schools, hospitals and religious institutions without prior approval and exigent circumstances.
"Immigrants in their family members should not fear that they will be penalized or placed at risk for seeking health care and other needed services during the pandemic because of public charge," Choi said. COVID testing must be provided free, she added, through emergency Medicaid coverage, which is not considered a factor in public charge determination.