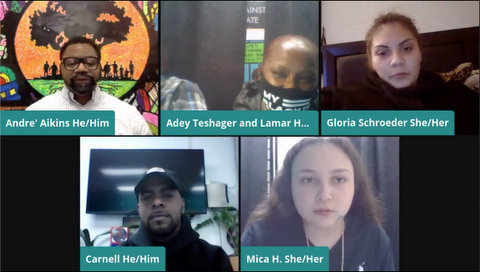 24 Nov

Continuing To Provide a Safe Return in Richmond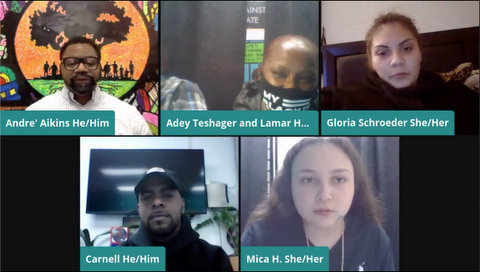 The Safe Return Project marked its second annual Richard Boyd Fellowship with a livestream event Nov. 11. (Screenshot captured by Joel Umanzor Jr. / Richmond Pulse)
By Joel Umanzor Jr.
Following the police killing of George Floyd, one of the groups most affected by conversations about reforming the criminal justice system has been the formerly incarcerated. A local Richmond nonprofit aims to elevate those voices.
The Safe Return Project celebrated the members of its second annual Richard Boyd Fellowship through a YouTube livestream Nov. 11.
The virtual event showcased testimonials and roundtable discussion in which current and former fellows discussed their past experiences of having been impacted by the prison industrial complex and how the fellowship has impacted their life over the past year.
The mission of the Safe Return Project — according to Tamisha Walker Torres, executive director and co-founder of the project — is to end the mass incarceration and mass criminalization of Black people, people of color and poor people who have been affected by the criminal legal system. Safe Return uses the Richard Boyd Fellowship to attack this issue by investing in frontline community leadership.
The yearlong fellowship focuses on healing from the trauma caused by institutionalization. Fellows are financially supported through the first six months of the program, in which they are involved with meetings and provided the opportunity to work on self-healing. In the second half of the program, the fellows are plugged into the mission of the Safe Return Project as they get involved with community organizing that targets those of a similar background. Upon completion, if participants choose not to stick with community organizing or Safe Return, they are given support to find work.
"We firmly believe as an organization that those closest to the pain have the solutions, those closest to the pain are the experts, and those closest to the pain deserve deep investment to be the leaders on the front lines," Walker Torres said regarding the founding of the fellowship and her conversations with the late Richard Boyd, whose life's work was dedicated to investing time and funds in individuals within the community.
"That's why, in the formation of this fellowship, we prioritized the first six months of just investing in a person's personal transformation because that was Richard's vision," she said. "Richard's vision was that we just invest in people to get healthy so that we can change our community and what has fostered from that has been an amazing fellowship for our community here."
Boyd, who played an integral part in reducing gun violence in the city, died in 2018, the same year the fellowship was started in his honor. The Atchison Village resident was dedicated to investing in Richmond, specifically its young people, through mentorship.
>>>Read: Re-Entry Activists Seek Ways to Support Formerly Incarcerated Youth
Carnell Mayfield, 34, of Oakland, one of this year's fellows, said the Safe Return Program gave him confidence.
"It gave me knowledge and the strength to know that I have a voice to be able to tell my story," Mayfield said. "And that I could also bring it (my story) back to the community and help them as well."
Mayfield said some of the challenges he faced when he got out of prison were rooted in the trauma he had experienced, which affected his ability to find work. Seven years after his release, he became involved with the Safe Return Project and the Richard Boyd Fellowship through his fiancée who introduced him to Walker Torres.
"There's a lot that was lacking as far as opportunities, people being able to see me as a person rather than a criminal," Mayfield said. "Housing and a number of other things such as coming home to no support and toxic environments."
Now that he has completed the fellowship, Mayfield says he wants to help others like him break the cycle of trauma induced by institutionalization.
"I feel I can help others by creating my own nonprofit that I have been working towards," he said, "educating myself and connecting with individuals who are already doing this work to reimagine a better society."
Walker Torres said the COVJD-19 pandemic has impacted Safe Return's work, but it hasn't stopped the staff from continuing to persevere, despite the circumstances.
"I think, overall, the pandemic has been a challenge just because our work is very hands-on," Walker Torres said. "Because there are so many investments in healing and personal development that it largely needs to happen in close proximity and community. So just to have the pandemic and having the transition to virtual has been somewhat of a challenge to us because our folks see our space as safe space."
For members of the fellowship cohort, the theme of the program was "trusting the process" of working on one's past traumas in the safe spaces provided by the project.
Marvin Galdamez, 39, of Richmond said the most difficult aspect of the process was those first six months of self-healing during the program.
"It was challenging, as far as really digging deep into our inner self and coming to terms with our traumas we've experienced and, personally, for me, that I hadn't processed," Galdamez said. "To be able to confront that, process it and write essays about it… it was challenging because it's tough to confront your traumas and your past. It was tough but I wanted to trust the process and I wanted to give it a chance."
For Gloria Schroeder, 22, of North Richmond, the challenge is still a work in progress and a mental exercise for peace and personal grounding that has been aided by the fellowship.
"I get a lot of thoughts, and my mind comes to a full blank," Schroeder said. "Sometimes, I don't know what exactly to think about, but I try to keep myself occupied and focused. I try to remain peaceful and happy."
Walker Torres says this focus on healing through the confrontation of one's past traumas is crucial in changing ways of thinking.
For Mica Herrera, 20, of Richmond, this change in thought process was influential in her participation and transformation within the fellowship.
Herrera said the self-healing process she was guided through during the fellowship helped her clear her mind. Carlos Fernandez, a member of the first fellowship class, connected Herrera with the Safe Return Project last November.
"It helped me change the way I think, my thought process, and my decision making. Helping me personally identify the unhealthy factors in my life and get rid of them in a positive, productive way to move forward with my life," Herrera said. "The biggest challenge was getting me to actually admit and take accountability for a lot of things. That I put myself in certain positions that brought me down. Actually taking the opportunity to stand back, self-reflect and hold myself accountable."
Walker Torres says the Safe Return Project has opened the application process for the next cycle of the Richard Boyd Fellowship. Those interested can learn more and find links to apply or donate on the Safe Return Project's website.