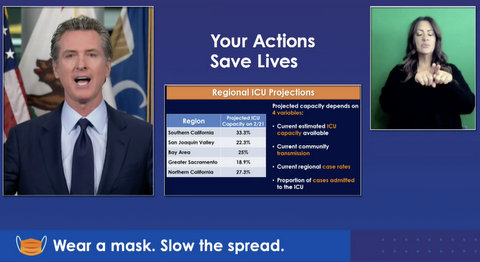 25 Jan

California Lifts Stay-At-Home Order, Extends Eviction Projections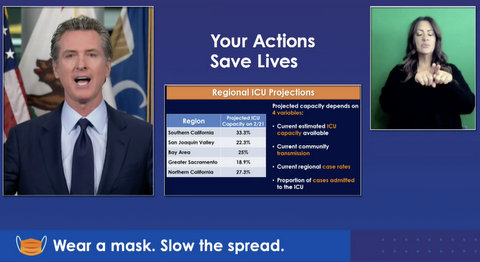 With ICU capacity projected to surpass the 15% benchmark throughout the state, California is returning to color-coded tier-based reopening system. (Screenshot captured by Edward Booth / Richmond Pulse)
By Edward Booth
California's regional stay-at-home order was lifted in all regions of the state Monday, returning Contra Costa County to the purple tier of the state's Blueprint for a Safer Economy.
As a result, outdoor dining is allowed to resume and hair salons, barber shops and nail salons can reopen. Additionally, outdoor social gatherings involving 25 or fewer people from three or fewer different households are now permitted.
The stay-at-home order came into effect in four of five regions of California early in December. The Greater Sacramento region exited the order earlier this month, and ICU capacity in the Southern California and San Joaquin regions often stood at a reported 0%.
Pulling the regions out of the stay-at-home order was the result of projected ICU capacity in about a month landing above 15%, Gov. Gavin Newsom said Monday during a press conference.
The projected capacity for the Bay Area on Feb. 21 is 25.5%, Newsom said. Southern California has a projected capacity of 33.3%, the San Joaquin Valley has a projected capacity of 22.3%, and the Greater Sacramento region has a projected capacity of 18.9%, the lowest of all regions. Northern California, the sole region not to be subject to the stay-at-home order, has a projected capacity of 27.3%.
The projections are based on current estimated ICU capacity, current community transmission of COVID-19, current regional case rates and proportion of cases admitted to the ICU.
Overall, COVID-19 case rates and hospitalizations have been dropping, Newsom said.
Newsom said 53 counties are currently in the most restrictive purple tier of the state's color-coded reopening system. Only three are in the less restrictive red tier, and one is in the even less restrictive orange tier.
A press release issued by Contra Costa County on Monday urged residents and businesses to continue practicing COVID-19 safety measures, as the average number of new daily infections in the county was 46.2 last week.
The press release also notes that ICU beds in county hospitals continue to see heavy use: 137 of 163 beds were occupied Saturday, according to the press release.
County Health Officer Dr. Chris Farnitano said in the press release that the county continues to experience a winter surge in COVID-19 transmission, and that the county is still "weeks or months away from seeing the effects of immunization in our community."
"Under no circumstances should anyone view the state action today as a reason to let down their guard. We have made progress, but we need to continue what we are doing to keep our families and communities safe," Farnitano said in the press release. "It is just common sense."
Eviction Protections to be Extended Through June
Newsom and legislative leaders in the California government have also agreed to extend eviction protections for renters through June 30, the state announced Monday.
Current protections were previously set to expire Jan. 31. Under the proposed legislation, tenants would be afforded protections if they pay 25% of their rent either monthly or in a lump payment by June 30. This is similar to the current protections, which require tenants to pay 25% of their rent over the last few months.
To be eligible, as with current and past protections, tenants must give their landlords a "declaration of hardship" to indicate they've been affected by the pandemic.
The legislation would also create a $2.6 billion rent subsidy program to help pay off unpaid rent. In the proposal, the state would pay up to 80% of unpaid rent to landlords, but only if they forgive the remaining 20%. If landlords refuse the deal, the state would pay 25% of their tenants' unpaid rent, qualifying them for eviction protections.
The relief would only be available to renters who earn 80% or less of the area's median income. Additionally, relief would be prioritized for households that earn 50% or less of the area's median income and those unemployed for at least three months.