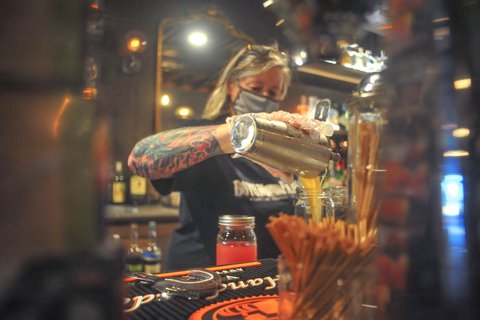 25 Jan

Small Businesses Rely on Community as COVID-19 Continues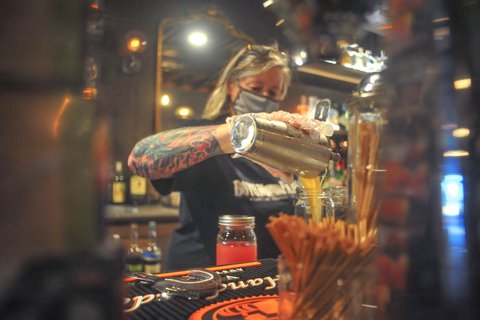 Under recent stay-at-home orders, the Factory Bar, which did not qualify for government economic relief, could only sell drinks to go, here mixed by bartender and manager Robin Biles. (Denis Perez-Bravo / Richmond Pulse)
By Joel Umanzor Jr.
When one of her regular customers walked in to Angel's Restaurant asking if food was still being served, Maria Weaver quickly sprung into owner mode — even though it was past 1 p.m. closing time.
"Breakfast sandwich, right?" Weaver asked, knowing it was what he would probably want.
Angel's Restaurant has been on San Pablo Avenue since 2006, establishing a solid connection with its clientele. That relationship between restaurant and community has been critically important this past year, partly because of the many restrictions on small restaurants during the pandemic and a lack of financial assistance.
But Weaver's customer-focused approach remains the same. And she works seven days a week, keeping food prices the same.
"My customers have been the reason we are still here and the reason we will still be here," she said. "I really thank them all because they have been with us the whole way. I don't like to raise my prices because I want to be loyal to my customers like they have been to me. We will survive."
Before the pandemic, Weaver's restaurant didn't have much of a social media presence. But she found it has helped spread the word about her business now.
"I had a customer come in and ask for an item and we made it exactly to order," she said. "They posted it on Instagram and people started liking and sharing it. It just took off and it's helped spread the word about us."
Angel's Restaurant has been through economic difficulty before, including the Great Recession of 2008. Weaver said it was a learning experience that gave her confidence her business will survive despite a lack of state and federal relief for businesses like hers.
>>>Read: 'Hit Hard': Small Businesses Navigate Reopening, Fear Reclosing
Last year, the federal government introduced the Paycheck Protection Program and other relief to provide businesses with temporary financial aid as they lost money during the pandemic. That aid was meant to primarily help small businesses. As the Washington Post reported, however, more than half of the aid distributed through Aug. 8, 2020, went to larger businesses with more financial resources.
"It's really, really sad to think about," Weaver said on the lack of financial help extended to small businesses. "We don't see help being given to us. With or without the help, we have to keep going."
Other small businesses along San Pablo Avenue that opened in the past year have had to learn the food service industry with the added burden of coronavirus restrictions. Most didn't qualify for government economic relief.
One such business, the Factory Bar in Richmond, aimed to open in early 2020, but the pandemic put that in jeopardy.
Michelle Guest, who co-owns the Factory with Tom Lyons and Marcus Hibser, said they were in the midst of hiring managers when word broke out about the stay-at-home order in March.
"We were sitting in our building on March 6 with our two perspective managers, sharing our hopes and dreams with what would be our management team," Guest said. "We left to have brunch and during that brunch, California Gov. Gavin Newsom announced the first shelter-in-place. We were moments away from solidifying our management and hiring. We were just days away from having our whole staff."
On Aug. 7 — after outside dining was permitted again by the state — the Factory Bar officially opened.
"We did a couple of soft openings in July with neighbors who supported us," she said. "We wanted to get our staff worked out before we were able to open, and it's all been a blur."
According to Lyons, the Factory has had to adjust its sales model multiple times since the quarantine began to fit state regulations.
"When they announced that it was back open but outdoor only, it was basically a different business model," Lyons said. "We have had to shift over and over again. Now we are more of a cafe that serves liquor than a bar."
>>>Read: County Responds to Rise in COVID-19 Cases With Restrictions
The problem of changing their business model hasn't been as burdensome as not qualifying for government economic relief.
"The biggest frustration is money," said Hibser. "Everyone under the sun is crying 'COVID relief package here!' It all misses us. All of it."
Hibser added that the bar failed to qualify for the California state relief grant, an Emergency Injury Disaster loan, the Paycheck Protection Program loan and the Small Business Administration loan — all because it was under construction and its opening date missed the cut off.
"We have leases. We had equipment. We had construction. We have loans. We got insurance. We got utilities," Hibser said. "We have all these bills, and it's not like we opened this place to get bailed out. But we don't know what we are going to do."
Guest said it was tragic how little relief has been offered for small businesses since the beginning of the pandemic.
"I believe that the first big bailout that came through went to national chain brands and somehow it was a large portion of that first trillion-dollar bailout went to Steak and Shake and places like that," Guest said. "Not small business. Not mom and pops."
According to Washington Post reporting, $2.3 trillion combined in grants, loans and tax breaks went to businesses that often did not have to prove they had been financially affected or that they had kept workers employed.
Lacking financial help from the government, the Factory Bar relied heavily on maintaining the relationships built during the outdoor season through social media. The bar has also provided patrons with promotions such as individually packaged bourbon tasters as gifts for the holidays.
"It's critical," Lyons said about social media's role. "Making sure we are posting everyday so that we are on people's radar is kind of a big thing, as well as promoting different things that we are trying to do."
Lyons said that because the Factory is not a full-fledged bar now, promotions and social media presence helps make the establishment a stop for local folks to grab essentials.
Robin Biles and the Factory Bar have tried different business models, including promos and cocktails to-go, depending on health regulations. (Denis Perez-Bravo / Richmond Pulse)
Many businesses, such as Oscar Gonzalez's Tres Hermanas restaurant along San Pablo Avenue, would prefer the ability to have — at minimum — outdoor dining again. Gonzalez said this is still not enough, however, and compared restaurants with other establishments that are not regulated by the state, such as the San Pablo Lytton Casino, which is operated by tribal authorities on sovereign land.
"When we were outside, we were able to still have steady work, and the people really liked to eat outside because they missed eating out," Gonzalez said. "No one wants to really do takeout. I don't know what the difference is between a casino having people inside gambling and people eating outside socially distant."
Gonzalez said he asked an inspector who came to his establishment about why these discrepancies between the casino and other businesses exist.
"I asked an inspector …'You are telling me we can't eat inside because we'll be infected. But what is the difference between eating outside and the casino that is still open with people playing?' She told me that they probably should be closed," Gonzalez said. "But I asked her what is the difference? Between the open air eating and being inside closed? She couldn't answer me."
Gonzalez said he hopes there will be more consistency from local, state and federal governments to help with economic assistance and that some form of outdoor dining can begin again.
"Sometimes they help. But they help only some people. Others they don't because not all of us have the resources to fill out the right paperwork," he said. "If we don't get some kind of solution to outdoor dining soon all of what we worked for will be over."
Newsom announced Monday that the state was lifting its regional ICU-based stay-at-home orders. This opens the door for local governments to reopen outdoor dining, if they choose to.