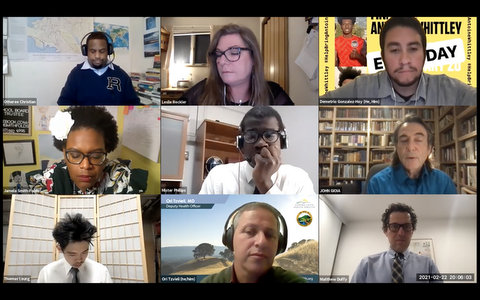 01 Mar

School Board Urged to Plan In-Person Reopening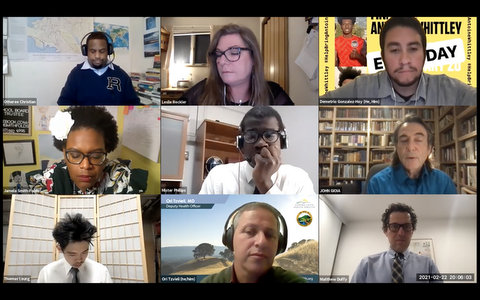 (Screenshot captured by Edward Booth / Richmond Pulse)
By Edward Booth
Parents, teachers and school representatives weighed in Feb. 22 during the West Contra Costa Board of Education's third COVID-19 and schools study session, a series of special meetings intended to help educate both the board and the public on reopening schools for in-person learning during the COVID-19 pandemic.
The meeting arrived amid a drop in COVID-19 case rates and an increased prioritization of vaccines for teachers, including in Contra Costa County. Earlier in February, the Contra Costa County School Boards Association and 14 school board presidents sent a joint letter calling for this priority access, arguing that it would greatly help school districts finalize return to school plans.
The Monday session first featured representatives from two private schools: St. Joseph Elementary School, in Pinole, and Salesian College Preparatory, a private high school in Richmond. The board then heard speakers from Contra Costa County Health Services, the El Cerrito Recreation Department and the Sausalito Marin City School District.
Both private school representatives presented how they'd successfully reopened during the pandemic. Itoco Garcia, superintendent of the Sausalito Marin City School District, gave a similar presentation on how his district safely reopened.
The El Cerrito Recreation representatives talked about special programming they'd provided to kids during the pandemic, utilizing in-person cohorts. Representatives from Contra Costa Health Services, including county supervisor John Gioia and deputy health officer Ori Tzvieli, gave a general update on COVID-19 and the state of vaccinations within the county.
Gioia said, as of the meeting, about 270,000 doses of the vaccine had been provided in the county. About 194,000 of those doses are first doses, he said. And this means roughly 21% of the population in the county, of those above 16 years old, have received a dose.
However, Gioia said, he remains concerned about equity issues. He said Richmond, for example, only has about a 13% vaccination rate.
Tzvieli said the county has the capacity to give roughly 70,000 doses each week, but the state currently gives the county only about 25,000 doses each week.
The safety procedures carried out by the private and public schools, as well as by the recreation department, were well detailed and fell into similar categories in each of the various presentations. The school board members asked the speakers questions about how to make sure students are following masking policies, about frequency of COVID-19 testing, and to describe how lunch operates in their schools, among many others.
Most public commenters urged the board to move forward with a reopening plan. Carrie Shulman, a district parent, said she'd watched all the board study sessions and heard the district can reopen this year. She said schools need to open using a hybrid model during the spring.
"Many caregivers, including myself, are getting really frustrated that we still don't have any reopening plans," Shulman said.
Ernesto Falcon, a parent of a kindergartener in the district, said he appreciated the board's efforts to educate, but it's time to see published action about when schools are opening. Jeffery Bean, a teacher at Shannon Elementary school, said a hybrid model sounded a little concerning. He said he hoped in-person learning will return in the fall, but he worried about a system that would require him to simultaneously teach online and in a classroom.
"I would love to see my students in person," Bean said. "I think we might need to wait until we can have a full-time situation in the fall."
Board president Mister Phillips said the board will have a regular meeting Wednesday, and then a COVID-19 and schools listening session on Friday. He said he knows people are frustrated, and the board will be there to hear them.
"Thus far, we have brought in people to speak with us so we all can get educated on COVID-19 and schools, but this Friday, the meeting is being designed for all of the stakeholders to be able to let the board know what they are thinking about this," Phillips said. "I am very sorry that this did not happen six months ago, but there is nothing I can do about that; there is nothing the board can do about that."