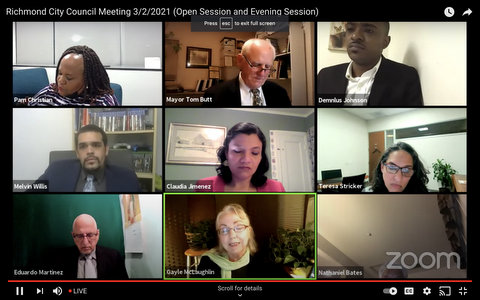 07 Mar

City Council to Continue Discussion on Budget Principles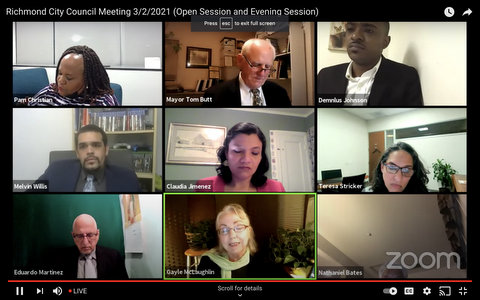 The Richmond City Council voted 5-2 to hold a special meeting on budget-guiding principles. (Screenshot captured by Mathew Miranda / Richmond Pulse)
By Mathew Miranda
Discussion about Richmond's long-term fiscal values and a proposed set of budget principles dominated Tuesday night's City Council meeting.
In November, the city rehired Management Partners, a San Jose-based consulting firm, to review the current and future budget situation. As the first step in the process, the firm presented its proposed budget-guiding principles to the council.
The principles were organized in eight sections: budgeting policies, reserve policies, fiscal sustainability policies, ongoing resources and operations, use of one-time resources, capital projects debt management and other matters.
Management Partners Senior Vice President Andrew Belknap said the firm created the principles based on best practices from other agencies with relevance to Richmond.
"There's not a lot of easy answers," Belknap said. "We certainly realize that Richmond and all the cities we work with have made cutbacks."
Several council members including Eduardo Martinez, Gayle McLaughlin, Melvin Willis and Claudia Jimenez raised concerns with the principles.
Among the most notable concerns were amending the annual budget only when urgency requires, maintaining general fund reserves at a minimum of 17%, and implementing service level reductions if other strategies are not possible or achieved on time.
Some council members also believed that the principles were too vague.
"This is a great start, but it needs more discussion," Jimenez said. "As I said before, budget is a moral document that reflects our values, and I want to see our values reflected in these principles."
McLaughlin echoed Jimenez's sentiments and advocated for community involvement.
"I just need time to reflect on this and I think we need a collaborative process that includes community and other stakeholders," McLaughlin said.
City Manager Laura Snideman said she viewed the principles as broad parameters, largely reflective of how the city already operates. She added a true value-driven document was not the purpose of these principles.
"The budget roller coaster that has happened over the last few years is really tough on people," Snideman said. "And trying to find a way to get off that budget roller coaster and annual financial crisis that people feel is part of the reason for recommending something like this. "
Mayor Tom Butt seemed to agree with Snideman, saying the principles were not a budget or values statement.
"If you don't give your city manager some guidelines, then she's going to be buffeted by desires all over the place," Butt said. "Some of these things are really simple."
Butt also said Management Partners merely offered best practices but agreed some of the principles needed to be tweaked with examples or wordsmithing.
"They're just telling us what well-run cities do in other places, and we can take it or leave it," Butt said.
At the end of the item's discussion, McLaughlin motioned to hold a special council meeting the following week to discuss budget-guiding principles and receive a presentation from Lift Up Richmond, a coalition of labor and community groups.
The motion passed 5-2 with Butt and Council member Nat Bates opposing.
Butt voted no because he did not believe that the item required its own special council meeting. Bates' opposition stemmed from city staff not being able to provide any new information or revisions by next week.
"If you just want to have a session where people can complain and say what they want to do without professional staff, I say it's a waste of time," Bates said.
Filing Vacant Positions
The Richmond City Council voted unanimously to end the hiring freeze on vacant positions and approved the filling of five city positions, four in public works and the deputy fire chief position.
Tuesday night's decision comes eight months after a slew of hiring freezes were approved to account for a $29.5 million projected deficit caused by the COVID-19 pandemic. The five positions are groundskeeper, equipment operator, parks construction and maintenance worker, electrician and deputy fire chief.
The cost to fill five positions equated to $639,444 annually and $159,861 for the 2020-21 fiscal year. The proposed positions stemmed from discussions with the interim public works director and interim fire chief, said city senior management analyst LaShonda White.
Martinez asked how the vacant positions would be funded, given that they were frozen to save money.
"It sounds like we are paying them with hope as opposed to actual money," Martinez said.
White said city staff projects enough "budgeted savings," or anticipated surpluses at the end of the fiscal year, to cover the costs of these positions. At the Feb. 18 council meeting, city staff presented a mid-year adjustment in the general fund balance that estimated a roughly $4.1 million surplus.
"We are still anticipating a surplus at the end of the fiscal year," White said.
For the next fiscal year, White said the departments will have to request these positions as part of the budget development process.
The special council meeting on budget principles will begin 6:30 p.m. March 9.