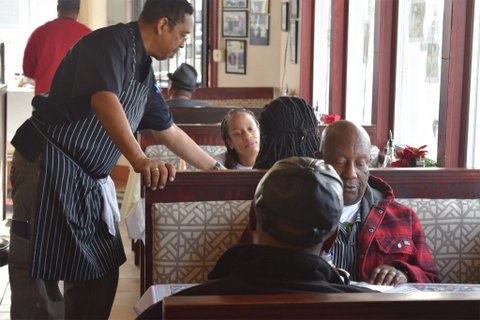 12 Mar

Contra Costa County Moves to Red Tier; Indoor Dining Allowed Sunday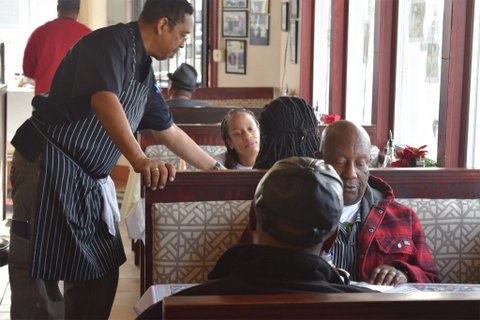 Indoor dining can resume Sunday in Contra Costa County, though it's sure to look different than it did at this San Pablo café in 2017. (Richmond Pulse file)
By Michael J. Fitzgerald
Contra Costa County Health Services officials announced Friday that starting Sunday limited indoor dining in restaurants and other changes in business and community activities will be allowed.
"Contra Costa was poised to enter the red tier on Wednesday next week," CCHS officials announced. "But it will transition a few days earlier after the state met a goal of administering 2 million doses of COVID-19 vaccine in high-risk, economically disadvantaged communities on Friday."
The change to the less-restrictive red tier in the state "Blueprint for a Safer Economy" means a relaxing of rules for restaurants, gyms, dance studios and museums, among other places and organizations.
Restaurants may operate with indoor seating at 25% capacity or 100 persons — whichever is less. Museums are limited to 25% also. Gyms must keep patron numbers to 10% of capacity.
Retail stores and shopping malls will be allowed to boost their operational occupancy. Grocery stores can operate at full capacity under the red tier guidelines.
"It is encouraging to see our data moving in the right direction, and it's a testament to the hard work Contra Costa residents have put in to slow the spread of COVID-19," said Dr. Chris Farnitano, Contra Costa County's health officer.
"But it is important that we make healthy choices to keep up our momentum. This pandemic is not over yet."
In addition, CCHS said that following state guidelines, small private gatherings may be held indoors. Colleges and other higher education institutions may reopen indoor lectures. And elementary and secondary schools can reopen for in-person learning — without submitting a safety plan to Contra Costa Health Services.
In addition to the news about the shift to the red tier, officials said more groups would be eligible to receive the COVID-19 vaccine beginning Monday. Those groups include public transit workers, people who live in congregate living situations and anyone with health a condition that puts them at high risk of serious illness from a COVID-19 infection.
For details and sector-specific health guidance, visit covid19.ca.gov.
For Contra Costa data and COVID-19 health information, visit cchealth.org/coronavirus.