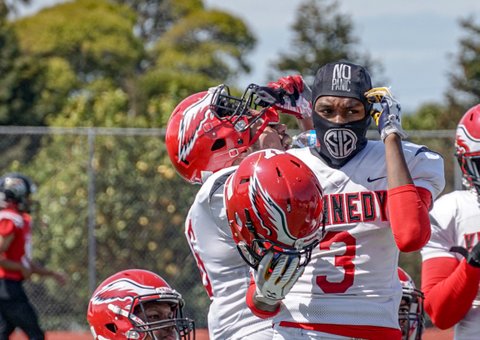 15 Apr

As Football Season Winds Down, Kennedy Players and Coaches Look to the Future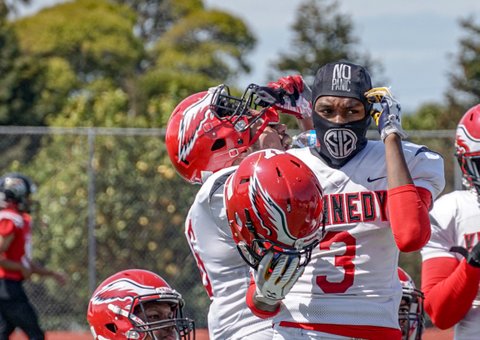 Kennedy quarterback Bobby Williams was awarded a full-ride scholarship to play football at Pacific University in Oregon, along with teammate Michael Souksumphan.
Story and photos by Denis Perez-Bravo
A short football season for Kennedy High School will finish as suddenly as it began, and this has the players and coaches focused on what's next.
For four seniors, the end of this season will mark the countdown to the next chapter of their football careers.
Quarterback Bobby Williams, wide receiver Michael Souksumphan, offensive lineman Jaylen McDaniel and offensive guard Sateki Lavulo have received scholarships to play at the university level.
Souksumphan and Williams will attend Pacific University, an NCAA Division III school in Oregon, with full-ride scholarships.
"I wasn't expecting it," Souksumphan said about the scholarship.
Last year, Souksumphan was injured and could not play for a lot of the season. He feared he would not have enough film to have schools take notice. But hard work in the field and consistency in the classroom has paid off, he said.
Injury and the coronavirus could have jeopardized Michael Souksumphan's football future, but he got a full-ride to play Division III ball.
McDaniel will attend Clarke University, a National Association of Intercollegiate Athletics school in Iowa, with a full ride scholarship.
Lavulo has a full ride to Black Hills State University, an NCAA Division II school in South Dakota.
Former Kennedy tight end Jermaine Terry II, who has a full ride to UC Berkeley, enrolled in the college a year early. He has been practicing with the Golden Bears since earlier this year.
"These kids came in with a different mentality and they handled their business academically," Marshall said.
In 2020, when fall sports were postponed until 2021, Kennedy head coach Greg Marshall still had an obligation to his athletes.
"I edited their junior film and sent them to scout coaches," he said.
Marshall said he had to find coaches who would take a look at the players.
After beginning talks with Clarke University's scouting coach in December, McDaniel made his commitment in February.
"Clarke University believed in me and gave me an opportunity," he said.
McDaniel, a 290-pound, 6'1" defensive and offensive lineman, is excited about getting to practice with bigger, older and more experienced players.
"I will get a better look at what I can do to better myself," he said.
But till then, the goal this season is to have fun, McDaniel said.
All four graduating Kennedy football players have received full-ride scholarships to play in college. Jaylen McDaniel, center, is headed to Clarke University in Iowa.
"This year is a good mix to give seniors something to go out with and to develop experience for younger players before they are asked to lead varsity," Marshall said.
Before COVID-19 put a stop to the 2020 season, Kennedy aimed to make another run for the North Coast Section title.
In 2019, after a record-breaking season, Kennedy High School fell short, 28-31, against St. Bernard High School in the NCS finals. The championship run had raised expectations for the 2020 season.
Although now, COVID-19's atmospheric change in contact sports toned down the competitive nature of Kennedy's football department. And this season is a building year for Kennedy's 27 players, 18 of whom are seniors.
Kennedy High School (1-3) lost its first three games. The Eagles got their first, and so far only, win April 9, beating St. Mary's 14-6.
Through its first two games, Kennedy had at least one injury in each match it played, including a scrimmage against Salesian College Preparatory.
"Most kids get hurt if they are overly worked, and we do not need that," Marshall said.
Right now, with outside factors constricting the social engagement and mental health of young people, football should be about development and having fun, Marshall said.
"The team and its younger players need to get ready for the fall," he said.
To allow room for growth, in the scrimmage against Salesian, Marshall moved around seven players up from the junior varsity team to varsity for the game. Salesian does not have a junior varsity team, so it was a good opportunity for some of the younger players to taste varsity competition, Marshall said.
Kennedy will finish off the season against Pinole Valley High School (2-2) in Pinole at 6 p.m. Friday.
This season has been a different environment. The team will not have a chance to fully unify because of the short season, but he expects every player to take this time to play as a team, Souksumphan said.
"I admire and respect the amount of time we have with each other," Souksumphan said about the last season at Kennedy he will play. "My time here has been fun."