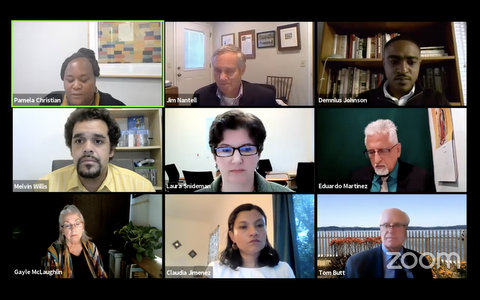 04 Jun

Richmond Conflicted on Reallocating Police Funds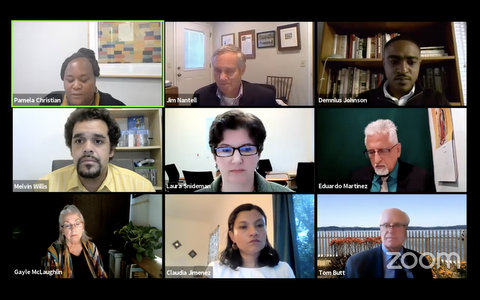 By Mathew Miranda
Richmond continued to debate reallocating police department funds during a five-hour discussion at Tuesday night's City Council meeting.
The meeting centered on a presentation from city staff that offered an alternative to the Reimagining Public Safety Community Task Force's recommendations to shift $10.3 million from the police department. Staff suggested reducing the task force's proposed funding to $5.58 million with $2.3 million coming from the police department. The remaining money would stem from the American Rescue Plan Act and excess funding from the current fiscal year. After hearing from 56 public speakers, the council did not approve the staff's recommendation.
Instead, the council voted 5-2 for staff to continue working with the task force to see how the police department can further fund a community crisis response team and SOS! Richmond. Mayor Tom Butt and council member Nat Bates voted against.
Staff and the task force had similar proposed funding for YouthWORKS and the Office of Neighborhood Safety. However, recommendations for a community crisis response team and SOS! Richmond differed greatly. The task force requested providing $3.4 million to SOS! Richmond for unhoused and homelessness issues and $2.4 million for a community crisis response team to address mental health crises without police. Staff's recommended action would provide $1 million to community crisis response and $1 million to homeless and unhoused intervention.
"Change is difficult and usually slower than people want it to be," said City Manager Laura Snideman.
***
***
Community Development Director Lina Velasco addressed the homeless and unhoused intervention. Velasco said, given the amount of funding proposed from the task force, a strategic plan should be developed to look at overlap in existing services and identify performance measures. That strategic plan would cost roughly $150,000 of the $1 million. The remaining funds would tackle short-term needs such as rent assistance, expanded shower services, lighting at the Rydin Road and Castro Street encampments and additional security for the safe parking program.
Interim Fire Chief Michael Smith spoke on the community crisis response team and said that "more time was needed to develop an efficient and effective program." Smith added there are additional options the city may look at, including contracting with the county or housing a team at the fire station.
Richmond Police Chief Bisa French ended the staff's presentation by discussing the potential effects of the task force's recommended $10.3 million reallocation. French said she would have to eliminate 35 officer positions including 12 vacant positions and 23 layoffs. The layoffs would consist of five women and 13 officers that come from "various ethnic backgrounds," according to French.
French also said the department is already losing officers and, as of this week, 18 Richmond officers have applied for employment with outside agencies. She added that the reallocation would result in the elimination of the traffic, regulatory and community violence reduction units and termination of nine contracts such as that with ShotSpotter, a gun detection system, and the police strategies contract that evaluates use of force.
French also highlighted the transition period between the task force's proposed public safety providers and said it would "leave a gap in services." She hoped the council would continue to consider alternative funding sources for the task force's recommendations.
"With further reduction in staffing, there will be further reduction in services to the community," French said.
Council member Claudia Jimenez said that the staff's report failed to address the council's request at its May 10 meeting: a proposed budget with the task force' $10.3 million recommendation. Jimenez also requested the police department provide a detailed budget of how it would reduce its spending.
"This report misses the benefit that having this program fully funded will have in the community," Jimenez said. "In this report, you focus considerable attention on what you see as the negative impact of implementing the task force recommendations."
Council member Gayle McLaughlin focused her comments on the unhoused community and how addressing its needs can help public safety. McLaughlin advocated for sufficient funding to SOS! Richmond, an organization that addresses homelessness issues. She added that no other organization has the "knowledge or competence" to tackle this "public safety component."
"I want to make it clear that addressing the needs of the homeless is a public safety issue," McLaughlin said.
Bates agreed with funding for YouthWORKS but did not support additional money for a crisis response team or homeless intervention. He questioned how often a crisis response team would be used and said the city is not a state agency that "can provide everything that everyone wants."
"I'm not voting to reduce one officer in the department," Bates said.
Council member Melvin Willis shared his personal experiences with police in Richmond and addressed that some Black and Brown communities are "scared of the police and had bad experiences." Willis said those reasons are why he supported the task force and said that public safety needs to be addressed at its root cause. He acknowledged the frustration of this contentious issue and how the two opposing sides are seemingly not willing "to meet in the middle."
"Be integral, assume good intentions, and let's figure out a way to keep Richmond safe because there are ongoing issues that we are not going to address right now because we are a city that is under-resourced," Willis said.
Tell us what you think: Should the police budget or police presence in Richmond change? Take our survey.