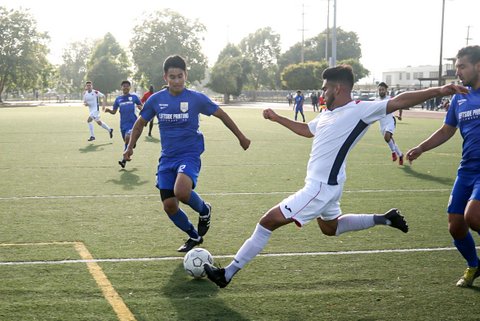 20 Jul

San Pablo FC Defeats Richmond Sol FC, Will Face Atlético East Bay in Finals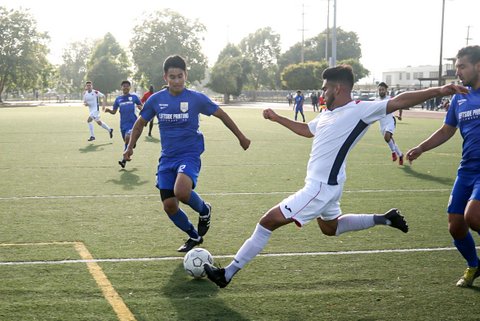 San Pablo Football Club forward Jesus Naviel Ocegueda takes a shot as Richmond Sol defender Moises Hernandez goes to defend San Pablo's 3-0 win at Martin Luther King Turf Field on Sunday.
Story and photo by Denis Perez-Bravo
San Pablo Football Club, the top seeded team in the National Soccer League Pacific Conference, advanced to the playoff finals after its 3-0 win against rival Richmond Sol Football Club at Martin Luther King Turf Field in Richmond on Sunday. 
"We were more hungry. We were first place for a reason," San Pablo midfielder Juan Alejandre Jr. said.
SPFC ended the first half of the game greatly surpassing Richmond Sol in goal opportunities.
"We know we need to put away teams like we did in the second half," Alejandre Jr. said.
In the second half, San Pablo continued controlling the game and scored three goals, all of them through set plays.
The first goal came in the 54th minute when Alejandre Jr. took a free kick on the right side of the field. He crossed a ball into the goal box and made no contact with any player. The ball then bounced over Richmond Sol goalie Salvador Rodriguez.
San Pablo kept up the momentum and scored five minutes later as Kevin Sanchez crossed a ball into the box off a free kick on the left side and San Pablo forward Pedro Hernandez jumped and headed the ball to the right side of the goal, beating Rodriguez.
In the 78th minute, a penalty was called against Richmond Sol, and Alejandre Jr. put the ball into the back of the net.
"We practiced those two first goals all day Friday," San Pablo coach Juan Alejandre said.
Throughout the season, set plays did not produce many goals, he said. 
"We needed to get better on the set plays, and we were getting scored on set plays. That is why we practiced that," Alejandre said. "It paid off." 
San Pablo moves on to play Atlético East Bay, the second seed in the league.
Both Atlético East Bay and San Pablo finished their seasons with eight wins, two ties and one loss. The fourth-seeded Richmond Sol won four games, lost two and had five ties. 
San Pablo was seeded first because of its goal tally. Atlético scored 41 goals and allowed 16, while San Pablo scored 42 and allowed only eight.
Earlier this season, San Pablo faced Atlético East Bay in the first game of league play, beating them 3-0.
"But every game is different. We are not going in confident. Whoever plays their best is going to win," Alejandre said.
San Pablo FC and Atlético East Bay will face off at Burrell Field in San Leandro on Saturday at 7 p.m.