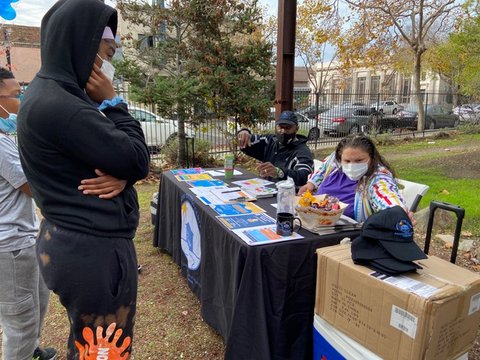 15 Nov

Clean Slate Day Helps Formerly Incarcerated People 'Get Back on Track'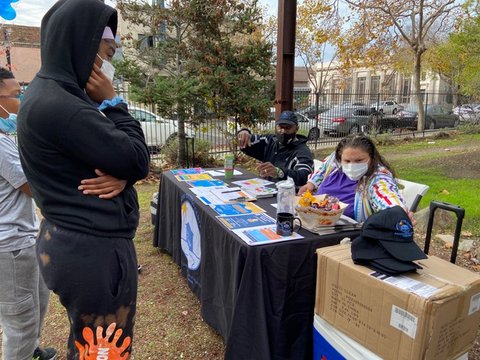 Clean Slate Day, this time held Nov. 6 at Heart of Richmond Park, helps people move on from the criminal justice system. (Efrain Valdez / Richmond Pulse)
By Efrain Valdez
Help clearing criminal records, obtaining government identification and finding stable housing were among the services provided Nov. 6 at the latest Clean Slate Day.
The Heart of Richmond Park at Macdonald Avenue and Harbour Way was the epicenter of the event held to help people who have recently gotten out of prison or who have gotten caught in the criminal justice system. Clean Slate Day is a joint effort of the Contra Costa Public Defender's Office and the Reentry Success Center.
The event helped Richmond resident William Johnson take the first steps toward changing his life for the better.
"Being able to get my record cleaned and get my driver's license is something that is really going to help me out," he said.
Johnson encouraged people who want to change their life and be a "better person to themselves" to come to an event like this one.
"This is where you start at, right here," he said.
Getting started can be difficult because of all the challenges people typically contend with after spending time in the criminal justice system. They often don't have stable housing, enough support from friends or family or a reliable way to communicate. To make matters worse, many are also dealing with unaddressed physical or mental trauma.
Having a crime on their record can block people from housing, employment and more. So getting their records cleared is vital to reintegrating into society.
"It stops workforce discrimination, and allows them to put the past behind and gives them the chance to begin again," said lead reentry coach Tiffany Anaya in an Instagram direct message to the Pulse.
In a separate interview, Anaya said that acquiring government identification and having records expunged could get expensive or be inaccessible to people who get caught up in the system.
"People will be able to receive free legal advice," she said of the services offered. "We can connect them to public benefits, offer them drug recovery or couples counseling and find them employment opportunities."
Reentry Success Center volunteer Ashley Salinas said that the center helped her connect with many resources back when she was going through hard times.
"They helped me get an ID. They helped me secure housing and helped me out with applications" for public benefits, Salinas said. "I was able to get back on track."
Anaya said that an event like Clean Slate Day is important because it's a way to connect people to free services and community-based organizations as they try to reenter society from the criminal justice system.
"Helping people obtain proper identification is so important because you need that for everything," Anaya said. "Without those documents, you can't apply for jobs, apply for housing or apply for other government services."
Even though the Reentry Success Center and Clean Slate Day are readily available, it can be hard to convince some people to come out and get the help.
"I don't like to ask for help, and I don't like telling people my problems," Salinas said. "But coming here, they really care about how you are doing."
Anaya said people don't like to be forced to do something, so providing a welcoming environment is key to getting people the help they need.
"Sometimes, people don't know that they can get their records cleaned for free or that there are ways to obtain proper identification," she said.
According to Anaya, over 100 people attended the event, and 79 of those got their records cleaned that day. Staff from the public defender's office were on hand to help with that process.
The center is planning its next Clean Slate event for April — another outdoor event with the street closed to give it more of a festival-type environment to make it more friendly to those who may be skeptical of getting help.