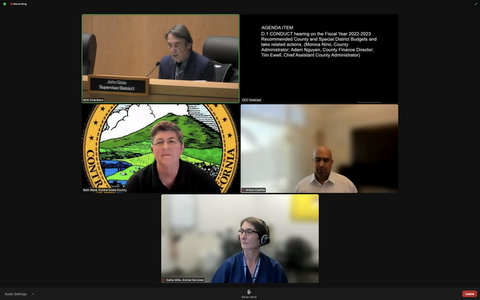 13 Apr

County Budget Recommendations Made to Supervisors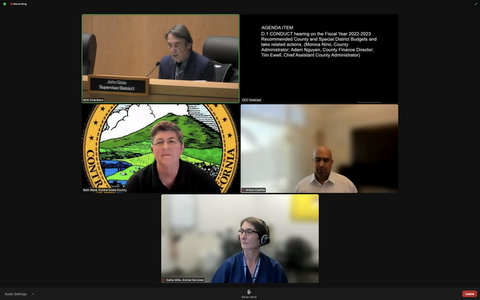 (Screenshot captured by Richard Tzul / Richmond Pulse)
By Richard Tzul
County staff presented a proposed $4.43 billion county budget Tuesday to the Board of Supervisors. The largest share, about $2.4 billion, would go to health and sanitation services. About $775 million would be spent for public assistance and $743 million for public safety, each accounting for roughly 17% of the proposed budget.
The remainder of the budget would be spread among:
Education at $38,408,000 (1%)
Public Ways and Facilities at $165,102,000 (4%)
Debt Service at $2,760,000 (less than 1%)
Appropriations for Contingencies at $15,000,000 (less than 1%)
General spending at $293,992,000 (7%)
The proposed budget is balanced with various sources of revenue to cover the costs, according to county staff, including a projected 6% growth in property tax.
Another source of revenue is COVID relief funds. However, staff members warned they are for one-time use and to "be judicious" on how to spend them. The county, they said, should plan to "divest" from them eventually.
One key source of funding is Measure X, a voter approved 20-year tax measure that funds health and other essential services. The ballot measure was repeatedly credited throughout the hearing for helping provide several services.
Despite the expected revenue, county staff members acknowledged complications such as a 40-year high in inflation; supply chain issues; California's revised proposed budget, which is expected in May; and unforeseen costs as most labor negotiations with the county are ongoing.
>>>Read: Economist Says COVID-19 a Major Factor in Inflation
Under the budget, the county would hire a deputy fire chief, three fire captains and three dispatch positions. The city of Pinole has started talks to potentially receive fire protection services from the county, which would create another budget item.
Fifty-three million dollars from the American Rescue Plan Act has been allocated in the recommended budget for health services. Another $30 million in ARPA funds will be rolled over from the current year into the next. Contra Costa County will apply for reimbursements from FEMA to cover certain COVID-related expenses, though they can take 2-3 years to receive.
Several department heads provided a breakdown on how the county would spend its money. The proposed budget by department would entail:
$266.7 million for Public Works
$583.8 million for Employment and Human Services
About $13 million for Animal Services
$51.3 million for the District Attorney's office
$40.4 million for the Public Defender's office
$278.2 million for the Sheriff's Department
About $91 million for the Probation Department
$2.3 billion for Health Services
A staff member said that only 15% of the budget contains discretionary funds, which the board may decide how to spend. The remainder must be spent for its designated purposes, outside the control of the supervisors.
Amid the wonky policy discussion, District 1 Supervisor John Gioia justified the complex mechanics of county spending.
"We have a triple A bond rating, which I think is the highest you can get in local government," he said. "So when we are building a new health clinic or the new emergency operation center and things like that, our cost of borrowing to build those projects is less, so it actually saves us real dollars … so we can spend that extra money on some other program that is meaningful."
Public Works is dealing with a staffing shortage because of retirements and recruitment difficulties, said Brian Balbas, the Public Works director. While raising wages wouldn't necessarily be a "silver bullet," higher pay could help draw in more employees. Efforts are being made to recruit soon-to-be university graduates, he said.
The labor shortage in Public Works is ultimately a financial burden, said Gioia, because staff is unavailable to bring projects into fruition. "The concern for us is these projects get delayed," he said, "which usually then increases the cost of all these projects."
Balbas added that preventative maintenance is more affordable than restructuring.
A potential source of funds could come from the infrastructure bill passed under the Biden administration, though Public Works would have to compete with other counties for the money.
Employment and Human Services expects to increase allocations for CalFresh and Medi-Cal. The department, which had a new director recently appointed, is still trying to figure out how to spend Measure X funds.
Under the proposed budget, Animal Services would hire six additional staff members. The department is currently in talks with cities within the county for possible contractual services.
Gioia said that Richmond and Antioch are about the same size but the former receives animal services from the county while the latter has its own animal services department. Richmond's costs are about $1 million, he said, but Antioch spends nearly $2 million for its department.