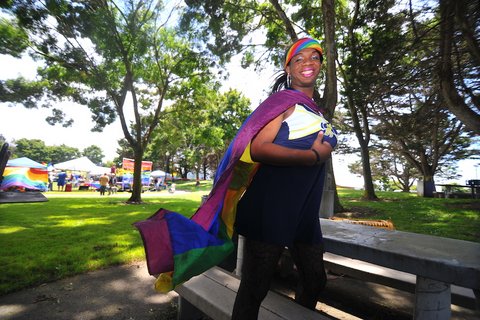 21 Jun

Hope, Community and Self-Esteem: What Pride Means to Me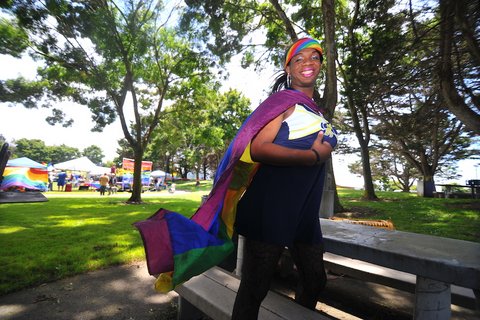 A person celebrates pride June 2, 2019, at Marina Bay Park. (Denis Perez-Bravo / Richmond Pulse file)
Commentary, Various Authors
Editor's note: Pride Month is a time to honor the progress and accomplishments of the LGBTQ+ community. It is celebrated internationally every June, the date chosen to recognize the Stonewall uprising in June 1969 New York, considered the beginning of the modern gay rights movement. It has become a time for colorful celebration and moved into the mainstream as even the biggest corporations adorn their logos with rainbows for the month.
In honor of Pride Month, we asked some current and former Richmond Pulse writers to tell us what pride means to them. Their responses have been lightly edited.
Lately, Pride Month feels co-opted, and I feel less attached to the month. But growing up, Pride was the one month when I felt it was not only acceptable to be queer, but I could also celebrate it. So many LGBTQIA+ people felt comfortable showing up for themselves in ways that were normally inaccessible. As a teenager, I found hope and community in San Francisco's Dyke March and celebrated with a larger crowd at the SF Pride Parade. I felt seen. I felt loved by people who didn't know my name but shared similar experiences. I felt like I was coming home. I love a party where everyone is welcome, but lately, it feels less and less about the original hosts, you know? It feels less about our liberation and resilience. Too many people are forgetting that the first Pride was a riot. And that the fight continues.
— Keisa Reynolds, they/them & she/her
This time last year, I finally came out to my parents. I am bisexual. Even though I am married [to a man], I think it is highly important for us as individuals to be seen. My students are very thankful that I share this with them. It allows them to have a voice. This year alone, at least four individuals shared that they would like to go by they. It is important that our society welcomes all genders and sexualities in such a way that they not only feel welcomed in June but year-round. I would like to see more companies and work spaces go beyond just a June mission statement and support love, diversity and inclusion everyday of the year. Happy Pride!
— Mitzi Perez-Caro, she/they
Pride Month reminds me to fully inhabit myself as the gay brown body that I am. I am in my 30s and it is still a daily practice to undo the harmful messaging I received during my adolescence such as believing that to be straight is "normal" and to be gay is to be different, rejected and discarded. And the harms don't stop at adolescence. Events like the Orlando Pulse nightclub shooting six years ago, legislation such as the so-called Don't Say Gay bill in Florida and other legislation targeting the freedoms of transgender people triggers additional fears of what future lies ahead for queer people in America. Pride Month acts as a personal moment to pause… take a deep breath… and to sit with myself and feel the celebrations as encouragement. I gravitate towards the independent arts, movies and literature for and by queer people. I go out to beaches and hikes with fellow queer friends. I seek out so much queer connection so that spills into the next month, and the next. Pride Month is the extra assurance to try to live every day beyond June grateful for who I am.
— Edgardo Cervano-Soto, he/him/his
>>>Read: Richmond's LGBTQ Community Wants More Safe Spaces
Pride is [expressive] and deeper than meets the eye. More than just an idea, it's how people carry themselves through life. It's those moments when you need self-security and where you can find others who are searching for comfort as well. Being able to look in the mirror, not wanting to look away, because you're happy with how far you've come, no matter how long it's taken you to get there. Pride doesn't reveal itself in just one day. A lot of the time it's hidden under years or a lifetime of negativity — the constant self-awareness that causes you to question your every move and thought, something taught to you that keeps you from truly moving as your true self. Surrounding yourself with people who care for you, who are proud of you, who make you forget about your worries that linger throughout the day, makes it feel a lot easier to confide in yourself. Pride is there, in yourself, in others, in clothes, songs, language, paintings, feelings, glances towards a mirror. Allow yourself to be proud of who you are.
— Juan C. Mendoza, he/him
>>>Read: At Richmond Pride, Community and Acceptance Grow
As a Black nonbinary person, I almost detached myself from Pride Month. It's constantly flaunted by white queer people. Companies slap rainbows on things and then go donate to conversion camps, etc. However, I don't have to be involved with that. My Pride Month has Black queer and trans people in the forefront. My Pride Month is building community and establishing myself as a person. Pride is self-esteem. It's being accepting and proud of who you are. It's motivation and support to continue to figure myself out in this world and society. It's also a fun time to be in spaces with other queer, Black individuals. I also think that pride is taking the time to learn history and figuring out how to help young queer people find safe places and good environments. It's also a great time to go dance in the street with friends and be as queer and expressive as you want.
— Kimyatta Newby, they/them