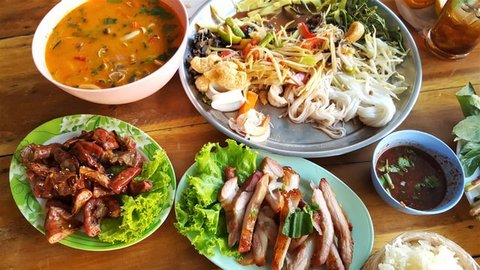 27 Jul

Food Trends Reflect Country's Growing Diversity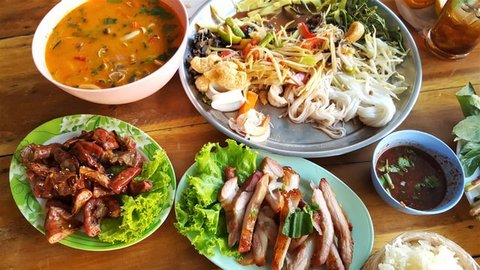 Thai and other Asian foods are among the most popular foreign cuisines in California. (Photo by Unsplash user Jerome Jome)
By Olivia Lozano
Consumption of ethnic foods in the United States has become more common over the years and the growing interest reflects the growth of our diverse populations.
In a country with constantly changing food trends, it can be hard for certain cuisines to get the recognition they deserve. Even more, there is a general misunderstanding of what "American" food is and how both immigration and diversifying populations have influenced what we eat.
America's national gastronomy is heavily shaped by immigrants, Black and Indigenous folks who have lived on this land for generations, and other people of color.
In a recent webinar hosted by Ethnic Media Services, Quincy Surasmith of Feet in 2 Worlds, an immigrant news outlet, referred to food as a lens through which we can understand the complexities of immigration, business, labor, politics, people and the broader relationships we have with one another.
"I want to encourage people to think about food as not being put into little boxes but as these kind of signposts to all the intersecting roads it's crossed," Surasmith said, referring to the influence that people and geography have on food.
>>>Read: Richmond Couple Opens Mi Casa Grill to Serve Community Homestyle Cooking
What Americans eat is shaped by region and ingredient availability.  It has influenced the inceptions of the fusion food we all know and enjoy, like the California roll, for example.
Surasmith said a Japanese chef in L.A. created the California roll when he used avocado — a locally grown fruit that's more common in Mexican cuisine — to replace tuna in the sushi roll he was making. It became a big hit among the locals who ate at his restaurant and later became nationally recognized.
At most sushi places in the U.S., you'll find the California roll. Even the more "traditional" versions of it will change — precisely why using the term "traditional," rather than "authentic," is better when describing ethnic food.
The term "authentic" is typically used when comparing ethnic cuisines to Americanized versions. To put it bluntly, it's considered "real" food. This term can create harmful stereotypes of other ethnicities based on our own perceptions of what we believe a certain dish should look or taste like.
Alternatively, the term "traditional" offers a better way for people to distinguish if a certain dish uses, well, traditional cooking methods and ingredients. "Traditional" references the long-standing history of the cuisine.
Traditional foods are harder to come by in America partly because of ingredient availability and adjustments immigrants had to make after arriving here. The intention behind these foods is still genuine, however, even if the American versions are slightly altered.
So what's on America's dinner plate?
Data taken from Yelp shows how tastes differ from state to state. The West Coast states, including California, Oregon and Washington, all enjoy various Asian cuisines, like Taiwanese, Filipino, Vietnamese, Thai and Korean food, for example. States on the East Coast — New York, New Jersey, Virginia and Pennsylvania — consume more Spanish, Caribbean, Peruvian and Italian food. The Southern states like Louisiana, Alabama and Texas favor more soul food and Southern cuisines, including Creole and Cajun foods.
Overall, the most searched for foods, according to Google Trends, were Chinese, Mexican, Italian and Thai.
On the list of the World's 50 Best Restaurants of 2021, six are American and all of them are influenced by international cuisine. Three of those are in Northern California.
Benu in San Francisco blends Korean and Cantonese culinary traditions with modern California techniques. On the menu, you'll find dishes like beef and oyster saengchae with radish and oyster leaf. Saengchae is a type of Korean salad.
Atelier Crenn, also located in San Francisco, is headed by chef Dominique Crenn from France. Crenn is the first female chef to earn three Michelin stars and an activist for LGBTQIA+ rights. Crenn's concept is inspired by poetry — what she calls "poetic culinaria" — and presents food as both visually stunning and elegant. The restaurant's specialties are a French onion soup ​​and sustainably sourced abalone with cabbage and smoked mussels. Atelier Crenn also uses ingredients that aren't traditionally part of French cuisine, including pineapples and coconuts in desserts.
>>>Read: Selling Ceviche Awakens Culinary Dreams, Continues a Sinaloense Legacy of Perseverance
SingleThread in Healdsburg, Calif., combines Japanese techniques with local, farm-fresh ingredients. The restaurant interior pays tribute to Japanese ryokans, or inns, and puts emphasis on "omotenashi," the Japanese mindset of hospitality and high service standards. Dishes include black cod ibushi-gin with burnt morels, purple barley crepes and shio koji vinaigrette, and a Sonoma cherry dessert with chocolate, yogurt and vanilla bean.
It is encouraging to see more of these restaurants recognized on a global scale; however, American society has a long way to go to recognize that our foods are no longer a monolith of whiteness.
In 2020, the food-delivery app market more than doubled in the U.S., becoming a gateway for many Americans to gain exposure to new foods. Consumption of ethnic foods became a form of escapism for people seeking unique experiences while sheltering in place.
>>>Read: From Cooking at Home to Cooking for the Homeless: Tempero Goiano Celebrates 10 Years
Additionally, e-commerce is changing the way Americans get access to foods, according to Isaac Mizrahi of Forbes. Mizrahi wrote that the internet lets us discover and access more foods. People can buy an endless array of international ingredients that might be hard or impossible to find at their local grocery stores. For instance, you can buy calamansi extract from the Philippines and even De la Rosa Mazapan candies from Mexico.
Food has always been a way that we connect with each other and build relationships. It will be exciting to see what new fusion foods are created in the future and how our national gastronomy changes as a result.