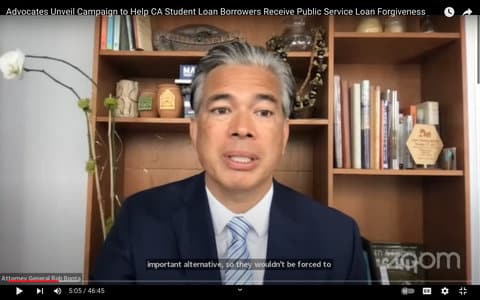 12 Aug

Nonprofit and Government Employees Could Get Student Loans Forgiven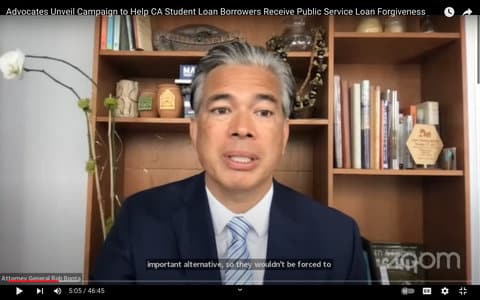 "This fight is personal to me," said California Attorney General Rob Bonta during a press teleconference Monday on student loans and Public Service Loan Forgiveness. (Screenshot captured by Danielle Parenteau-Decker / Richmond Pulse)
By Danielle Parenteau-Decker
Many people who took out federal student loans could be eligible to have a portion of their debt forgiven and not even know it.
California Attorney General Rob Bonta, former Secretary of Labor Hilda Solis and other politicians and advocates spoke Monday in a press conference about the Public Service Loan Forgiveness program. The press briefing was livestreamed on the Student Debt Crisis Center YouTube channel.
Under Public Service Loan Forgiveness, a person can get the remainder of their federal student debt erased after 10 years, provided they meet certain requirements. The most important requirement is reflected in the name of the program: To be eligible, a person must have worked for a qualifying public service employer, including nonprofits and the government.
As with other government benefits — such as unemployment, the Child Tax Credit and Medicaid — the requirements have been relaxed during the pandemic to make the program more accessible to more people.
Normally, a borrower had to be on a standard or income-driven repayment plan and make 120 months' worth of full, on-time payments on a Direct Loan only to be eligible. They also had to be working for a qualifying employer at the time of application.
Now, a person does not have to have a qualifying employer when they apply, and late, partial, Perkins and Federal Family Education Loan payments count on any payment plan — but not for long.
The limited PSLF waiver, which allows people to qualify without meeting the usual payment requirements, is in effect until Oct. 31.
According to the state attorney general, close to 1 million Californians could qualify for PSLF during the waiver period. Only about 10,000 have applied.
"This fight is personal to me," Bonta said. To afford his student loan payments, Bonta had to work for a private law firm early in his career, delaying what he called his calling to work in public law.
"I have lived with the weight of student debt," said Assemblymember Mia Bonta (D-Oakland), the attorney general's wife.
She said the two of them accumulated over $150,000 of student loans and that she made her last payment in her 40s — just in time to send their oldest child to college.
She said it was the right decision for her, but that didn't mean it was easy. "I was so proud of what I accomplished academically … but the debt was a lot to carry."
And getting an education or avoiding deep debt is not a choice people should have to make in the first place.
"It is almost soul-crushing that the trade-off for so many students to achieve their educational goals is to take on [debilitating] debt," she said.
Paradoxically, student loans make higher education more accessible to more people while also exacerbating disparities such as the racial wealth gap.
"We need to make sure that the American dream is fulfilled by everyone, that people who have had access to higher education are not also straddled with this debt for many, many years," said Los Angeles Supervisor Hilda Solis.
Solis, who was secretary of Labor in the Obama administration, was the first in her family to attend college.
While a college education is not for everyone, it is crucial for many, making student debt something of a necessary evil.
State Sen. Monique Limón (D-Santa Barbara) said many jobs require degrees, but even overlooking that, a college education allows people to gain important skills and access to networks that can prove valuable throughout their careers.
Perhaps more important, having access to higher education lets people do what they want to do with their lives.
"We cannot allow our dreams to be stifled by debt," Limón said.
For some people, going to college is the only practical way to achieve their dreams, and taking out loans is the only way to go to college. But their debt can be a burden that only becomes heavier over time.
Assemblymember Bonta said that research has shown that 12 years after they start college, on average, Black women owe 112% and Latinas owe 86% of the amount they borrowed in the first place.
That's right: People can end up owing more — a lot more — or see their debt barely decrease even after years of making payments, largely because of interest.
Limón said she wanted to raise awareness because student debt "disproportionately affects women and people of color."
According to Jan Masaoka, CEO of the California Association of Nonprofits, many borrowers who qualify for PSLF are women, people of color, low-income or first-generation college students. She also said they work a variety of jobs, including medical assistants at clinics, bookkeepers at museums, teachers at nonprofit preschools or building managers in affordable housing.
"Many of these important staff are literally drowning in student debt, and PSLF is a lifeboat for them," Masaoka said. "But not everyone knows, as many speakers have pointed out, that these lifeboats are nearby."
She also said that many qualifying borrowers are people in their 50s or 60s who went back to school.
While the student loan conversation tends to focus on younger people, earlier in their careers, older people hold a significant share of the debt as well.
In 2018, adults 50 and older owed a collective $289.5 billion in federal student debt, the American Association of Retired Persons reported.
Sens. Elizabeth Warren and Chuck Schumer cited that figure in a 2021 op-ed for CNBC. "Student debt is one of the biggest contributors to the rise in the amount of debt seniors hold overall," they wrote.
And if those seniors can't make their payments, the government will take the money from their Social Security benefits, pushing many into or close to poverty, the senators wrote.
The point is, Public Service Loan Forgiveness could help many people, many of whom may have been struggling for a long time, but not if they don't know about it and not if they don't apply.
For more information about Public Service Loan Forgiveness and the PSLF waiver, visit the official Federal Student Aid website. Borrowers may also use the PSLF Help Tool to determine whether they qualify or what steps they would need to take to qualify and then be guided through the application process.