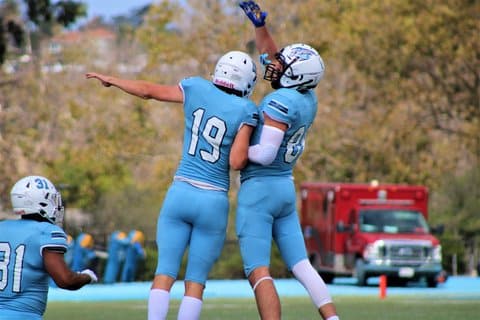 04 Oct

Contra Costa College Comets Get First Win of Football Season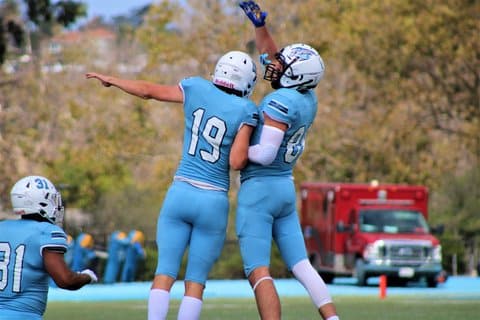 Comets tight end Mikey Mainer and wide receiver Shane Purcell celebrate a touchdown during the first half of Saturday's game in San Pablo.
Story and photos by Joseph Porrello
The Contra Costa College football team earned its first victory of the season in convincing fashion Saturday, a win that had eluded them through their first three games. 
"The first win is always, always, the best. We were waiting all offseason for this," said Comets' sophomore wide receiver U'Kari Baker.
Defeating the Chabot College Gladiators 49-15 in San Pablo gives the Comets hope that their early-season troubles are now a thing of the past. 
"We never get too down on ourselves," said Comets' sophomore linebacker Noah Franklin. "We always feel like we're going to win because there's so much talent on this team."
It had been exactly 300 days since the Contra Costa College team won a game, going back to Dec. 4, 2021, when they overcame Foothill College in the Chris Pappas Bowl.
A Comets' assistant coach screams in celebration after EJ Thomas returns a fumble for a touchdown to start the third quarter on Saturday in San Pablo.
On Saturday, the Comets broke out of their offensive slump by gaining 422 yards of total offense, more than double their season average thus far of 180 yards per game and almost identical to their average of 404 yards per game in 2021. The offensive output by Contra Costa College was also almost twice that of the Gladiators' 214 yard total.
"The kids trusted the game plan this week and it felt good that we were finally able to execute," said Comets' tight ends coach Zac Noble. 
Contra Costa College was able to net 280 total yards on 59 rushing attempts, blowing away the 69 yards on 21 ground attempts by Chabot College. 
"We want our identity to be a team with big linemen that let us run the ball effectively," said Comets' head coach Otis Yelverton. 
Nine different players logged ground attempts for the Comets, led by sophomore captain running back Mike Franklin who was nursing an ankle injury.
Comets' quarterback Shane Purcell hands the ball off to running back Mike Franklin during their second offensive drive of the game on Saturday in San Pablo.
"He runs so hard. I try telling him not to take a beating and to just go down," said Yelverton.
With the help of his offensive linemen, Franklin accumulated 119 ground yards on 15 attempts and a touchdown, despite his frequent trips to the sideline.
"Our o-line is coming together really nicely," said Baker, referring to the offense. "They're becoming a unit and communicating with each other. I really have high hopes for them."
A Comets' running back fights for extra yardage as his offensive linemen look on in Saturday in San Pablo.
Due to the disparity in rushing success between the two teams, the Comets were able to possess the ball for nearly three quarters, leaving the Gladiators with only 16 combined minutes on offense.
Contra Costa scored a touchdown on its first possession of the game, followed by a three-and-out stop for the defense. On their second drive of the game, the Comets earned their first rushing touchdown of the season when quarterback Shane Purcell snuck in from one yard out. 
Comets quarterback Shane Purcell fights over the goal line for the Comets' first rushing touchdown of the season on Saturday in San Pablo.
Momentarily responding to the Comets' second touchdown, the Gladiators salvaged a botched snap when running back Raymond Orozco was able to take it 61 yards to the end zone on the first play of their second drive. The Contra Costa College defense would allow only eight total rushing yards for the remaining three-plus quarters. 
With less than two minutes left in the first quarter, Comets' defensive back Bobby Brooks snagged an interception from Gladiators' quarterback Zach Taylor-Smith and returned it 45 yards to again give the Comets a two-score lead. 
Comets defensive back Bobby Brooks trots in for the touchdown after making an interception on Saturday in San Pablo.
The score was 21-7 going into halftime, as an uneventful second frame consisted of seven punts and one turnover on downs. The Comets' point total at the half was more than they had scored the entire season to date, as they had averaged under seven points per game up until Saturday.
"We just didn't seem to be able to click," Noble said. "Now, we're clicking."
The Comets headed back into the locker room for halftime with a 14-point lead on Saturday in San Pablo.
The Contra Costa College team would roll their momentum into the second half.
On the third play of the third quarter, Chabot quarterback Kekoa Turangan fumbled the ball when he was sacked; Comets' defensive lineman EJ Thomas scooped it up and ran 49 yards to the end zone, shaking off would-be tacklers along the way. The fumble return sparked a palpable energy on the Contra Costa sidelines, with coaches and players celebrating with each other.
Comets defensive lineman EJ Thomas celebrates his touchdown and sports the team's "turnover chain" on Saturday in San Pablo.
"It just feels really good to get a win under our belt and see all my teammates and coaches smiling," said Baker.
Only two plays after Thomas' defensive score, Brooks intercepted his second pass of the contest and weaved his way for 41 yards before being dragged down seven yards short of his second touchdown.
Comets defensive back Bobby Brooks poses with the team's "turnover chain" after intercepting his second pass on Saturday in San Pablo.
"Our defense really stepped up big with the turnovers; it was a huge confidence booster," said Franklin.
"The defense has been solid for us; it's been the backbone of the team," added Yelverton. 
Set up by Brooks' second interception, the Comets' offense easily carried the ball over the goal line to give themselves some breathing room, making the score 35-7 and never looking back.
Comets' defensive back Kai Santos looks to halt the Gladiators' play where it lies on Saturday in San Pablo.
Contra Costa College kicker Diego Nunez-Smith knocked through all seven of his extra point attempts. The Comets have yet to make a field goal this season, missing their only two attempts. 
Baker led the Comets with 71 receiving yards on two catches and notched a touchdown. Wide receiver James Lee hauled in two passes for 38 yards and added a six-pointer of his own. In spite of their large offensive output, no Comets' receiver had more than two receptions. 
"We've been working really hard and have great coaches surrounding us, so a win was bound to come somehow, some way," Baker said. "Being 0-3 was our motivation."
Players from the Contra Costa College Comets and Chabot College Gladiators line up to shake hands after Saturday's game in San Pablo.
After winning their season opener, the Gladiators went into Saturday's game having lost three games in a row as well. Dating back to last season, the Chabot College squad has only won three total games, finishing with an overall record of 2-8 in 2021. 
Saturday's game marks the last non-conference regular season game the Contra Costa College team will play. The Comets' competition will only become more challenging as they prepare to play their first game as new members of the Valley conference of the California Community College Athletic Association. 
"It's nice to feel like ourselves again before the [Valley] conference games start," said Noble.
>>>Read: Comets Football Team Suffers Tough Defeat to Start Season
Yelverton added, "Hopefully we can translate this to the [Valley] conference because that's what really counts."
Following their current bye week, the Comets will travel three and a half hours south to Orange Cove High School in Fresno County on Oct. 15, where the 3-2 Reedley College Tigers will await them. 
"We just want to leave everything out on the field and have no regrets," said Franklin.
Baker noted that he thinks this week's performance will have a lasting positive impact on the team. He added that many players were "bumping heads" and placing blame on each other over the course of their adverse start.
"I don't think anyone wanted to look at themselves in the mirror. This brought us together, though; no more losing."
When they played on Sept. 3, Chabot College held Reedley College to 14 points less than what they allowed the Comets on Saturday.