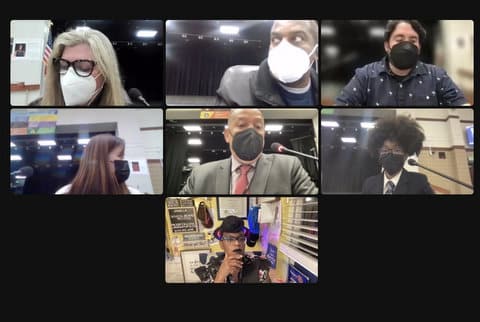 03 Nov

WCCUSD Student Trustees Want to Hear From Their Peers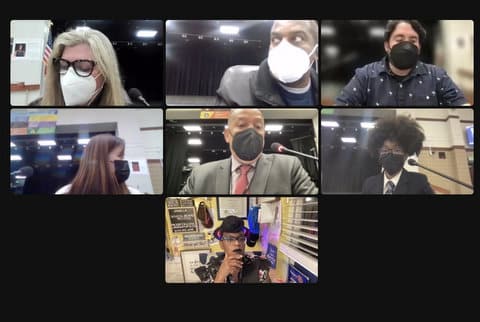 The WCCUSD student trustees said at a school board meeting Wednesday that they plan to survey middle and high school students about "school safety and the accessibility of various resources." (Screenshot captured by Julia Métraux / Richmond Pulse)
By Julia Métraux
West Contra Costa School Board student trustees Evalyn Soungpanya and CJ Miles want to make sure student concerns from all middle and high schools in the district are being heard.
"We believe it's important to hear from a variety of students rather than speaking on our experiences alone," Miles, a senior at DeAnza High School in Richmond, said. "We hope to be working with the WCCUSD communications department to send a survey out to middle and high school students."
Their presentation at Wednesday's meeting was the first of the semester from the student trustees, who serve for one semester. Soungpanya and Miles said they hope to have results from students by the next regular school board meeting, which is scheduled for Nov. 16.
"Moving forward, we hope to continue to reach out to [our peers] for student insight and the WCCUSD community and advocate for our collective needs in the district," Soungpanya, a senior at Middle College High School in San Pablo, said.
An important aspect of the survey, in addition to understanding students' needs, is to make sure they know what resources are available to them.
"These questions are related to school safety and the accessibility of various resources," Miles said. "Like school counselors, where you can talk to about transcripts and incident reporting."
Trustee Jamela Smith-Folds asked that the student trustees and staff supporting their work on the survey make sure that it is accessible to students with disabilities to make sure their experiences are being heard.
"Are we making sure that we have accommodations or modifications to the survey to make sure they're able to take the survey, be able to complete the survey?" she asked.
Soungpanya said the survey had "nothing specific at the moment" to make sure students with disabilities are able to take it. Smith-Folds suggested working with Sonja Neely-Johnson, the district's SELPA director, on this issue. (SELPA stands for Special Education Local Plan Area.)
While Miles and Soungpanya said they hope to work on hearing and addressing concerns with the All-Student Congress, which WCCUSD middle and high schools sent student representatives to, the congress has yet to start this year officially. Trustee Leslie Reckler asked Superintendent Kenneth "Chris" Hurst when this should be underway.
"I actually wrote that down as a next step for me," Hurst replied. He said he will connect with people who organized it last year and "come back to the board."
Trustee Mister Phillips was absent at Wednesday night's meeting during both closed and open sessions.
Teacher Speaks About the Importance of Voting
During public comment, Miesha Harris Gash, a teacher at Kennedy High School in Richmond, asked other WCCUSD teachers to speak to their students about the significance of voting.
"I hope that we're all taking the opportunity to share why voting is important in every election to our students," she said. "I put my sticker on my cheek, so they know that Miss Gash voted, and we end up having dialogue and conversation."
>>>Read: Native American Vote Has to Overcome Many Barriers
The midterm elections, which take place Nov. 8., may include voting for West Contra Costa Board of Education trustees, depending on where families in the district live.
Recognizing Native American Heritage and Sikh American Awareness  
With the exception of the absent Phillips, the West Contra Costa Board of Education unanimously voted to recognize November as both National Native American Heritage Month and Sikh American Awareness and Appreciation Month.
>>>Read: A Neighborhood Market with Roots in India
The resolutions, which passed without questions or comment, center on promoting education about Native American and Sikh communities. WCCUSD schools and other parts of the West Contra Costa county, according to the resolution, that "have been built [were] originally inhabited by the Ohlone people."