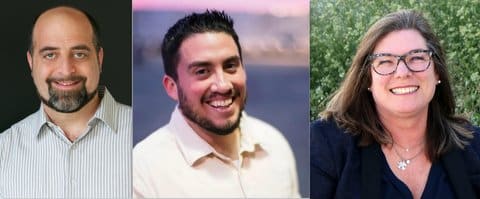 18 Oct

Two Trustee Spots Up for Grabs on West Contra Costa Board of Education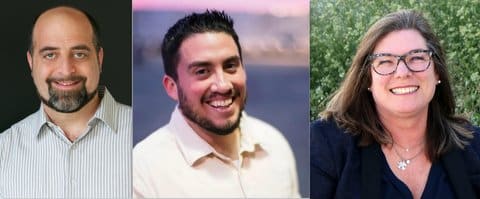 Patricio Dujan, from left, Demetrio Gonzalez-Hoy and Leslie Reckler are running for seats on the West Contra Costa Board of Education. Gonzalez-Hoy is an incumbent as is Reckler, who is challenged by Dujan.
By Julia Métraux
The West Contra Costa Board of Education makes decisions about a variety of issues — such as staffing levels — that shape the education offered in the West Contra Costa Unified School District. Trustee seats in Areas 4 and 5 of the five-member West Contra Costa Unified School District Board of Education will be up for election Nov 8.
Richmond Pulse talked to candidates about how they plan to address issues of educational equity, staff retention and how to deal with COVID-19.
Trustee Area 4
Demetrio Gonzalez-Hoy is the incumbent trustee for Area 4, running against Olivia Liou. Area 4 covers parts of the city of Richmond.
Gonzalez-Hoy, a labor leader who has been a bilingual teacher in the WCCUSD, told the Pulse that addressing teaching shortages goes hand-in-hand with keeping the community safe during the ongoing COVID-19 pandemic.
"We are sometimes putting a lot of students in a cafeteria or a library," Gonzalez-Hoy said. "You can't have 200 people in one room; even if it's big, it's just not possible to social distance."
A former English language learner himself, Gonzalez-Hoy critiqued the current system where if ELL learners are not reclassified in the WCCUSD system in fifth grade, they will continue to take remedial classes.
"Because they're never able to either reclassify and continue to take these remedial classes, they end up not being able to have enough classes to go to college or even apply," he said. He noted that because some students need to work or look after siblings, taking additional classes to catch up is not an option.
Gonzalez-Hoy also said staff retention is a major concern. He decided to run again due to support from the WCCUSD community. "I'm proud that so many parents and families and students and educators and staff really asked me to do this," Gonzalez-Hoy said.
Candidate Olivia Liou did not respond to emails from the Pulse for an interview about her candidacy.
Trustee Area 5
Leslie Reckler and Patricio Dujan are running to represent Area 5. Reckler is the incumbent trustee. Dujan is a regional vice president of sales at the publishing company Scholastic. Area 5 covers most of El Cerrito. Reckler and Dujan are parents of current and graduated WCCUSD students.
Near the end of the last school year, district-wide mask mandates were dropped. Dujan said masks should be strongly encouraged but does not think it would be feasible to reinstitute a requirement because of vastly different viewpoints in the district. But Dujan says accommodations could be made for students who are high-risk or have family members who are high risk.
"I think of peanut allergies, for example. We all have heard classes were like, 'oh, so and so has a peanut allergy, so there are no peanuts here,' " Dujan said.
Reckler says masking should be advocated by school leadership, even if not mandated. Reckler also says there should be a return of COVID-19 vaccination clinics on campus.
"We should be pushing those clinics and pushing masking," Reckler said. "We should have clinics like we did before. I'm pretty sure they're not right now because they're short-staffed."
Another issue facing the district is retaining staff. Many people believe the staff shortage is due to salaries not being competitive with neighboring school districts. Reckler said the current board asked Superintendent Kenneth "Chris" Hurst to look into human resources, which includes compensation.
​​"One of the priorities that we've given to Dr. Hurst for this coming year is a complete top to bottom review of human resources," Reckler said, including salaries.
Dujan critiqued Reckler for voting for a measure that could have allowed the district to cut teaching and staffing positions for budgetary reasons.
"My opponent voted for cuts to staff at a time when we're not even filling all of our jobs," Dujan said. "We have to strike a deal with the union that makes us competitive."
One issue Dujan and Reckler agree on is ensuring students are reading at grade level by third grade.
"If you are not reading on grade level, especially by third grade, you are down a very difficult path in school," Dujan said.
Making similar statements, Reckler said, "I know it seems like a long way off from college, but there is extremely compelling data, that if you are not doing well by the third grade, you are going to have some challenges later."
The votes for WCCUSD trustee seats will take place Nov. 8 in the general election.
Correction: Due to an editing error, a previous version of the story said that candidate Patricio Dujan was in favor of requiring masks in the West Contra Costa Unified School District. It has been corrected to say he believes masks should be strongly encouraged.