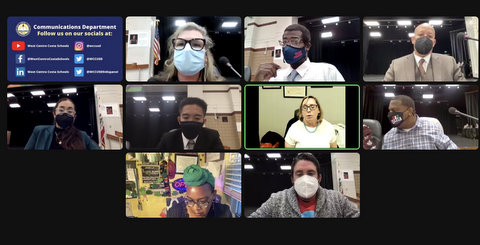 17 Mar

WCCUSD Faces Budget Deficit and End of Mask Mandate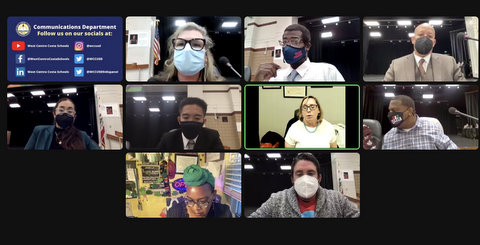 The WCCUSD's ongoing financial troubles were a major focus of Wednesday's school board meeting. (Screenshot captured by Julia Métraux / Richmond Pulse)
By Julia Métraux
The West Contra Costa Board of Education discussed at its meeting Wednesday what steps the district could take to evaluate its financial future.
Without working in potential one-time revenues or expenditures, WCCUSD will have roughly a $42 million structural deficit in the 2021-22 school year, a $72 million structural deficit in the 2022-23 school year and a $78 million structural deficit in the 2023-24 school year.
This continues a pattern of budget woes the district has been dealing with. In October 2019, the district faced a nearly $40 million deficit for that school year. The WCCUSD did manage to break even for 2019-20, though it needed major cuts to do so. As of May 2020, it was looking at a potential $33.5 million deficit. At a May 2021 school board meeting, associate superintendent of business services Tony Wold said the district would likely face a budget deficit starting in the 2023-24 school year, and the district was found to be at high risk of fiscal insolvency, the Pulse reported at the time.
"When we look at things like what we spend for special education services for transportation, for utilities, anything that falls into the services, or other operating expenses category, we are spending on both sides of the budget," said interim associate superintendent of business services Robert McEntire during a presentation to the board.
The district could face a situation where it is unable to buy and provide masks for teachers, staff and students in the district due to debt.
"When they're exhausted, the money spent in the books and supplies and services and other operating expenditures will cease," McEntire said.
Trustees Mister Phillips and Jamela Smith-Folds asked if salary cuts would need to be made to address deficits in the budget. Both McEntire and the superintendent Kenneth "Chris" Hurst said this is a possibility.
"Everything is on the table, including pay cuts," Hurst said. Pay cuts for represented staff would have to be negotiated with labor partners, such as United Teachers of Richmond.
The board voted to approve the second interim budget report, with student trustees Angelica Flores and Martin Leung both abstaining.
The board also decided to not pass any motions that would attempt to appeal a letter from the Contra Costa County Office of Education on the district's financial status.
Ending Mask Mandate
On Saturday, March 12, Hurst announced that WCCUSD's mask mandate for middle schools, high schools and the central office would be lifted. The mask mandate for elementary and K-8 schools will be lifted April 15. Wearing a mask is still highly recommended.
During the public comment period, several teachers from the district called to express their frustration over this decision.
"You and the United Teachers of Richmond agreed to a health and safety [memorandum of understanding] that clearly states all students will be required to wear medical grade or three-ply masks," Tara Fay, an immunocompromised music teacher at Pinole Middle School, said to Hurst. "Our MOU is supposed to be in effect until the end of the school year,"
Kennedy High School teacher Miesha Harris Gash said that wearing masks during the ongoing COVID-19 pandemic is a way to keep herself, her students and others safe.
"My life matters, and the lives of my students matter," she said. "That's why we continue to wear our masks."
Behavior of Trustees
The WCCUSD brought in a parliamentarian to address issues among its divisive board. Parliamentarian Tami Dunning said that the board needs to stop making direct and indirect insults towards each other.
"Nobody has a right to attack you personally," Dunning said. "You represent a constituency that has vastly different points of view, and we can discuss those, and we can debate those without attacking one another and we will learn how to do that."
Dunning also said that trustees should spend time getting clarity on motions and other information before meetings start.
"The most important thing you do in these meetings is that you vote, and yet we do not do a lot of that," Dunning said. "We do a lot of talking."
Dunning recommended that the board limits how much time trustees have for comments and questions. She also criticized the board for having its previous meeting run past midnight.
"It is not just us that are here," Dunning said. "It is the people that are in the room and on the Zoom that we are holding hostage because we want to hear ourselves speak."
The next regular school board meeting is scheduled for April 13.
Additional reporting contributed by Danielle Parenteau-Decker