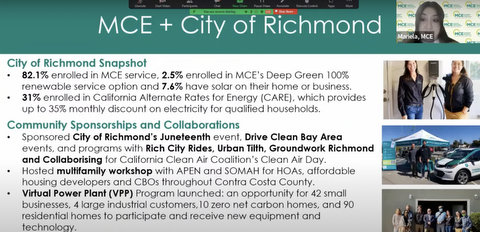 07 Dec

Clean Energy Board Will Need New Richmond Representative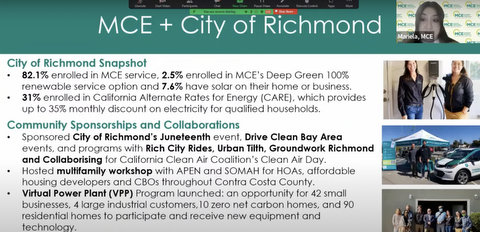 MCE, which provides renewable energy options to electricity customers around the Bay Area, will need a new Richmond board member after Mayor Tom Butt leaves office. (Screenshot captured by Julia Métraux / Richmond Pulse)
By Julia Métraux
After current Richmond Mayor Tom Butt leaves his position Jan. 10, 2023, Mayor-elect Eduardo Martinez or a City Council member will have to fill his role as a Richmond board of director for MCE, a not-for-profit public agency that provides renewable power to its residential and business customers.
"It's a very exciting thing to get involved in, and it's a huge business," Butt said at Tuesday's City Council meeting. "As it was pointed out, MCE is a half-a-billion dollar operation."
The MCE board of directors has 32 members, each representing a city or town that MCE serves, with Butt currently the chair. Since MCE was launched in 2010, the agency's relationship with the city of Richmond has grown. For example, as noted at the meeting, 82.1% of the city of Richmond is enrolled in MCE service, and MCE also sponsored Richmond's 2022 Juneteenth event.
"Our mission is to confront the climate crisis by eliminating fossil fuel greenhouse gas emissions, producing renewable energy and creating equitable community benefits," said Mariela Herrick, MCE's community development manager.
MCE currently does business with four counties in the Bay Area: Contra Costa, Marin, Napa and Solano counties. Other cities in Contra Costa County that have relationships with MCE include El Cerrito, Concord and San Pablo.
Renewable energy has many benefits, according to a United Nations article on climate action. In addition to being the "cheapest power option in most areas of the world," switching to renewable energy also "helps address not only climate change but also air pollution and health." The city of Richmond's website states that the Bay Area Air Quality Management District "receives over 12,000 air pollution complaints each year from members of the public."
>>>Read: As Climate Change Worsens, 'We Have No Future'
Lindsay Saxby, MCE's director of power resources, reported that MCE's retail sales have gone from just over a thousand in 2013 to over 5,000 in 2021.
"Interestingly enough, even though the total retail sales had increased, this means that despite having more customers," Saxby said, "customers were actually using less energy in 2021 versus 2020." In 2021, 64.1% of MCE's source power came from California, followed by 28.7% from Washington state.
Saxby also compared MCE's work with Pacific Gas and Electric Company, which is MCE's main competitor. She said that "MCE was over 60% renewable" between 2017 and 2021, while PG&E's renewable energy ranged from 33% to 49% between 2017 and 2021. There were no representatives from PG&E present to respond.
No members of the public commented on this presentation either.
Council member Gayle McLaughlin is an alternate for Mayor Tom Butt on MCE's board.
"I believe something like 85% of our community residents and businesses or more have MCE because it's an opt-out," she said. "It's a good deal economically, and it's a good deal in terms of helping the planet sustain itself."
Butt, who had invited MCE to give a presentation, also said that whoever would replace him on the board of directors would play an important role in analyzing business decisions.
"We go through a lot of highly technical things … and we're looking at trends and so forth," he said.
There were not any voting measures attached to this issue. Council member Nathaniel Bates was absent.