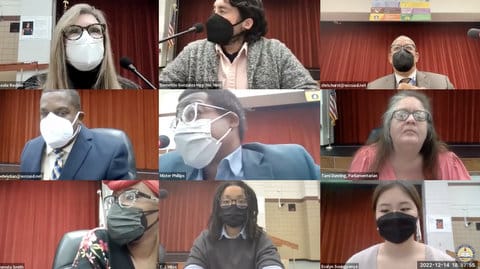 16 Dec

School Board Votes for President, Union Agreement and Teaching Changes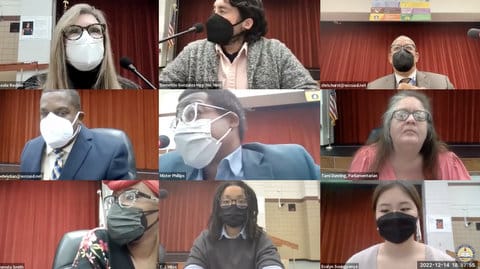 The West Contra Costa school board voted Wednesday to combine bilingual classes. New board president Demetrio Gonzalez-Hoy was a bilingual teacher in the district. (Screenshot captured by Julia Métraux / Richmond Pulse)
By Julia Métraux
Demetrio Gonzalez-Hoy, the outgoing West Contra Costa Board of Education clerk, is now the board president.
The West Contra Costa Board of Education annually elects its new board president and clerk in December. Gonzalez-Hoy, who nominated himself, was unanimously voted president by members of the Board of Education at Wednesday's meeting.
The two nominees for board clerk were trustees Jamela Smith-Folds and Leslie Reckler. Smith-Folds was clerk from December 2020 to December 2021. It is precedent on this board for the clerk to be elected president, but Smith-Folds was not.
"If this board wants to do what's right, they need to put me back in the queue," Smith-Folds said. "Then next year, put me as board president, and don't once again break your own bylaws."
Trustee Mister Phillips said he supports Reckler because she is a "strong board member."
"Trustee Reckler is the only board member who's never had an opportunity to be in board leadership," Phillips said.
The vote was 3-1-1 in favor of Smith-Folds becoming clerk, with Phillips voting no and Reckler abstaining. The student trustees also voted in favor of Smith-Folds, but their votes do not count toward board decisions.
With Gonzalez-Hoy and Reckler winning their trustee reelections in November, the members of the West Contra Costa Board of Education have not changed.
Approving Labor Negotiations
The school board voted to ratify a successor agreement between Teamsters Local 856 and the West Contra Costa Unified School District, which will last until June 30, 2024. The agreement includes ensuring that technical positions are competitive with the private sector and students are able to have nutritious meals. The agreement has 93% approval from Teamsters members.
"The contract focuses on providing additional support for and addressing some of the inequities in relation to the actual positions that were compared in the community," said Conrad Tanasychuk, WCCUSD's labor negotiator.
The board voted 5-0 to approve this motion.
WCCUSD also continues to be in negotiation with United Teachers of Richmond. A memorandum of understanding, however, was on the table for two items. The first is to allow bilingual classes to be combined for the current academic year due to teacher shortages. The second is to expand the definition of a 120% teaching schedule "to include full time teachers who teach the equivalent of a class of students across their regularly scheduled day, but retain their preparation period."
Reckler asked Tanasychuk why the MOU between the teachers' union and district "was signed on Sept. 8, but it didn't come to the board until Dec. 14."
"This was simply an oversight on my part, not to bring it in advance prior to this meeting," Tanasychuk said. "My sincere apologies."
While Gonzalez-Hoy, a former WCCUSD bilingual teacher, said he would support the MOU due to the current realities of the district, he noted the challenges that combining grades would cause for current bilingual teachers.
"We're already teaching students two languages, and then on top of that, we have two grade levels that you have to teach," he said. "This one really hurts my heart because I was actually the president in UTR that put that we shouldn't have combo classes in their contract, which is ironic that I'm voting tonight to take it away."
The board voted 5-0 to approve this motion.
The next regular Board of Education meeting is Jan. 11.