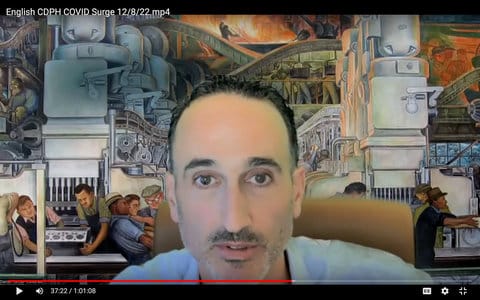 04 Jan

Doctors Urge Testing and Treatment as COVID Surges Again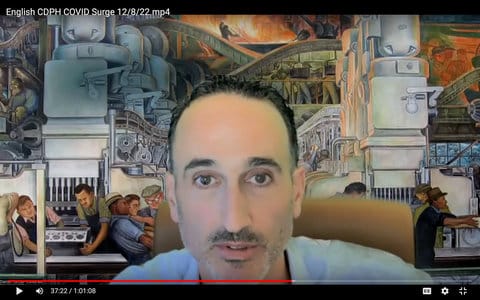 "Many people who would benefit most are not receiving" COVID-19 treatments, "causing hundreds of unnecessary deaths every day in the United States," said Dr. Daniel Turner-Lloveras during a Dec. 8 Ethnic Media Services briefing. (Screenshot captured by Danielle Parenteau-Decker / Richmond Pulse) 
By Danielle Parenteau-Decker
Once again, the holiday season brought with it another COVID surge, but the availability of free treatments made this one different. Despite ample supplies, the medications are not always easy to obtain and may not be free much longer.
Five physicians convened for a Dec. 8 Ethnic Media Services briefing focused on COVID-19 treatments.
"When you test positive for COVID, you no longer have to cross your fingers and hope it doesn't get serious," said Dr. Wynnelena Canio, who works in geriatric medicine for Kaiser Permanente.
That is because "this is the first winter surge of a three-year pandemic" where treatments are available, said Dr. Rita Nguyen, the assistant health officer for the state of California.
Three antiviral medications can help prevent serious illness and long COVID in someone who has the coronavirus: Paxlovid, Molnupiravir and Remdesivir.
The first two come in pill form at no cost to patients. The federal government covers the medicine's expense — for now. However, they can only be prescribed and taken within five days of the onset of symptoms. After that, the only treatment option is Remdesivir, which is given intravenously and not free.
The government plans to stop covering the cost of the antiviral pills within months, Kaiser Health News reported on Dec. 7.
"Millions of people who are at the highest risk of severe illness and are least able to afford the drug — the uninsured and seniors — may have to pay the full price," KHN reporter Hannah Recht wrote.
For now, treatment supply is abundant, Nguyen said, though she didn't specify whether that applied to all three drugs. Nevertheless, access is an issue.
Some people aren't aware treatments are available. "Folks are understandably COVID-fatigued and stopped listening after vaccines," said Nguyen, who also is director of population health for the California Department of Public Health.
She said most adults are eligible, and treatment is recommended for everyone 12 and older who has tested positive for COVID-19 and has symptoms.
"Test — that's crucial. You don't get to a treatment without a test," said Dr. Oliver Brooks, chief medical officer of the Watts Healthcare Corporation.
Testing is also important because multiple diseases are going around that cause similar symptoms. "Now, we have that triple threat of respiratory syncytial virus, influenza virus and, oh, yeah, there's that COVID virus," Brooks said.
Not everyone who tests positive will get treated, however.
"Many people who would benefit the most are not receiving this treatment," said Dr. Daniel Turner-Lloveras. "This is causing hundreds of unnecessary deaths every day in the United States."
Black people were 36% less likely and Latinos 30% less likely to be prescribed Paxlovid, according to Turner-Lloveras, who created the Latino Coalition Against COVID-19.
Brooks said there are also "many cases where people are being refused treatment."
"You need to advocate. You need to know about treatment," he said. "Because if you don't advocate for yourself, a lot of times, you will not get what you need."
For people in rural areas, getting to a doctor can be especially difficult at any time, not just during another pandemic surge.
Doctor and state Assembly member Jasmeet Kaur Bains said her community always has high rates of respiratory illness because of bad air. Bains represents Kern County and took office as the first woman of South Asian descent elected to the Assembly just days before the briefing.
Bains said a surge like this one "hits us harder than other parts of the state."
Additionally, people in rural places always have to endure long waits to see their doctors. Instead, they go to urgent care centers, which have become overwhelmed, she added.
In some cases, they don't seek medical care because they don't have health insurance. Bains said many people lost jobs and health insurance in areas like hers during the pandemic. Those who regained employment still endured long stretches without insurance as they were between jobs or waiting for coverage to begin.
Turner-Lloveras said that for many people, lack of internet access or digital literacy increases risk regardless of other socioeconomic factors.
"The more it is being ignored," he said, "the more unnecessary deaths."
This issue came up in his own family when his mother got COVID. Turner-Lloveras and his mother both called her doctor and got no response. She didn't get treated until after he went through her online patient portal.
If you have symptoms like a runny nose or sore throat or just don't feel like yourself, get tested right away, Canio said.
No matter what disease you might have, stay home as much as possible and wear a mask when you have to be around others.
You can get COVID treatment from your doctor, an urgent care center, some pharmacists or a test-to-treat location. Nguyen said people in California could call (833) 422-4255 to find test to treat locations or call (833) 686-5051 or visit sesamecare.com/covidca to make an appointment for consultation. Same- or next-day appointments are available over the phone or internet. The U.S. Department of Health and Human Services also allows you to search for test to treat locations in English, Spanish or Chinese. According to Contra Costa Health Services, there are test to treat locations in Antioch, Berkeley, Oakland, Pleasant Hill, San Ramon, San Pablo and Walnut Creek.