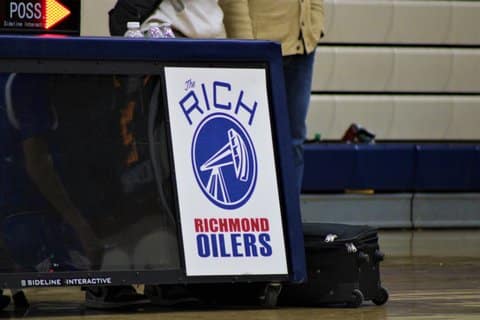 20 Mar

Richmond High Athletics Down But Not Out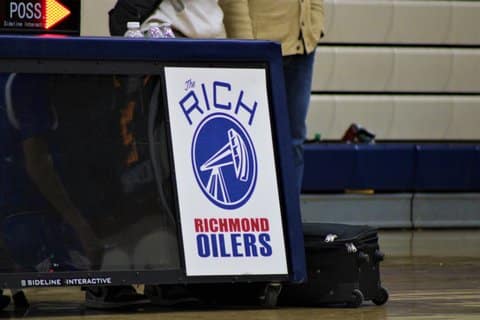 The Oilers basketball scorer's table often features a lopsided stat sheet in favor of the opponent.
Story and photos by Joseph Porrello
With over five minutes still left to play in a Richmond High basketball game against Albany in January, one of the referees instructed the scoreboard operator to let the clock continuously run, preventing the outcome from getting even more out of hand. Even with the clock running, they still lost the game by a score of 93-45, a symbol of just how bad things have gotten for Richmond High athletics.
While some teams have enjoyed success and stability, others have endured repeated losing seasons and coaching changes. The football team, for instance, has only won 34 games in 19 seasons.
Trying to turn things around is Jeffrey Jaymot, the school's athletic director. And girls' varsity basketball coach. And girls' tennis coach. And boys' tennis coach. He's also a physical education teacher and used to be the boys' basketball coach. It may be a tall order and slow going, but Jaymot is optimistic about changes being made.
"The direction I'm trying to head in is finding good people that I am sure will provide steadiness in the lives of our kids here," he said.
With six separate job titles at the school, Jaymot is vital to its success in sports.
Starting as coach for the Oilers girls' varsity basketball and tennis teams in 2016, Jaymot soon became Richmond High's physical education teacher before being named A.D. in 2021. 
"I started teaching as a way to build a connection between physical education and the athletic program here," said Jaymot.
The head coaches in other sports at Richmond High have been on the extremes of both ends of the spectrum in terms of longevity. Many have lasted only one season, but others have been with the school for roughly 20 years. 
A revolving door of leadership for some of the school's teams has contributed to facing them with adversity and many difficult seasons. 
Baseball and Football
Neither the boys' basketball nor the baseball team has had the same coach in the past five seasons, and the football team has gone through four coaches in six years. Their records bear the results.
The Oilers baseball program has neither won a game in two seasons (0-13 both times) nor held a winning record in more than 18 years, going 46-269 in that span.
Richmond High football has endured a stretch just as tough, without a winning record in 19 seasons for a combined 34-145 record. Over the last three seasons, the team has a record of 1-21, with the only win coming courtesy of a forfeit. 
Boys' Basketball
The boys' basketball team went 7-21 overall and 1-11 in league play under first-year head coach Ricky Jefferson in their most recent season after Jaymot had led them to their first winning campaign since 2006 the previous year. 
Jaymot filled the position out of necessity after no head coach was hired for last season's team.
With some players having poor grades partly due to pandemic-induced changes in teaching techniques and others leaving Richmond High to earn accelerated credits so they could graduate early, Jaymot elected not to return as basketball coach at season's end.
"Everyone said it was going to be rough after we had some kids leave, but I looked forward to the challenge and still do," said Jefferson. 
>>>Read: Richmond High Varsity Boys Basketball Endures Sixth Loss in Seven Games
Jefferson's hiring similarly came only two weeks before the team's first regular season game, leaving little time to create team chemistry and giving them no benefit of a summer practice program. 
"In my years of experience coaching, I've learned the offseason is everything," said Jaymot. 
With their recent misfortunes, the Oilers team is far removed from the famous days of coach Ken Carter or his predecessor, the equally (if not more) successful Robert Collins.  
Collins was Jaymot's mentor at Richmond High and coached the likes of Wendell McKines, the leading basketball scorer in California high school history and one of the last two Oilers to play basketball professionally, along with teammate Eli Holman. 
After Collins led the team to a 20-9 record 17 years ago, the Oilers went 4-44 over the next two seasons and never recovered. 
Collins would return in 2011 and stick out eight tough seasons in which Richmond High went 47-163, then come back for his third stint in 2020, in which the team went winless in four games before the season was halted by COVID-19. 
>>>Read: Richmond High Athletes Get Back in the Game as High School Sports Return
Jefferson is trying to return Oilers basketball to its past prosperity by creating a pipeline from his successful AAU team that features eighth graders who live in the district. 
"Most of their parents already said that if I'm coaching here, they don't have a problem sending their kids here to play," said Jefferson.
Richmond High basketball went 7-21 in its most recent season. One of its losses came Nov. 19 against Pinole Valley.
He also believes the longer he's at the helm, the more students will trust the program because of players telling friends about his coaching techniques and caring nature.
"I told the team I'm not here for one season. I'm here to stay," said Jefferson. "I want to see these kids graduate and do something positive with their lives." 
Jaymot reinforced Jefferson's plan. "I know coach Ricky has been out there getting the word out," he said. 
Other Sports
Girls' basketball has had stability since Jaymot took over eight years ago, but wins have still been hard to come by.
The Oilers have had two winning seasons under Jaymot, going 17-11 in the most recent season. Prior to his arrival, the team had just one winning season in 10 years.
The trend of below-average performance for specific sports programs at Richmond High is something Jaymot believes partly rests in the makeup of the student body. 
"The numbers in our district indicate certain demographics go to certain schools," he said. "If you look at the traditionally American sports, like baseball, basketball and football, we might not be as successful."
Both Jaymot and Jefferson noted that when it comes to athletics, Richmond High is known for its soccer program.
The boys' varsity soccer team is coming off a season that saw it finish undefeated in league play, lose only one home game, and make it to the finals of the NCS Championship tournament. Rene Siles represents the drastically different coaching tenures at the school, as he's been heading the Oilers soccer team for 18 years. 
Siles has suffered just a pair of losing seasons in his long time calling the plays and recently earned his 300th win at Richmond High.
Leading the girls' varsity soccer team for about the same amount of time, head coach Felipe Franco hasn't produced equal results to Siles. His team has managed only one record above .500 and last season failed to win a single home game, but they did win their league and play in the NCS tournament in their previous run.
Another Oilers sports team that's encountered triumph recently has been tennis, with the boys' and girls' varsity teams both currently holding winning records and winning five combined titles since 2019 under Jaymot. 
>>>Read: Cut Short: Richmond High Senior Jose Martinez on His Final Season
"If you look at the athletic programs as a whole, I think we're on the rise," said Jaymot. "I think we'll see even more of an upward trajectory for our teams moving forward."
Hoping to add to their overall ascension, Richmond High recently promoted assistant football coach Marques Arnold to the head job. 
The timing of Arnold's hiring gives him ample time to recruit players and try to get in as many practices as possible before the season begins.
"It's gotten to the point that you almost have to recruit to be competitive," said Jaymot. 
Jaymot is trying to rectify Richmond High's lack of athletic competitiveness in specific sports in the hirings he's a part of and other decisions he's involved in making, as well as in his capacity as a coach of four different programs. 
"I feel like it all just comes down to finding consistent coaches that will build our programs back up," said Jaymot.